Preface
When an outdoor brand reached out to me, they were planning for an International Women's Day campaign to encourage women to get out explore. Hence, they requested to include a few short sentences from me, such as how I started what I do.
A few short sentences. Hmm… Easy.
However, as I started typing, my sentences kept getting longer. In the end, I had to cut out so many things so it didn't turn into a 5-part essay.
Or maybe it should be a 5-part essay! I have so much to say about my journey. And I have been receiving so many questions regarding my breaking gender stereotypes. I hope you can find the answer you need in this article. I believe my experiences and thoughts can be beneficial to women of all ages and even parents of young daughters.
View this post on Instagram
Do Girls Do That?
As an Asian girl who cares about her appearance, I always have some degree of makeup with long false lashes glued on. You know, Asians don't have lashes. I get many comments and messages regarding my makeup, some of which are pretty harsh in calling me insecure. I have posted on my social media several times about removing makeup down to my bare face at the end of the night. Makes a cool and funny comparison. Not that I'm trying to hide anything.
There is some psychological theory behind "look good, feel good, do good". Especially after being in the corporate world and soaking in the financial district… You know how to present yourself. I do love seeing my well-groomed face in the mirror with pink eye shadow and long lashes.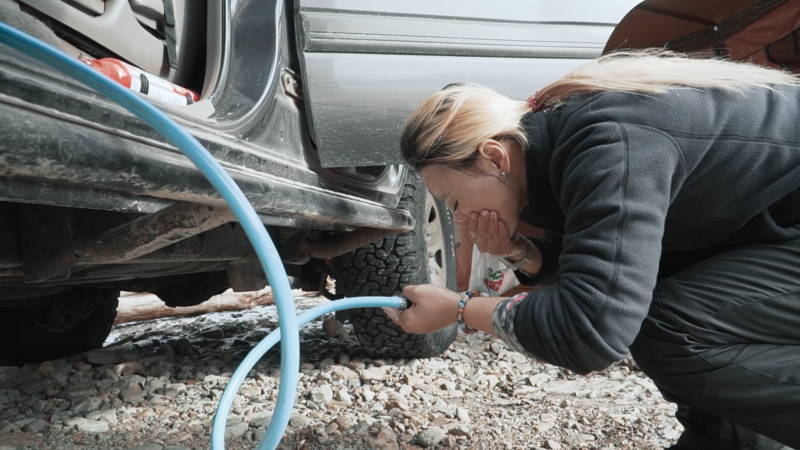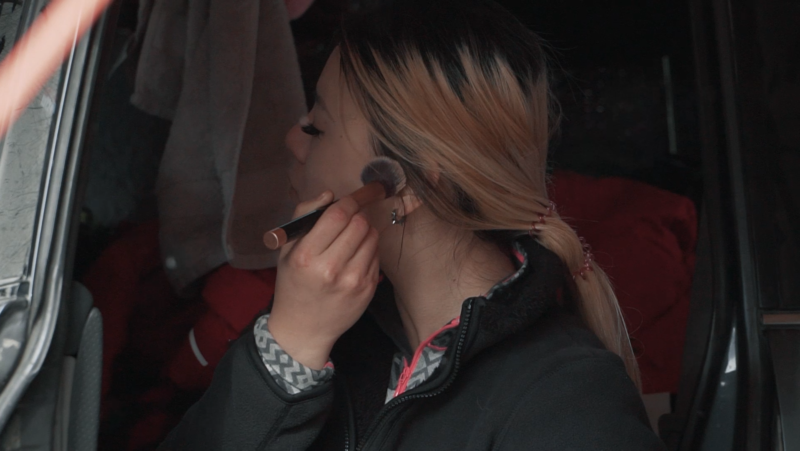 But winter has been quite discouraging in putting extra time doing my makeup out in the cold.
Years ago, I used to be a regular client at a nail salon in Vancouver until I started boxing. Melissa, the salon owner, did my nail maintenance. Over the years, I've watched her business grow as she took over the store next door and expanded to include all areas of beauty services. I met their senior lash tech, Tina when I gave lash extension a try. She followed my Instagram after that session.
At the end of my refill appointment 3 weeks later, she told me that she showed my videos to her daughter. The 7-year-old asked in awe:
"Can girls do that?"
As Tina described, her daughter is not the typical pinky barbie kinda girl. She likes dinosaurs and rockets. 6 years old is around the age where kids start to notice the difference between boys and girls. She's at a curious and sometimes confused age with a lot of questions that are difficult for Tina to answer. She's not alone.
My Childhood – First encounter with gender stereotypes & bias
When I was around 6 years old, the idea of gender differences came to my knowledge in an almost cruel fashion.
Mother once told me, very casually, that dad originally wanted a son.
My father was born and grew up in a very poor countryside town of China. The tradition there, which is still current in many places in the world, is that only males can carry the family dynasty. Daughters are like "bucket water splashed out the door" – once married, they are out of the family system.
In my generation, China strongly enforced Single Child Policy in big cities. My dad moved to Beijing where he met my mom. So I was the only chance they had for creating a son. Whereas in less developed areas like dad's hometown, the policies weren't enforced so much. Each one of my dad's brothers has two kids, out of which at least one is a son.
So here you see the awkward position I was in.
Although my parents have never treated me anything less and I am forever grateful for their unconditional love, that initial idea of me "not being a wanted son" seeded in my heart.
I felt unjustified. I deeply believed that I let my father down by not being a boy. I kept asking if there's any other way to continue his branch of the family tree other than biological ones? I question the system. Why only boys? What's the difference? Why can't girls? How do I not let father down twice?
My competitiveness saved me when my self-worth was challenged at such a young age. Pretty sure I was the 'Questioner" in Gretchen Rubin's The Four Tendencies. I had so many unanswered questions about why girls are less than boys. The "because I said so" doesn't work for my type. Like a typical questioner, when it's not well explained, I wasn't going to sign up for the idea and/or admitting my inferiority against boys.
When I played with boys, I didn't give myself any excuse for being a girl. I did what they did.
My father is a very busy man. In my childhood memory, he was rarely home. So I was trained to do whatever I can on my own. The typical "nagging to daddy to get what you want" sort of princess life didn't exist in my childhood, not even in dreams.
It served as a blessing – an early training to be self-sufficient.
Ignorance In Adulthood
Ever since I grew interested in automotive, I've been constantly receiving comments and questions regarding why I'm doing something not many girls do.
Questions in this direction always confuse me at first. I'd pause, maybe lean my head to one side, try to understand what the person is asking.
To be honest, I didn't really think about that. By "that", I mean "not many girls do it".
My principle has always been: "if you want to do it, go find out how to execute it."
I first have a want or interest, then start research and find out the how. Make a loose action plan. Adapt and learn as I go.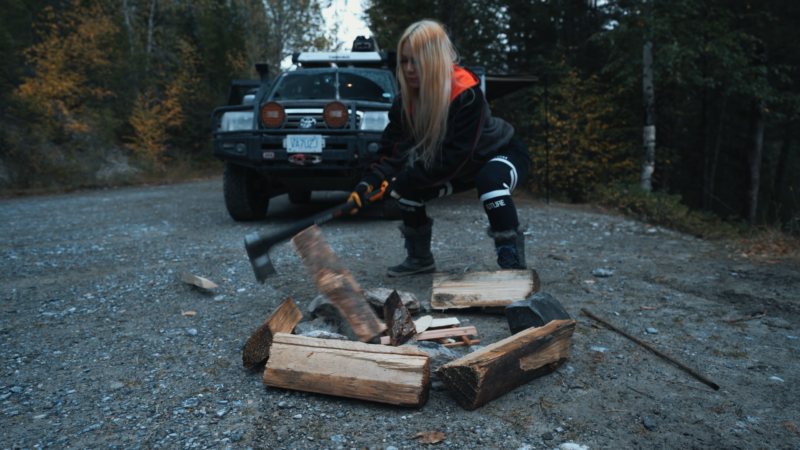 Sound like what most instruction books would tell you, right? Exactly! Instruction manuals do not have a gender bias. The theory is the same for men and women.
In a way, when I decided to do something, it was because I wanted to do this specific thing or activity. My ignorance towards gender expectations kept me free from the self-doubt of being a girl.
Because in childhood, I didn't buy in the idea that girls couldn't do what boys do, I grow up without this filter barrier before making moves. As long as humanly possible, I should be able to do it too. As long as it's something I want to do.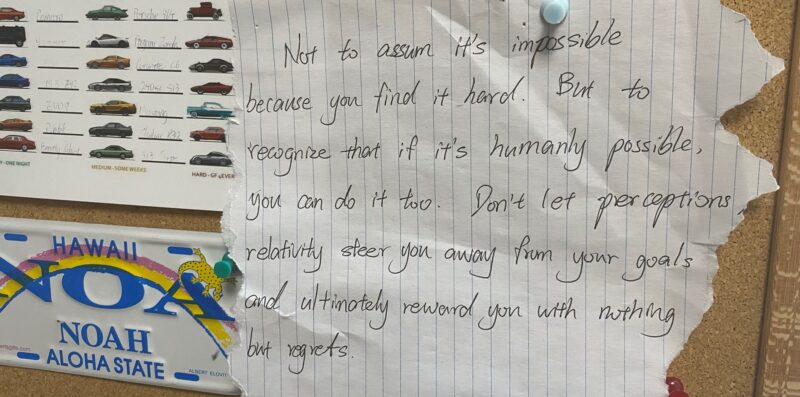 I got lucky to have encouraging parents enabling me to explore my potential. My best friend Julia, however, was not so lucky. Out of the many stories she told me, one struck me the most. She was the only one taking care of the house since her parents were mostly overseas. Last winter, the hot water pipe decided to act up. She told her mother how she dealt with the issue and the house was now fixed. Instead of appreciation or encouragement, her mother responded: "see, if you have a boyfriend, you don't need to do all these things yourself!". Imagine hearing this dismissive comment on the other side of the phone line from the person who should be your backbone no matter what. I was left absolutely speechless. Despite her parent's traditional thinking and the constant nudge to push her to "get married so you don't need to take care of anything", Julia is a strong woman with her own goals. I am extremely proud of her. And if you have a similar family background as hers, I hope you can still find strength in yourself as well.
View this post on Instagram
I am not all that special. There are so many outstanding people who achieve the never achieved, chase the never imagined, break the world record. Shameful to say, most of my interests and inspirations come from real people. In a way, I have human role models. I want to achieve some level of their life. And I'll go for it when I'm ready.
The only difference is, I think of them as a general human race. Not men's goal or women's goal.
So when I get questions like that, I wonder if they are asking why this activity drew my interest, or why I'm doing something not many women do.
The answer to the first question can vary depending on the activity. Whereas the latter can be answered simply by "I'm interested and I want to do it. Others not interested is not my problem".
You see, I'm not trying to be a boy or trying to be a girl.
Just like my makeup, I do it because I like it. I didn't have to keep a mental note that girls need to put on their faces in a certain way, which I believe many objects to the idea. Gender is the last thing I consider when taking action towards something. It's all about personal preference.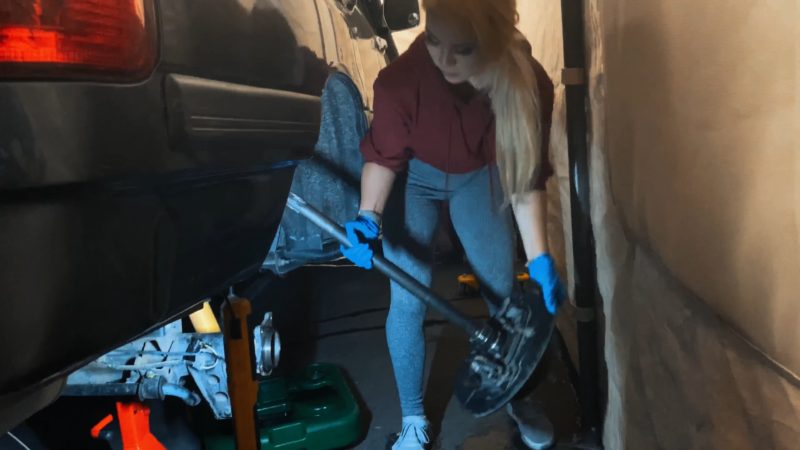 My Experience As A Female Minority
Different Treatments
The idea that women need to work twice as hard to be recognized in a male-dominated field is not unheard of. Unfortunately, you don't get a free pass by being a girl. Instead, the opposite may be true.
The mass majority will question you.
Take me as an example. Most travel videos by men get comments strictly related to the trip itself. Words like "awesome trip!" are the most common. You probably won't see comments like "good job you're such a man! Power man!"
However, when I publish a video like my solo trip in the Rockies, I get many comments regarding gender or even question the legitimacy since they couldn't believe a girl is doing it. Below are some examples.



It gets a little frustrating when you want to have a conversation about traveling and the other person keeps emphasize your womanhood. Praise is flattering to receive but if we only focus on the unchangeable (your gender), the conversation can rarely spark any new insights like cool camping locations and how to manage situations. While I try my best to keep the conversation on track of the topic, there are moments when I feel being minimized to just my gender.
While most people are nice and simply expressing their awe, there's a good number of them feeling intimidated or having the fear of being irrelevant when seeing a girl doing what they wouldn't even dare to do. Our self-protection mechanism seeks to preserve our ego by trying to put the women down, denying their achievement.
Maybe men expect women to be "just like them" if she chooses to do what men do. Stripping out all her features that are commonly found in women. In this case, my makeup. I'm guessing in their perception, if you are off-road overlanding (male activity), you shouldn't have makeup (female activity). Because men don't wear makeup when off-roading.
There is some interesting psychology behind all these human behavior. You can really see how our ego and belief system work in the subconscious.
Your Female Attraction
When I was in the tuner scene, I got to know many girls who were into cars and many girls who were "into" cars. The former are usually girls driving and modifying their own vehicle. While the latter pretends to be into cars for the sake of guys' attention.
But because guys are often intrigued by the rare breed female, the "faking to get attention" does work. I have nothing against girls who find their love through this channel. It's a dream for many people to have a life partner sharing their interests.
My frustration comes from when I genuinely want to make friends in the field, my female attraction gets in the way. So other than getting friends, you get love letters. This may sound like a first-world problem but it has caused some awkwardness when I wasn't looking for a relationship. Although more common for single females, this also happens to those in a relationship or marriage. You may even get hateful comments dismissing your boyfriend/husband.
Of course, if you meet someone you are also interested in, don't back out. This is just a reminder that you may get more than asked for and it's up to you to gauge how to respond to them while keeping the friendship alive.
This is not "friend-zoning" in the negative sense.
I wonder if I'm more of a tomboy, it will be easier for me to make guy friends. You see, the social expectation of female appearance does relate to how we are treated.
This is not to say I was aiming to make guy friends only. The goal of making friends is to connect within the industry and to learn from their experience. Them being male or female is not what I can control.
I have, indeed, made a lot of good friends along the way. Cheers to all my mates!
Mixed Signal
There's nothing wrong with being called a female overlander, female offroader, female tradie, female astronaut, female (insert position dominated by men). However, you'll need to put in extra work and achieve more to be recognized as, simply, an overlander, offroader, tradie, astronaut, etc. Otherwise, I'm just another girl posing with a Jeep.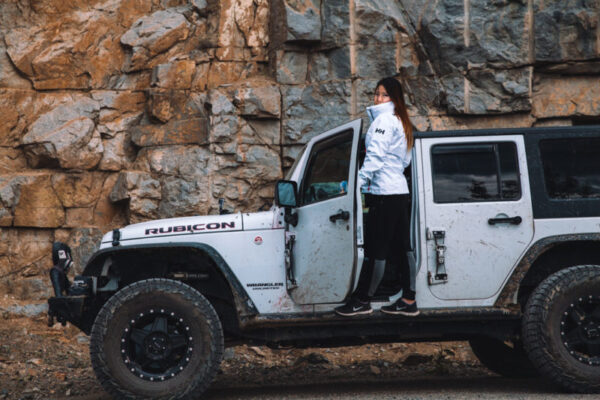 Traditionally, female holds a different social responsibility such as home-making and child-bearing. So outside of this realm, we're not expected a lot. We are not expected to know how to fix our vehicle or even drive well (RIP to the reputation of Asian female drivers).
While doubters criticize me, supporters tend to praise me too early.
Often you hear people say "oh look! it's a girl!" The excitement should be a stand-alone statement, not a part to be considered for her work. In my strict opinion, the quality of her work depends on her skills, not her gender. Of course, here we're talking about things that both genders are physiologically capable of achieving. I can build a car just as cool or nice as the guys'.
It's almost like the world gives us an easy card in terms of meeting expectations. Because their expectations of women in these fields are so low. When they don't expect you to be at level 3, you'll start to receive praise at level 2 while male peers won't get it until level 5. This is when you need to tune in to your own self-awareness instead of taking the praise at face value. Am I good enough for industry-standards? Or more importantly, am I up to my own standards?
While I did something other people (mostly men) have been doing way longer and better, the compliment I receive may not have been given to those men when they were at this stage – it was expected for them. So basically, the early "good job" was given to me because I am a girl.
It's very easy to slip into contentment and stay stagnant now. "See, people say I'm doing pretty good already!" If this is where you want to be, that's fine. But if you are aiming for something higher, make sure to keep your eyes on the end goal.
Maybe I am too harsh on myself. I tend to take early praise with a grain of salt. "Thank you, that's very kind of you" is my attitude. While deep down I think, I'm still far behind in terms of my skills. I still make a mess during an oil change. I still round some bolts and screws at times. I still can't square a wooden box properly…
I'm not saying compliments are bad. Know that these people are coming from a place of love and support. Take it as encouragement instead of a signal to stay content and stop improving.
Safety Concern
"Isn't it unsafe to be out there as a female?"
I get a lot of questions like this. In my special case, Overlanding and being in the wild do pose a level of risk. However, safety concern is not gender-biased. Bears, fire, avalanche, none of nature's wonders would consider travelers' gender.
Being in the wild, safety holds true for everyone. It's important to equip yourself with adequate knowledge and know-how to deal with situations calmly. I'd highly recommend bringing a satellite communication device. I personally use Zoleo. But there are many other options to choose from.
View this post on Instagram
I would recommend you to get some formal training. Subjects like first-aid, offroad driving, and outdoor survival are key to sustain life in the wild. You can attend a first-aid course at your local red-cross certified center. Overlanding BC is a great team for offroad driver training. Recently, I've purchased a book called SAS Survival Handbook. It covers a broad range of topics from climate, recognizing plants and animal trace, to urban survival should you encounter bad people in towns and cities – which I think is the main concern for women specifically.
Solo Female Overlander
I've been receiving a lot of messages and emails lately from girls who want to overland solo but don't know where to start.
My general response to those questions is: start with group activities and get yourself comfortable with managing everything involved. Navigating on your own GPS device/app, pressuring your own tires, setting up your own tent and fire, prepping and cooking your own meal, etc. Basically, these trips are simulations of being on your own but you still have the support in arms reach if needed.
After my first solo video was released, I somehow got portrayed as "an independent woman who travels on her own all the time". Though my video can be inspiring and empowering, I am far from "solo all the time".
Before this video, I attended many group trips, some of which were over 10 vehicles. Solo travel was not my end goal – traveling is. And personally, I believe joy is best when shared with someone. I'm especially happy to see girlfriends coming along the trips. Maybe they'll fall in love with remote camping too. There's nothing more satisfying to share life with a loved one.
I started offroading in my Jeep by following leads. Although the male leaders would often take extra care and do many things for me – because I'm a girl, I've always consciously learned and tried to do it myself after they've shown me. With enough experience, I can pretty much plan my own route and manage my own setup throughout the trip. So the next time I want to go out but no one is available, I can still go.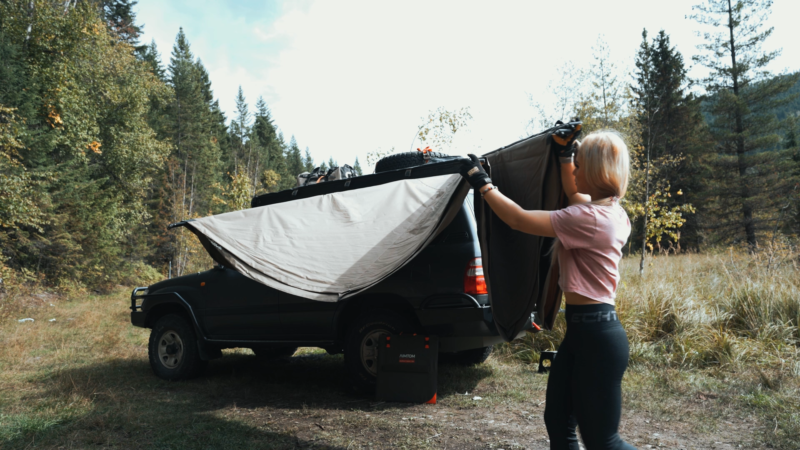 Although it's important for an introvert to have solitude, I don't solo for the sake of soloing. Only go solo when you are confident about your skills and ability to manage risky situations, from vehicle recovery to bear defense. This holds true for both men and women.
On Feminist
Someone pointed to me that my way of thinking is typical of feminism. I never identified myself as one since I never researched what this term really means. I still haven't fact-checked this friend's statement.
Similar to my ignorance towards limiting gender belief, I ignored the categorization. If my thought process falls into this group's common theory, cool. I know I'm not alone. If not, I'm not bothered. I wasn't preaching my idea for the sake of being a feminist. Just like I don't do makeup for the sake of being a girl or fix my car for the sake of being a boy.
When you label yourself, it's easy to be limited by the group's beliefs. No matter how limitless the belief says, it's still a limiting belief on its own – if you get what I mean.
Maybe one day your idea changes, and no longer fit in the group you originally identified with. That's fine. Again, you choose what you want to do. There's nothing wrong with being a stay-home wife/mom. As long as it's deeply what you want to do.
I don't hate men or envoys them. (Ok maybe on some occasions when camping, they can simply turn around and "do their business standing" while we girls have to go on an expedition, crawling through rocks, and crossing rivers to find a secret spot we feel safe enough to pull our pants down. I'd feel a little jealous.) In fact, I've learned so much from them. Many of my achievements are credited to my male mentors. They are just another part of the human race making their own decisions. And I assure you they are not free from struggles either.
Please note that all binary gender terms used in this article are in correspondence to portray the social stereotypes. Not to exclude non-binary folks. In fact, my way of thinking is quite non-binary. I think of human potentials as a broad human race.
Final Word
I hope my story gave you some insights and strength, whether as a woman trying to find your ground or a parent with a young child. Just like Tina's daughter, childhood is a crucial time to determine your default mindset. I, fortunately, had the "ignorance is bliss" version of it.
Luckily, I was a Questioner and when my question wasn't answered, I don't buy into the idea. I am not a childcare coach but I highly recommend finding out your child's tendency so you can better guide them through the years when belief systems form.
I started the YouTube channel Overland Lady with the intention to share my perspective of Overlanding. The idea came during my year in Australia. While being in the outback with https://moniquesong.com/php-date-function/, my Landcruiser, I met a lot of experienced 4-wheelers and overlanders across the continent. The social media representation of off-roading and 4 wheel driving is heavily male-dominant.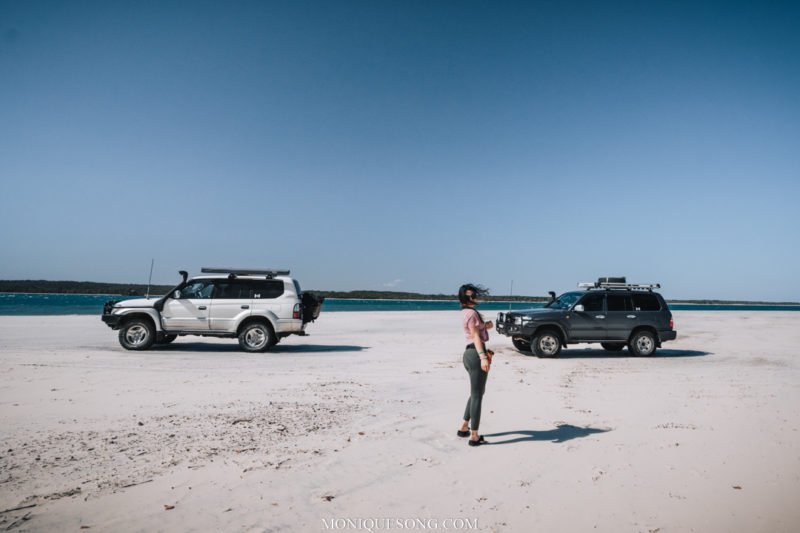 Big rigs in the wild seem to be a typical "men and their big toys" scenario. I have lost track of how many times I've heard comments like "not many girls do that". But you know what, there are actually quite a few of us! My public YouTube is just one of the channels to help us become visible. I hope girls who are hesitant to start can gain some assurance.
To all my ladies out there, I look forward to connecting with you all and listening to your stories on how you started, what keeps you going, what advice do you have for others.
To my girls who want to start but don't know how to, don't be afraid to ask. There are many of us out there ready to empower other women. Whether it's putting on makeup or wrenching in grease and dirt, as long as you are chasing what you truly want.
To Naomi, Tina's daughter (and many other little girls), yes, of course, girls can do it! The question is, what would you want to do?