In February long weekend, I headed up a popular local campsite to meet with Victor from Gear Into Adventure. A three-day camping trip was planning for some cross-cultural exchange over campfire storytime.
He was already at the campsite that early Friday afternoon. We communicated through his Garmin InReach satelite device to confirm location. When I arrived at trail head, I treid to use my Zoleo to reach to him but turned out unsuccessful. Here's what I did:
1.He messaged me through his InReach to my phone number. My phone shows his sender number (number A) .
2. I saved this number A as my Zoleo contact
3. I sent a message from Zoleo app to number A
4. Message bounced with indication that I have to get the InReach to start a conversation.
After I got to the campsite, we tried the reverse. Using his InReach to message my Zoleo number. It worked! However, the sender number showing on my Zoleo is different than the sender number on my text message. This means, I suppose, InReach uses a liquid number. Whenever you send out a message to someone, it chooses a random number (that is not consistent each time you message someone new) as the sender number. Once the connection is established, both parties can communicate through this "chatbox". Zoleo, on the other hand, uses a static number. When you activate your Zoleo account, you are assigned a number that stays with you. Others can reach you by messaging this number regardless if you've messaged them first.
Just some tricky difference we found during this trip. Personally I prefer the way Zoleo did with their static number format. I can give the number to my friends and they are free to contact me when I'm in the mountains. Wheras for InReach, I'll have to send them a message first before they can reach me.
It's been consistently under 0 degrees lately. I got to plow through some fresh snow on my way down to the lake.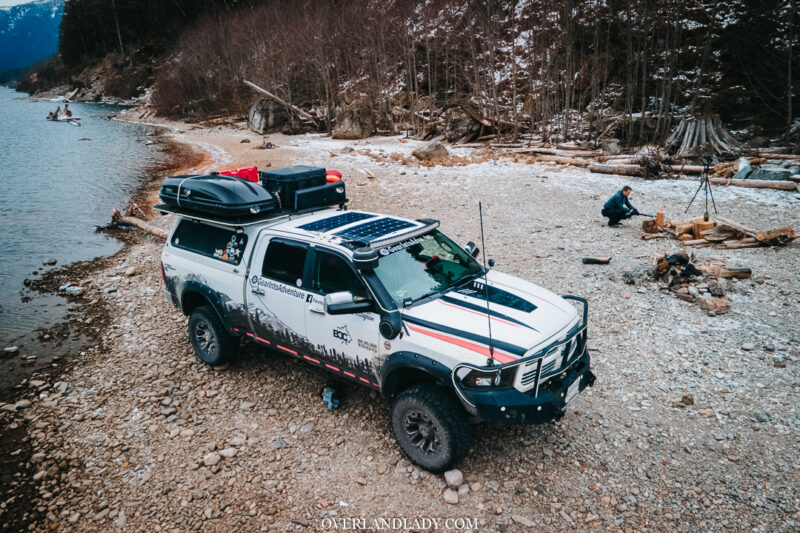 I got to know about Gear Into Adventure through a 4WD Facebook group. In which he posted the beautiful scenery he captured throughout his trip. The many checklist-worthy destinations he's been to and his vehicle livery design caught my eye.
Then one day, I bumped into this rig at an intersection near my town. I was waiting for my light to turn green. Then I saw a huge kitted-out Ram truck slowly rolling to a stop as their light turned red. Oh! That's???!! What's the guy's name? Victor! Right! It's Victor! I yelled through the window in excitement.
Maybe this encounter made me realize he is not just "an online account", but an actual living person near me. After a bit of chatting exchanging travel and vlog experiences, we decided to meet up for a "collaboration" – as self-proclaimed YouTubers.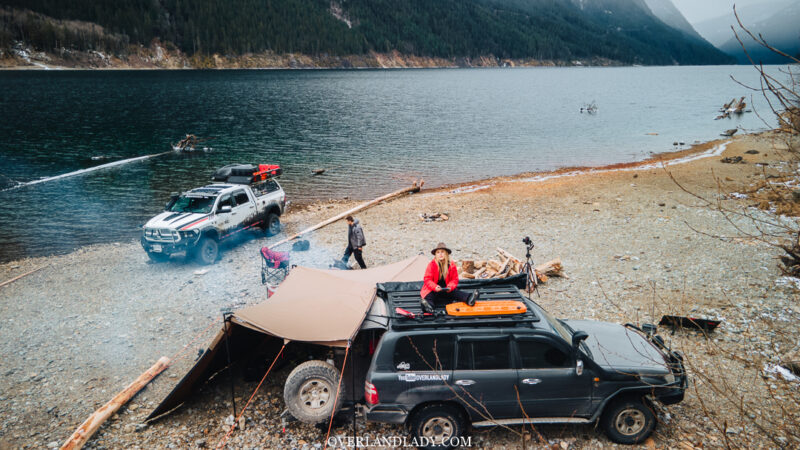 Do you have this tendency that when you meet someone interesting, you try to get to know them by going through their whole social media feed?
I don't even remember what I have posted in the past but somehow Victor found a video clip on my account which gave him an idea, a surprise.
I get to play the piano in the wild?!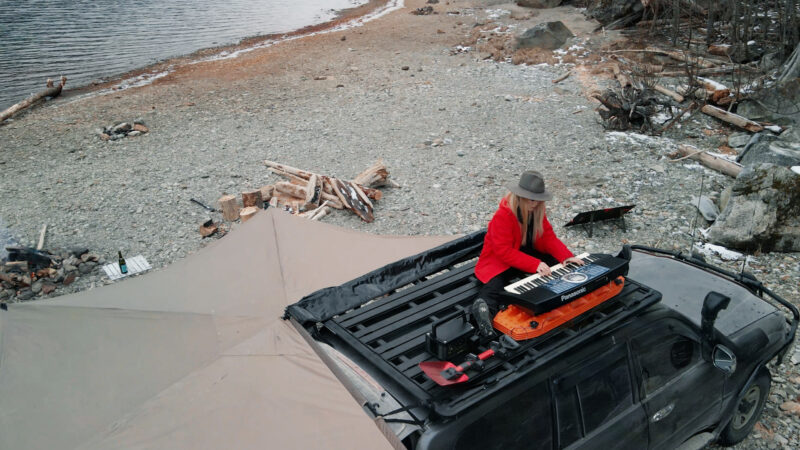 Plug the keyboard into my Goalzero Power station, let my rusty fingers run thru the black and white keys. Want to hear what I played? you'll need to check out his video below!
A big part of what defines Overlanding is the cultural difference of the distant places you're traveling to compared to that of your home. With restriction still in place, borders remain closed, it can be difficult to put a finger on which day we are able to travel again. However, we're lucky enough to live in a multi-cultural society. Thanks to the openness and welcoming policy Canada held before the global pandemic.
So for now, as night falls, flipping through the campfire with my poking stick, listening to the stories I missed in history class about the Soviet Union, learning a few phrases in a foreign language (What I learned in the video does not mean "hi" so please don't copy), I'm content.
What about you? met anyone new and learnt a story or two? Please tell.