We finally got a sunny Saturday that feels like Spring! A few of us came to the mountains for some "outdoor activities". Since range fees can be significant and rules are many, why not pack your unrestricted firearms to the woods? Find a far enough corner of the mountain. Set up some targets and gong. This was the time when I shot an M1 Garand for the first time!
What's the hype about M1 Garand?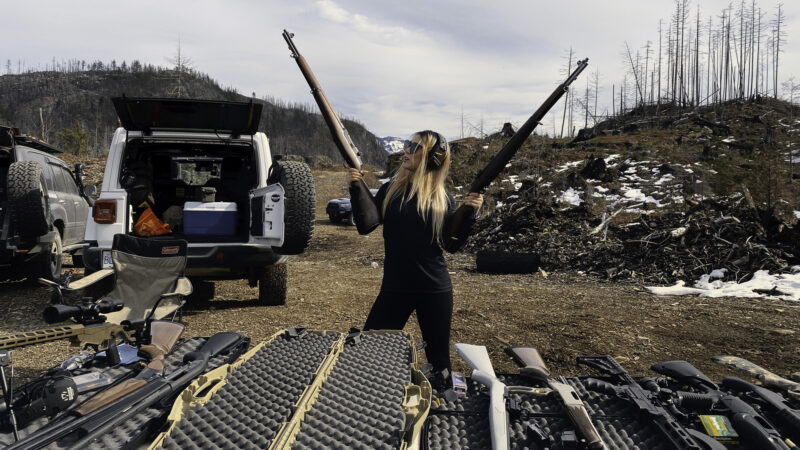 A total of over 10 firearms lined up on two folding tables. A bit too much don't you think?
J just picked up his M1 "twins" – a .308 and a .30-06. I had to pose with it in a d-bag fashion.
I wasn't so into guns but soon received a crash course on this legendary firearm. The standard M1 Garand shoots .30-06 and it was basically the reason US won the WWII. Many shooting games also glorify the "ping" sound of the clip ejects after the final round.
It took me a while to figure out how to load the clip into the M1 Garand without chopping my thumb off. The term "Garand Thumb" describes when the shooter pushes the clip in, if not removing the thumb from the chamber fast enough, the bolt springs forward and pinches the shooter's thumb.
When we got to this spot, one identification that it would be an "ok" spot for shooting was the amount of shells on the ground. Not a good indication because the previous folks didn't do their part of "pack out what you bring in". I spent a good chunk of time picking up their shells and brass. Under the sun, I got surprisingly hot and eventually started sweating. Is summer here already?
Jan put his Jeep top down to enjoy the weather. It makes me miss my Noah for its freedom top. Altar, my Landcruiser, doesn't have a sunroof. It has 4 cubbies for sunglasses. Yes, four.
Camping by Harrison Lake
We find a camp spot before sunset.
The lake side campground was quite busy with multiple groups of campers already setup. Someone told us there was a big opening along the end of the beach if we can squeeze through the trees and people. We carefully manuvered through the crowds while thanking them for letting us join this beautiful space.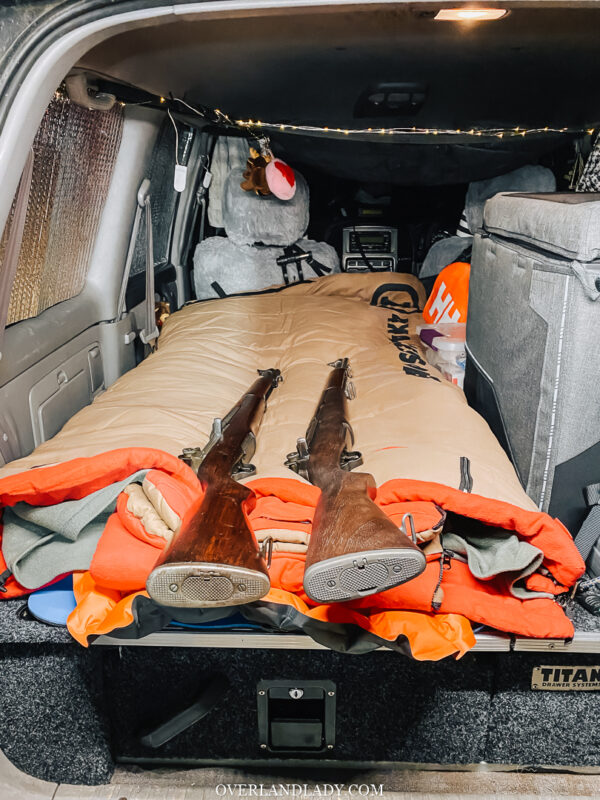 Victor from Gear Into Adventure also came to join our camp. Four of us each brought an electric chain saw. J sharpened our chains and did a torture test comparison. Want to know which one we rated the best? Find the answer in the video!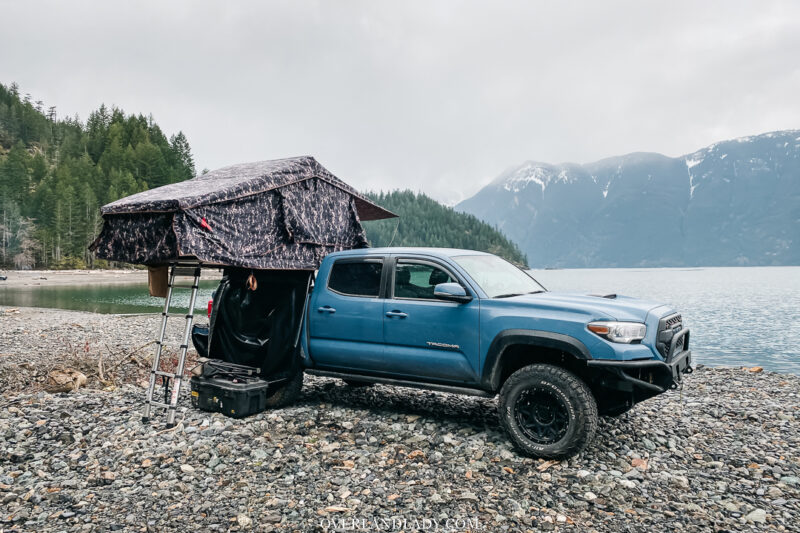 Tuan got a new bumper from Big Country Custom. Tight fitting and agressive!
Last night when I checked the weather on Zoleo, it showed that the rain would start in the early afternoon. Tuan said he would pack the tent before it rains. I think we can all agree that no one loves packing in rain.
This morning marks the beginning of 2021 daylight saving. Which means we lost an hour in our sleep. Some campfire chitchat and self-reflection also pushed back our time for bed.
So, when did we all get up? I'll tell you it's not before the rain..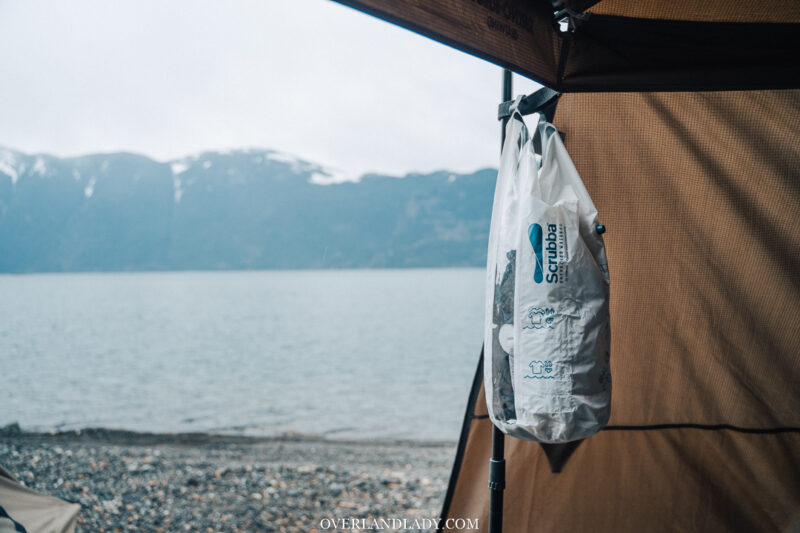 Scrubba has finally released this "Untouched" washbag on Kickstarter! Their goal was crushed within a half-hour. I had the honor to bring a prototype with me through my trip to WA and use it to do my summer laundry on the road. For shorter trips like this, I use their washbag as a dry bag to store worn clothes.
If you've watched my previous upload, you would know that J and I had a period of fallout. When we weren't talking, he had picked up a new hobby – shooting.
While I always had a Possession and Aqccuision License (PAL) here in Canada, I have never gotten into guns as deep as him.
Life will always drift you away from people you were once close with. You pick up different hobbies, meet different people, and go on separate lives.
But I'm lucky enough to have the chance to reunite with my past significant other and share a trip with my new friends altogether. Learn what they recently adopted since we last talked.
I don't know where this will lead us. And I'm happy with the new friends I've made along the way.
Maybe our growth is just like the seasons. We grow older and stronger each year like the trees. At some point, the cycle brings you back to a familiar point. But this time, you look at it with a pair of fresh eyes.
The time change means that spring is around the corner. Many of us look forward to summer times which is often linked to making friends, popping cans, Driftin' campfire nights in the land of the Northern Sky.
It makes me want to play Canadian Summer on repeat.
But will each cycle be the same? I hope not. It can be very similar in a positive way. But remember, you've grown. Wiser, braver, and more knowledgeable.
It takes courage to reconnect. But maybe, just maybe, I can put in a little anticipation of what this season will bring?
I'll see you this summer.