Over the past few years, Vancouver has been experiencing huge expansions in automotive industry and very caught up to the latest trend. As what I perceived, 2015 was a year of over fender widebody kit. Liberty Walk and Rocket Bunny has been all over the internet. I myself encountered countless of them.Vancouver had its very first Liberty Walk GTR in mid 2014 and within 2 months, the third one came out as well. Now I can't even tell exactly how many LB GTR there are in this small city, like, five?
But there is something very special about this third one.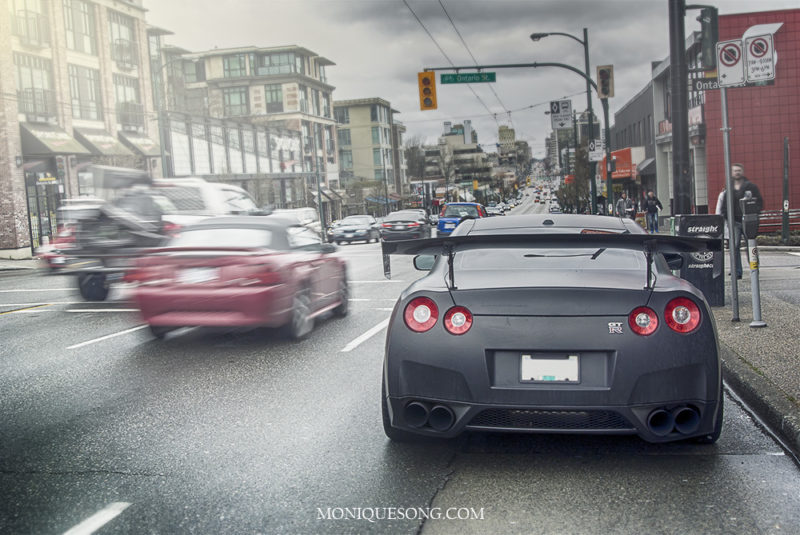 This photo was taken back in 2014 Spring when I just got to know the owner not too long ago. Back then it was already modified for track purpose, creating 800hp with AMS Alpha 9 turbo, Gotboost 3″ intake, Greddy FMIC and piping, Anus 1100cc injector and a lot more under the hood; a pair of Bride Zeta 3 bucket seats inside; AMS down pipe and T1R mid and cat back exhaust underneath.
After the Liberty Walk kit being installed, he still wanted to keep its handling performance consider the car came from a circuit background. Hence why we don't see the "Godzilla on the ground" here. However, we got something more fancy: a set of Moton 3-way adjustable coilover.
As this project coming along, it was also when I was planning for the widebody work for my Hitomi and  we talked a lot about our ideas regarding new colors. This car used to be wrapped in matte grey and he just couldn't get his words off from grey. I joked that he was trying to be "50 Shades of Grey" because he also had other cars, literally, in different shades of grey. So I wasn't surprised the finished project was kept in grey – a very fine Murcielago grey.
Now there's a very neutral color to work with. A set of Monaco Gold PUR LG02 3-piece wheels definitely becomes the high light of the car. Something I want to mention here: this is the guy that hooked me up with PUR Wheels! I would never forget how carefully I was when I asked him "can I have the same wheels as you do?" because I was so lost in wheel selections. His helping hands not only provided me a good deal on rims, but more importantly, it became the cornerstone of my relationship with PUR and made me where I am today.
Over the two years I've known him for, his image in my head is an absolute workaholic. He was always at meetings or dealing with clients or out of town for work or just basically anything work related. He owns a healthy amount of cars but enjoys staying low key, or to be more accurate, staying anonymous. As he became too busy for track day events, this wild machine was kept in storage most of the times after it's face lift.
A few days ago, PUR team was putting together new product catalog and noticed there wasn't any good photo of this car. No matter it was because the 3rd don't always get as much attention as the 1st and 2nd, or because he had been hibernating for too long, this cool grey on gold shouldn't be forgotten. So I texted him asking for a photoshoot. We don't usually talk much but he always make time for me when I need and help me as much as possible.
Here we are, under the rainy grey sky, on the grey concrete ground, with a bit of grey mood from winter depression, I think I am seeing the right shade of grey.
-72 offset at the back. Sounds about right.