Overlanding the road less travelled – a solo exploration of the changing central BC terrains in the best season – autumn. Camping among the sand dunes in Farwell Canyon. Blown away by the scenery on top of the bluff at Chilko lake. The adventure stretches west from the Fraser River all the way to the shores of the Pacific Ocean.
If you would like to get my GPS tracking, join my Patreon community! Where you get all the insider info and chat with me directly!
Farwell Canyon
"We got desert and dunes in BC?!" That was my first reaction to this place.
Farwell Canyon is accessible by two-wheel-drive through the gravel road off Riski Creek, just 50km southwest of Williams Lake.
I topped up my fuel tanks at Williams Lake to prepare for the extended remote drive towards the coast. I had to run the pump twice since there was a $200 limit for each pump. The bill ended up with a whopping $300. Ouch.
Entering Farwell Canyon Road, once past the first line of mountain separating the outside, what's ahead made me wonder if I had driven to another planet through a teleport hole out of a sci-fi movie.
The gravel road snakes through the descent into the canyon. Several sidetracks through narrow cliff edges lead to a semi-secluded open space. Perfect for a night camp.
I continued driving past the bridge, where crowds of people stood along the side looking down. What are they looking at? I thought. Since it's already later in the day and I want to get to camp, I decided to come back to it tomorrow.
Soon after the bridge, I found a prime spot to open up my Rhino-Rack Batwing 270-degree awning. Watch out for cactus and snakes around the area!
There's a walking track leading down to the riverside. It wasn't until the next morning that I realized that there's a small pile of desert atop beyond the hoodoos! There's a short 30 minutes walking track you can go onto the sand dune.
After a slow morning, I packed the car and headed back to the bridge.
Looking down, it all made sense to me.
Several groups of natives are "fishing" along the shore down these cliffs. A technique called "dip netting" is only allowed to natives since they rely on this to feed the family. It was quite a scene to watch. Averaging one catch per 10-20 dip. During the fall salmon season, that's quite an astonishing number!
Chilko Lake
Keep heading east on the Farwell Canyon Road. Over 150km of wide gravel road passing through a long stretch of monotoned flat ground. It only makes seeing mountains so much more exciting to me.
As the road hugs around Konni Lake, we entered Namaiah Valley – a native reserve with full service. For most travellers, this will be the fuel stop as the road in Cariboo/Chilcotin goes very far. Both petrol and diesel are served. I parked beside the pump for a photo – remember I topped up in Williams Lake? Still got lots in my 280L tank.
And finally, we see the Taseko mountain range south to us! That means the lake is not far away.
Before turning into the campground, I took a left at the split and drove onto the bluff. There were two memorial benches overlooking the lake. I was at a loss for words to describe how amazing the scenery is. So I'll leave the photos for you to judge.
It was moments like this that make me want to share with someone. I tried my best to describe what I've seen in plain words, hoping my loved ones can use their imagination and "see" it in their heads as if they were with me.
Chilcotin & Kappan Lake
Camping in an organized campground allowed me the opportunity to meet other campers. In the morning, a older couple came to say hi and chatted for a while. Seeing them always touches my heart – it's the future I wanted. But am I going farther to that goal by doing all these solo?
I carried this through throughout today's drive.
In a narrow section of the trail, I saw two horses from afar. To be polite, I stopped the vehicle. But the more I look, the more I wonder. Why are these horses so big? Wait. why do they have camel-like humps on their shoulders? MOOSE!
Soon we are out through Tatla Lake. Aired up for the highway portion of drive till we get to the trailhead of tonight's camp. I had been reading the Backroad Mapbook while airing up, studying the area to find a camp closer to my destination tomorrow. Then I found Kappan Lake. A short mogule-like track leading down to this rec site with 4 camping spots – no one around. And I got to enjoy another amazing sunset all to myself.
The road to Bella Coola
I was visited by a pair of loons exchanging mating calls in the morning. The city girl in me freaked out as I didn't know what it was. It was quite lucky to have been able to hear them in real life. Apparently, once they find a mate, they keep it for life. Oh, why do I have to see couples in every corner while I'm the only one on the road?
Also lots of grouse in the area. They are kind of…. dumb… as they barely move even when the vehicle comes super close.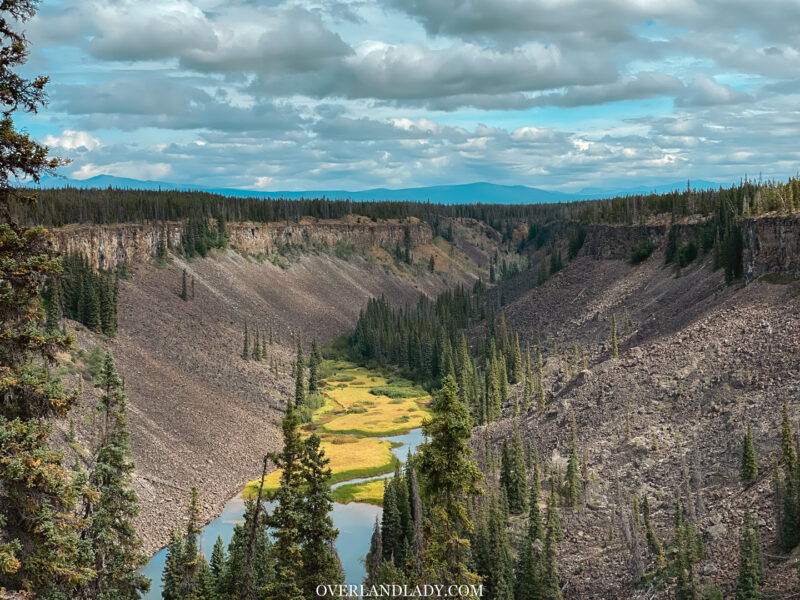 Before leaving, I came to check out Hotnarko Falls. Since it's fall season, there's no more waterfall left – a small stream if anything. But I was welcomed by the earth-splitting canyon. What a sight.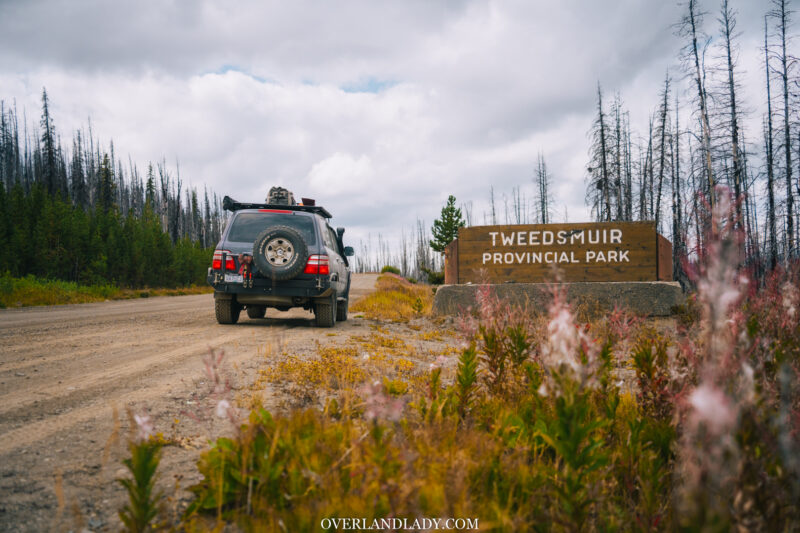 Back onto Highway 20 towards east. After the Tweedsmuir Provincial Park sign, "The Pass" was the last challenging portion of the drive till we hit our destination for the night. This is the steepest descend ever on a numbered highway in the whole of Canada. Miles of gravel mountain road with sharp hairpin turns and no barrier. You could roll miles and miles down if not careful.
With all that's been going on lately and the calls from home, I end up spoiling myself and got a cabin at the campground I booked. Check out the video for a walkthrough of this rustic cabin at Rip Rap Campground!