On the way to the Arctic Circle, there's a side track we can take to the most remote community in the northwest corner of British Columbia – Atlin.
Would you drink straight from an unknown creek? I definitely wouldn't. Or did I?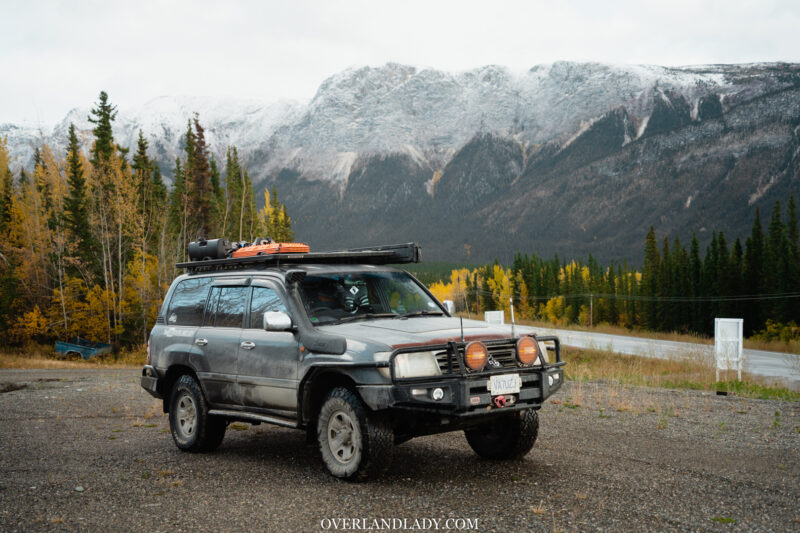 Hello and welcome back to the channel. If you've been following, my arctic expedition has taken us to Yukon. But I decided to take a side track and loop back to a small isolated community in the northwest corner of British Columbia.
Perhaps the most remote town in BC, Atlin is accessible by land only through Yukon. There is no cell service along the road or in the community of Atlin.
Atlin is one of the most important gold mining centers in Canadian history. Just 60 km south of the Yukon-BC border, it shares the rich gold rush history of the Yukon as gold seekers discovered Atlin on their way to the Klondike in 1898.
During that time, this town had a population of roughly 10,000. Now? Somewhere around 3-500.
It's crazy to see history so far from my time right in front of me. It felt unreal.
Entering the town of Atlin, I turned left from here to head into the wilderness first.
I have pinned several spots on my map I wanted to check out.
Warm bay has a "hot spring" that's basically lukewarm. There are sensible microbiome and tiny lives in the pond. It is advised not to use any cleansing products while soaking in this pond.
While I was about to leave, two locals came up and told me a lot of cool places to check out. Many I have already saved. But they provided me with more detail on the sites, such as what to expect and do.
For instance, the water from this creek is so clear that you can drink directly from it.
Later when I made a post about drinking raw water without filtration on a local 4WD group, I received so many comments about how dumb this was. A day later, more people jumped on the topic with opposing ideas.
Humans have mostly drunk untreated freshwater throughout our existence until the last 100 years. Fresh healthy drinking water existed almost everywhere in nature.
Water from mountain springs often contains more minerals than surface water (lakes and rivers ) as it picks up minerals from rocks and other elements.
Sure, water looking clear doesn't mean it's clean by whatever modern standard.
I wouldn't have tried it without local knowledge as assurance. So far I can tell you, I finished the cup. And I'm still fine.
2I have a Lifestraw. And I know there's a water filter jerrycan in the market called Life Saver. What's your take on drinking natural water straight from the spring?
I found secluded tiny camp spot right by the water to get a quiet night for myself.
Not feeling particularly hungry, so I only had a protein shake for dinner, journaled and got to bed early.

The next morning, I warmed up some clam chowder and cooked some egg white.
It's so cold that oil spray comes out like foam. On a side note, when it's freezing temperature, you might as well use a jar of coconut oil for cooking. Whatever oil you bring will solidify and get stuck in the oil bottle. Ask me how I know…
And if you want the egg protein but are afraid of eggs cracking and making a mess in the fridge, carton egg white or whole egg liquid is a good substitute.
Many of you have been asking about my single egg cooker. It is a mini griddle from Dash. Comes in so handy when cooking for one on the road.
Heading towards the town center with the fresh snow-capped Atlin mountain in the backdrop.
Recently I've been listing to the audiobook Happy by Derren Brown during my long drives. The idea of stoicism gave me a whole new perspective.
He spoke about the sobering thought that everything will one day come to an end. If we knew these great moments and treasure relationships will last truly forever, we trip and dance thru the garden of immortal and never die. What effort will we make? and for how long? To treasure something is to hold on to it carefully, realize that it is precious, and risk being lost or taken from us. It's only the finite nature that gives us their meaning.
Virtual life gave us an illusion that things last, we start to take real-life for granted.
I can chat with you on the phone or online whenever! so let's talk more next time. Don't have to cramp everything in now. And that next time, usually never comes.
I wonder if the lack of cell reception was the reason that Atlin people are so nice, friendly, and kind.
My next destination from here is Whitehorse. It is the biggest city since my journey north. Not sure if I'm ready for that yet…