It was a semi-impromptu trip from August 28th to September 2nd, 2018…
Socialization haven't been smooth in my quarter-life year. I didn't want to rant out all the details of how the mistrust evolved between two people in opposite genders. In short, I left someone else's wedding half-way because the boy who took me there told my girl friend that this would be his last time seeing me for whatever reason but pretended to be normal the whole way, yes, on my birthday…. Sh*t sounds like high school drama, but at least high school kids don't go to wedding like that..
Although I don't treat birthdays as anything special, it's not fine to dump my emotion like a jug of expired milk. Three years of back and forth pre-exhausted the last bit of my hope. As a result, I had something that I needed to burn.
Yes, burn – when throwing away isn't enough..
I'm a Leo, and lions don't take disrespect lightly.
British Columbia was still under fire ban near the end of summer. However, our neighboring province, Alberta, only had part of the land under fire ban. Which means I could find some backroads to light up something…
Just so happened that our camping captain planned a trip to Red Deer during the last week of August. And he told me I was welcomed to join part of it.
Burning a tiny frame wasn't worth my traveling out to another province. But since I had never been to Alberta, why not go for an adventure and make everything worthwhile?
I wanted it all – I always do.. In order to maximize experience for this trip, I planned a little of everything to cover the best of both/all worlds:
Luxury hotel – motorhome – camping
Fine dine steakhouse – simple camp cooking
City centre – wilderness
And did I end up burning what I needed to? You will discover that at the very end of this journey.
Sit tight, this is going to be a long ride.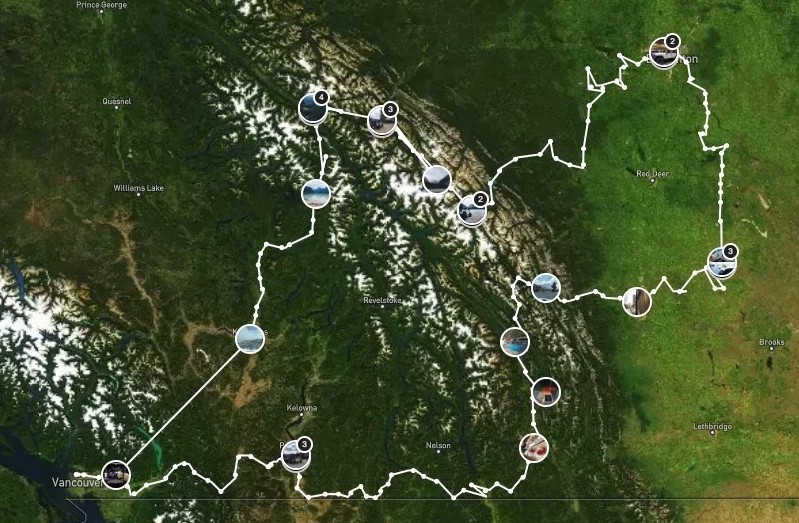 Our road map for the trip: Vancouver – Jasper – Edmonton – Calgary – Banff – Penticton – Vancouver.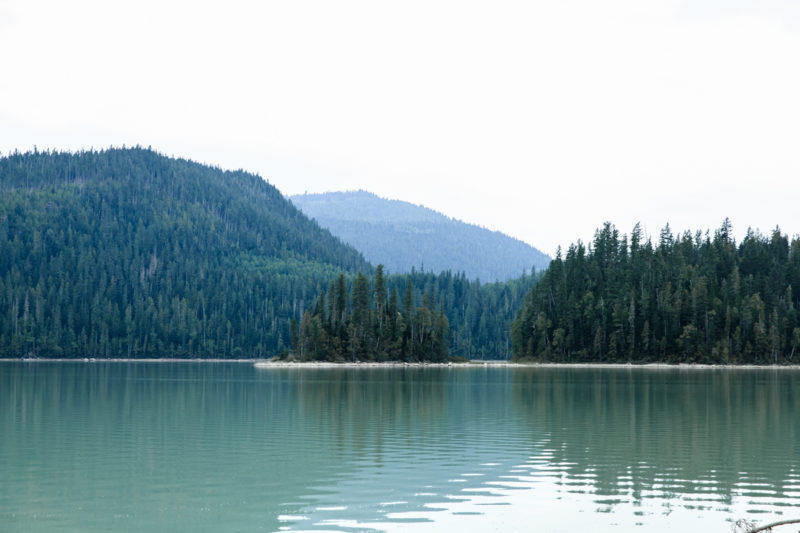 First resting spot was a River Safari recreational site at Blue River Black Spruce Provincial Park, BC. The site also offers Jeep Safari that take you down to Mud Lake. Funny enough, the safari Jeeps were all white – just like Noah. We took what we guess was their touring trail down to the water. On the way, a safari boat passed by and the tour guide waved at us – possibly mistaken Noah as the touring Jeep from the same attraction management group…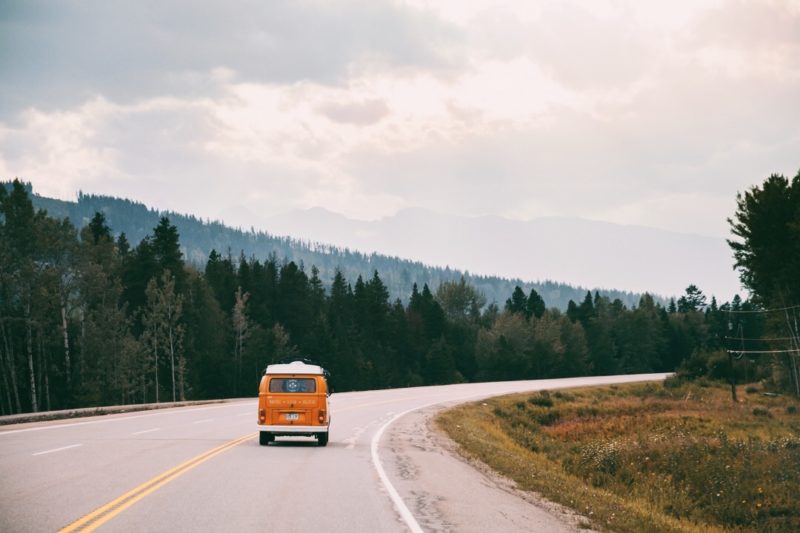 We followed the VW van on our way to Jasper, believing that we could see something spectacular…… and after the road turns we saw..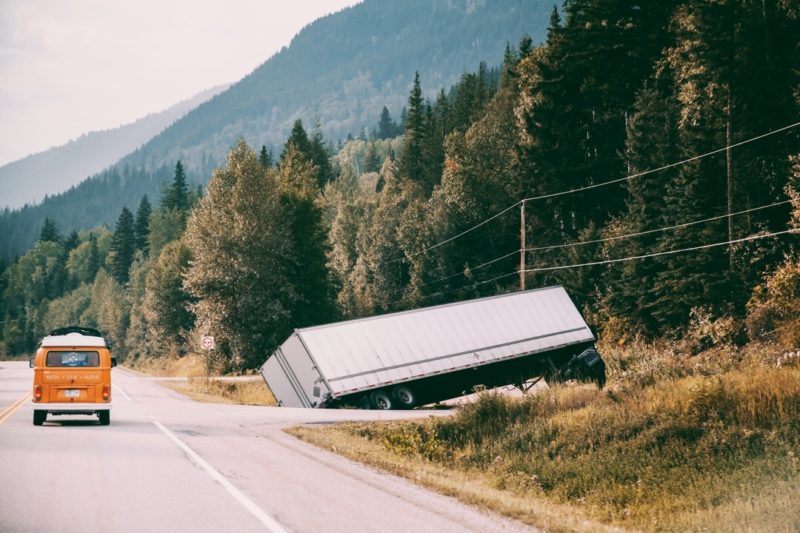 The part I didn't like about highway driving was truckers… They are slow and sometimes unpredictable.
But if I really think deep about it… They play a huge role on businesses and economy. Plus, Canadian truckers are really nothing comparing to how Chinese half-broken trucks behave/misbehave on highways…. I probably shouldn't complain..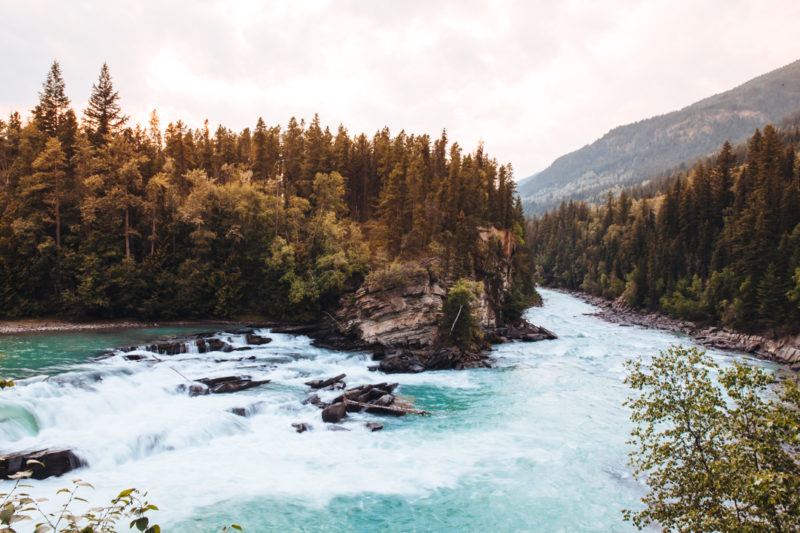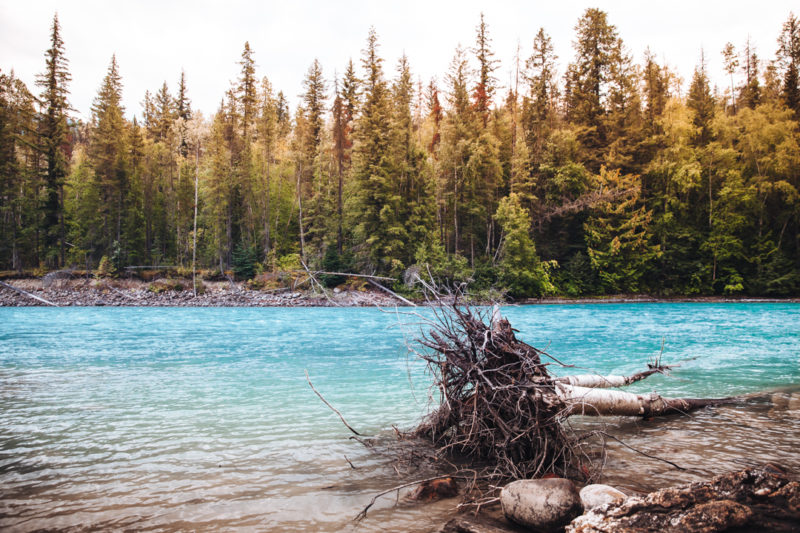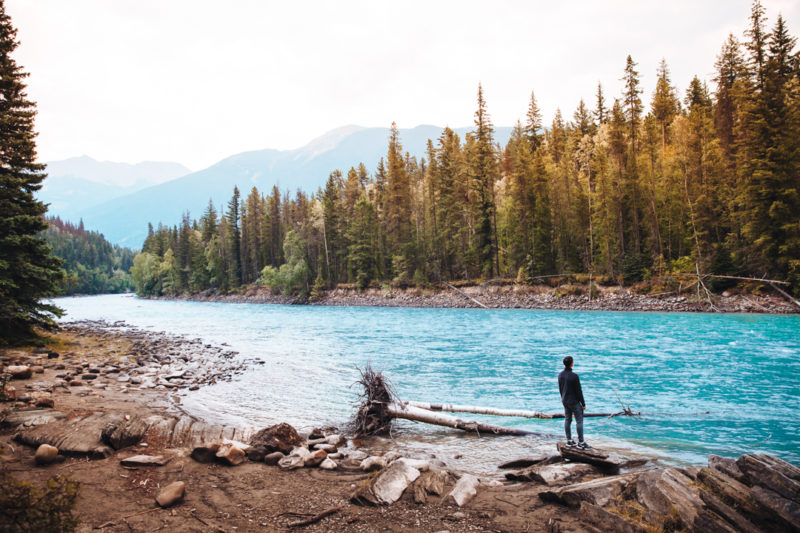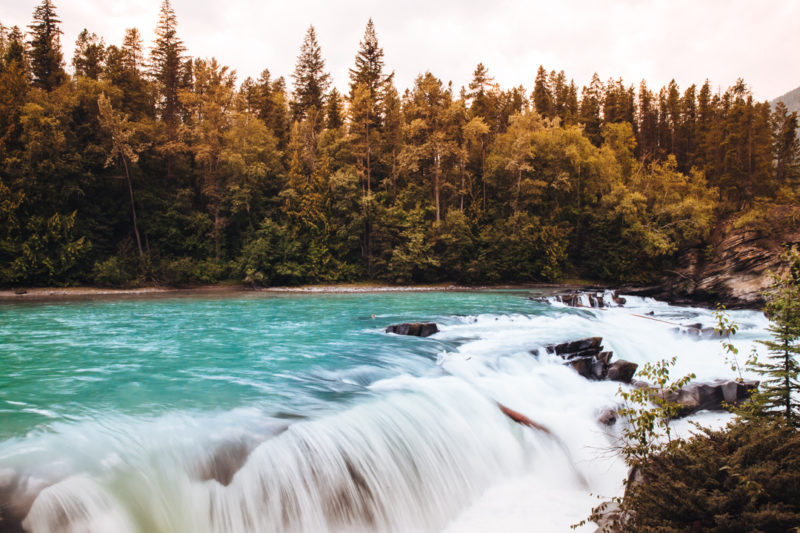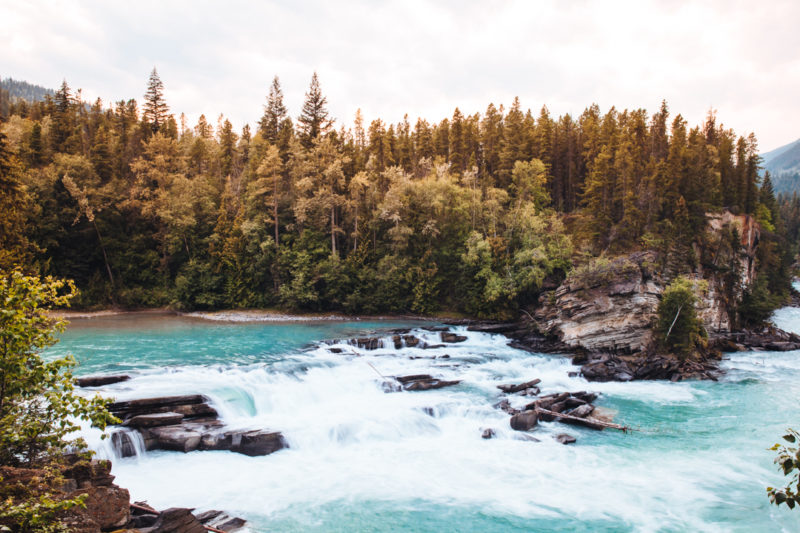 Rearguard Falls was located just before Fraser River's emergence into the Rocky Mountain Trench, not long after we merged from Highway 5 onto Highway 16. It marks the upper limit of the 800 mile migration of Salmon from the Pacific Ocean. Only a few Chinook Salmon – apparently the biggest Pacific Salmon species could madk it up here.
It was still late summer, which means the iconic Salmon jumps were still in season. However, we only spotted 3 attempts within 20 minutes. Not enough strong ones left?
Mount Robson Lodge RV

Our first night was at this lovely motor home at Mount Robson Mountain River Lodge. I contacted the host 2 days prior to my departure asking for cabin availability. I'm usually not a last-minute person. Originally, I booked an Airbnb RV home in the community of Tête Jaune Cache. The host canceled my reservation 2 days prior which created me a slight emotion called rage.
But guess what, the Lodge owner replied my email within minutes, stating that all the cabins were reserved, but they have a "Class A Motorhome" available. It wasn't listed on their website but they allowed me to rent for one night… What a surprise! That was exactly what I was looking for! Even better!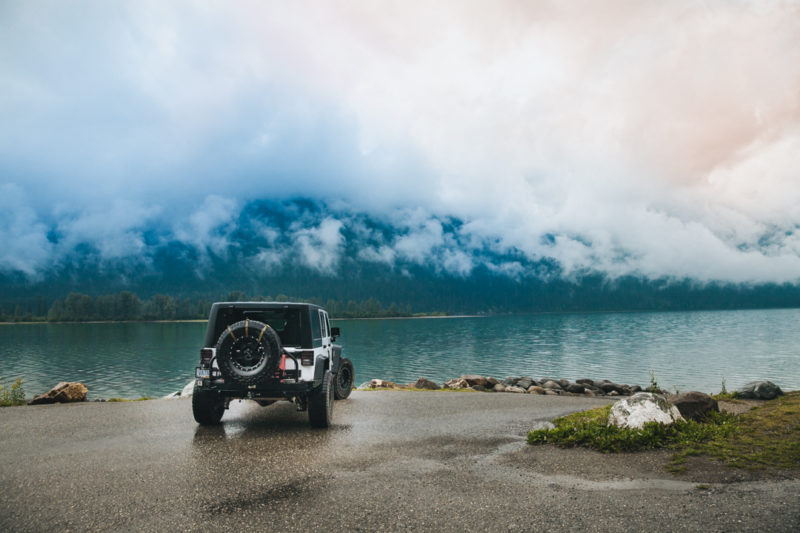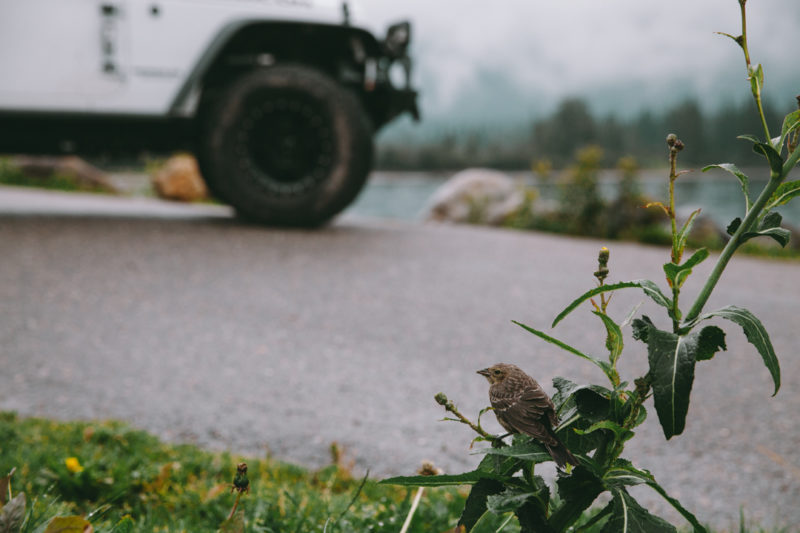 Second day. Took a few stops on the way and we were off to Jasper!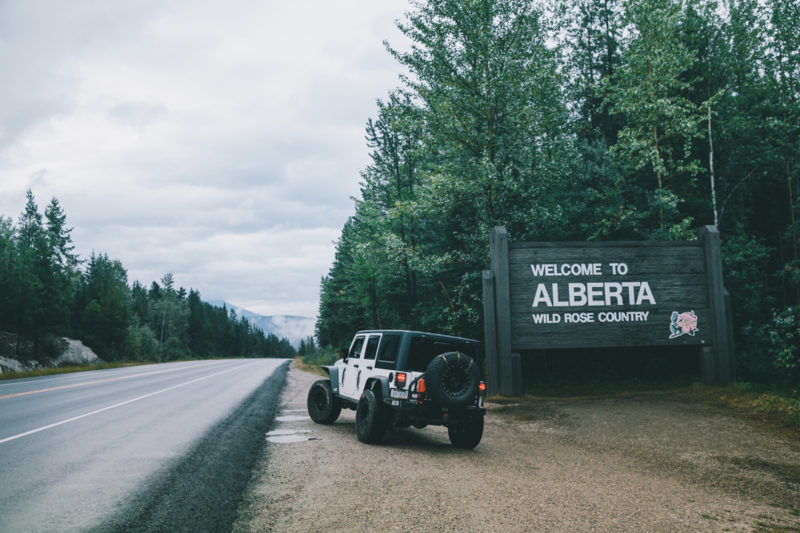 Hello Alberta!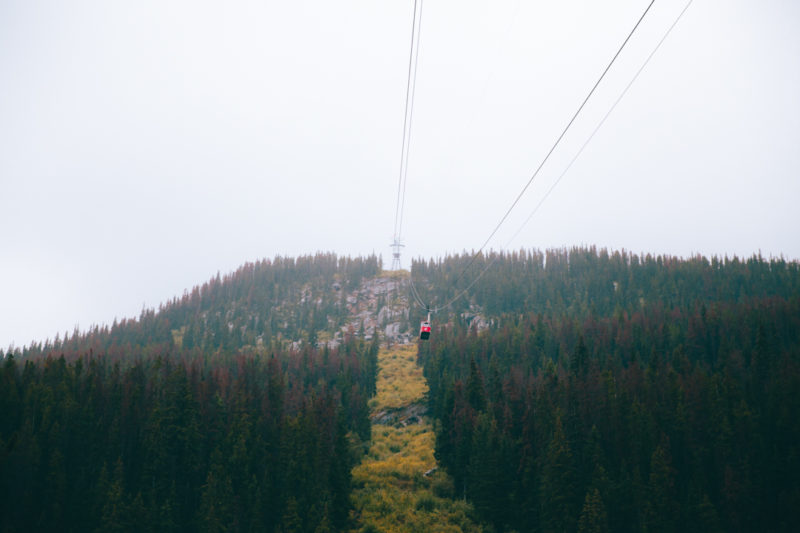 It was a bit cloudy and rainy in Jasper town. If you ask me one decision I made wrong, it was to purchase the tickets to Jasper SkyTram.. It was almost $50 per person for this lift…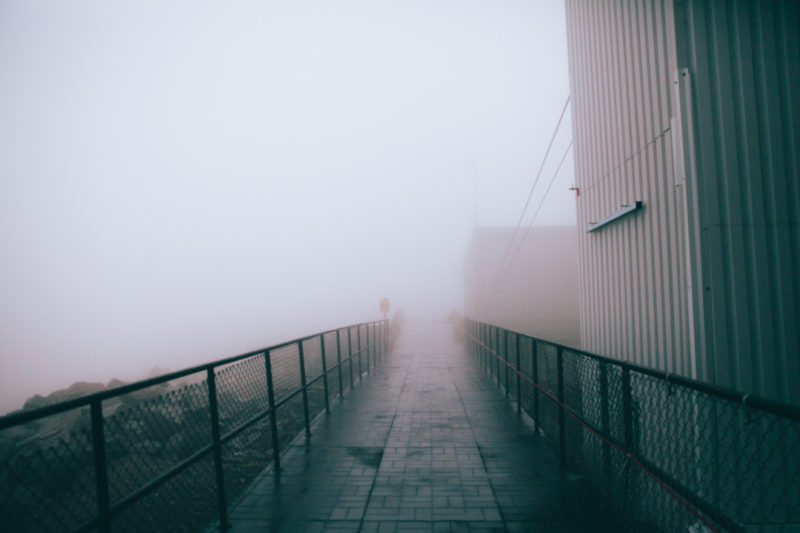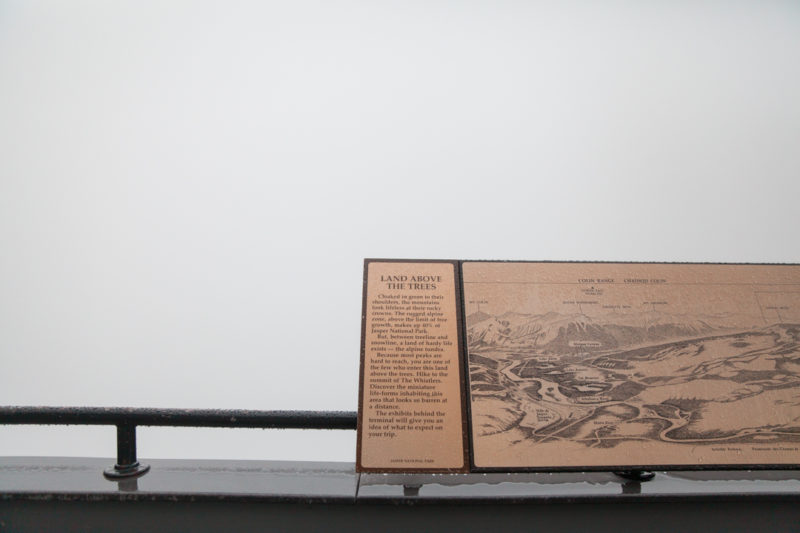 The view on the top of the mountain was absolutely phenomenal. Except my photos were over exposed….. Ok that was a lame joke.. The board in the above photo was supposed to show you what you can see from this view point. Unfortunately, on the day we went, it was too foggy to see anything…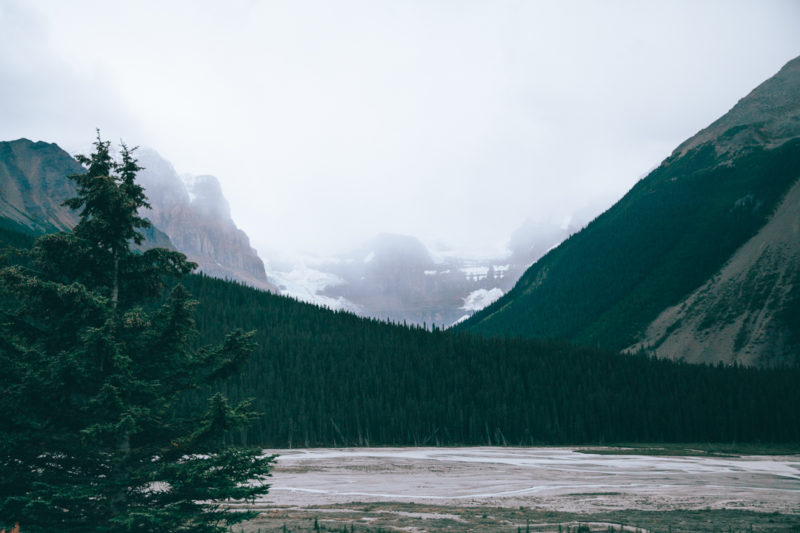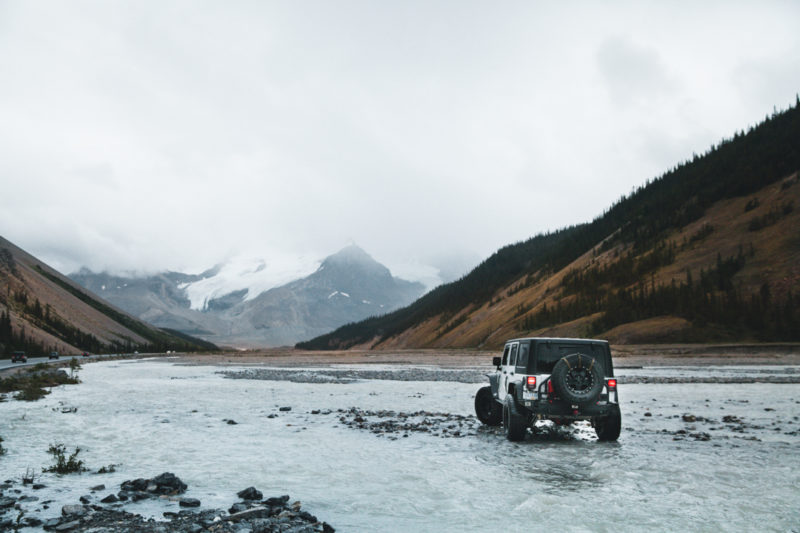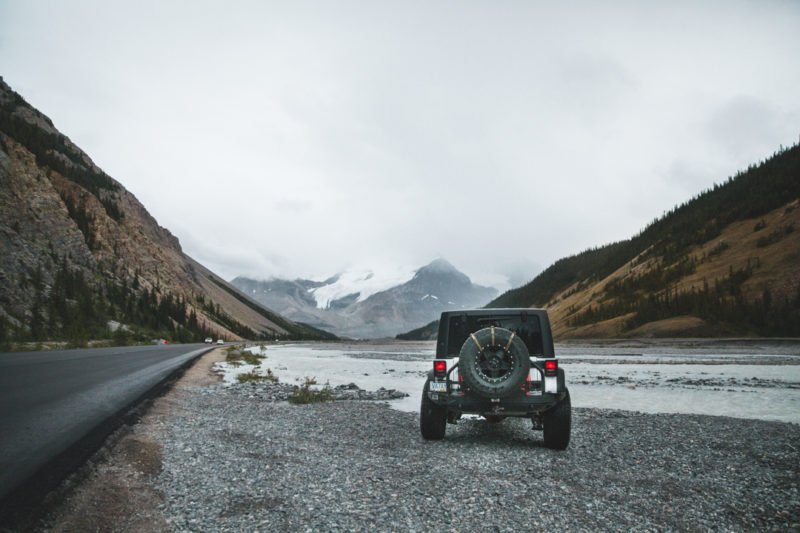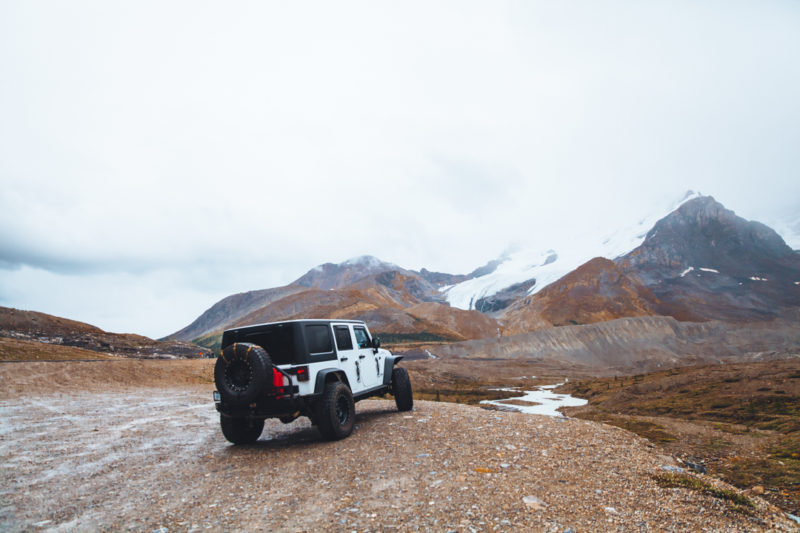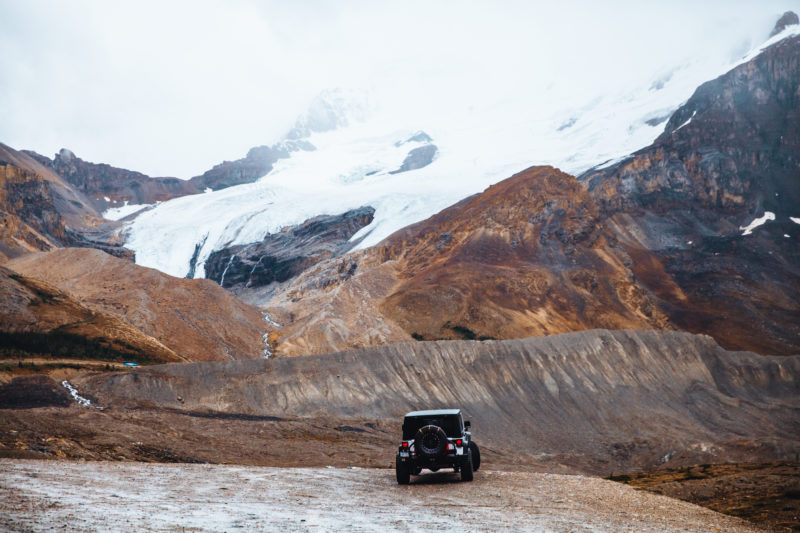 Instead of driving straight from Jasper to Edmonton through Highway 16, we went down the map to Columbia IceField. The biggest icefield in the Canadian Rockies lies between Banff National Park and Jasper National Park. The area receives on average 7m of snow each year. Not all snow are able to melt during the summer so it accumulates into 6 major glaciers, among which, Athabasca Glacier being the most well-known.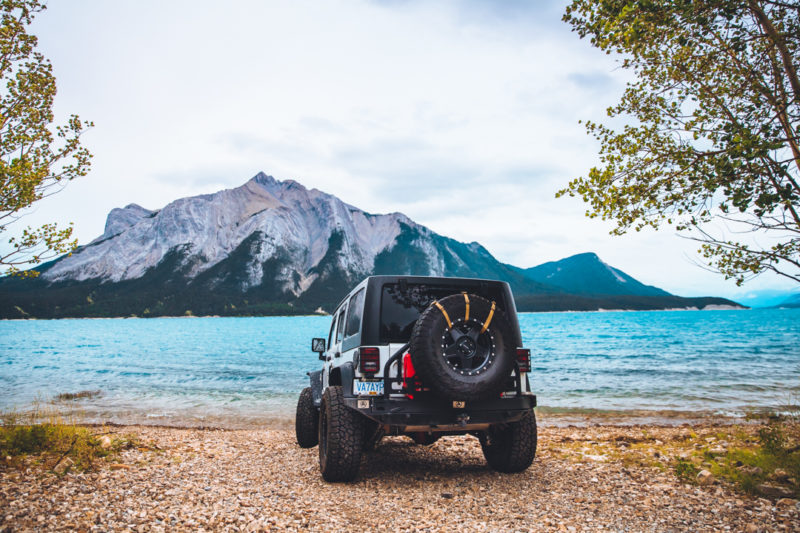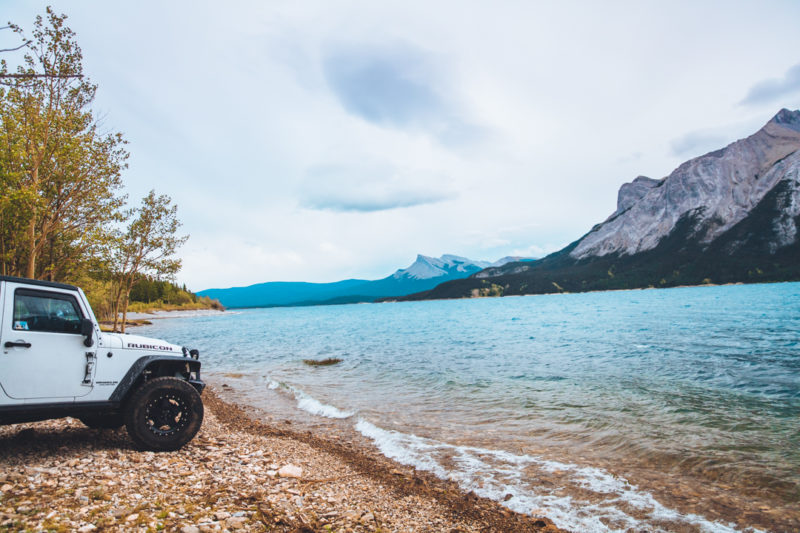 We turn onto highway 11 at Saskatchewan River Crossing and headed North East towards Edmonton. The perks of having an offroad capable vehicle is that we could spin off to the little roads along the highway and search for views without other humans..
We used up 2 Jerry cans of fuel till we finally arrived at FantasyLand Hotel in West Edmonton Mall… Of course we spent the whole next day shopping indoor…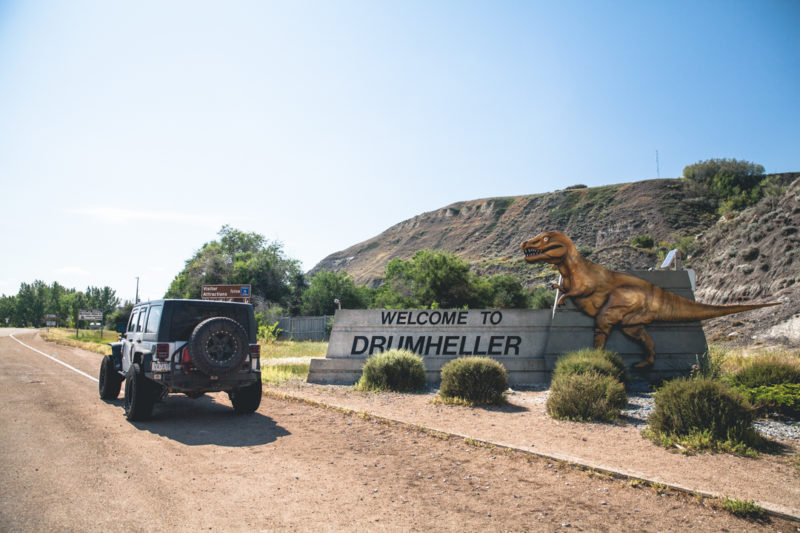 On the way to Calgary, we stopped by the desert where dinosaurs were found. The scenery changed quite dramatically as we entered Drumheller, AB – small hills of farm land became edgy and sandy.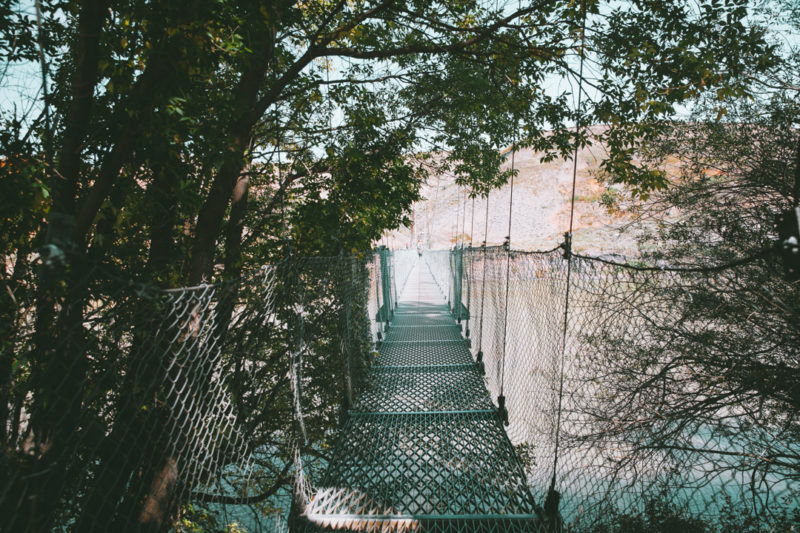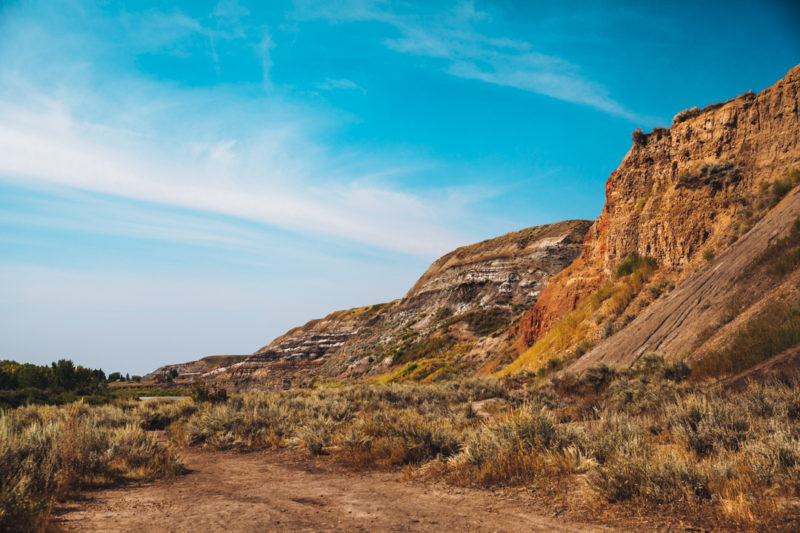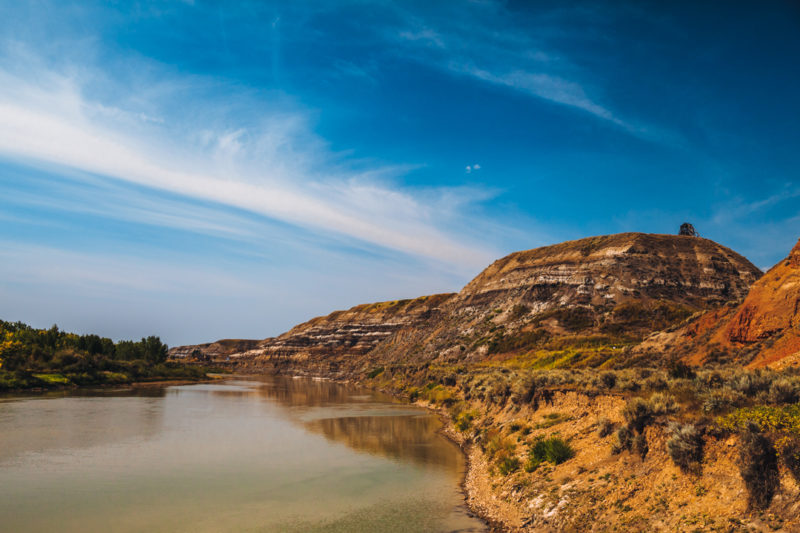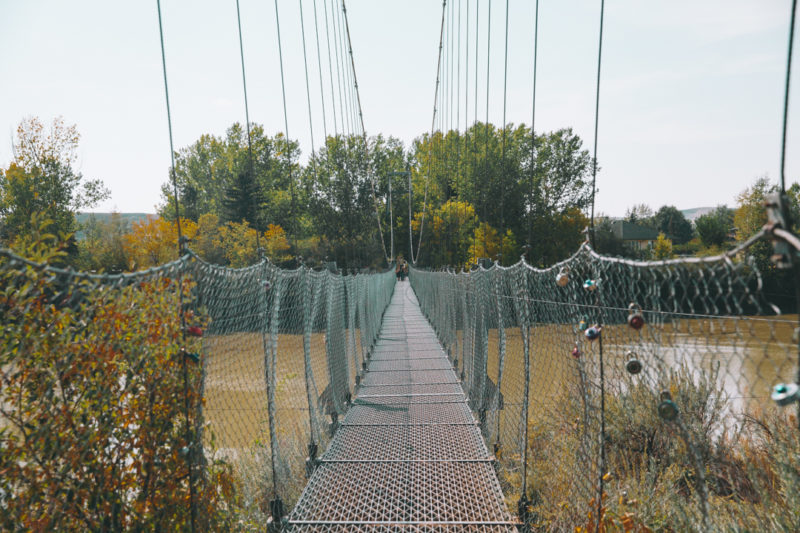 Star Mine (or Rosedale) Suspension Bridge was built for the coal mine on the other side of Red Deer River. This 117 meter long bridge was built in 1931 and rebuilt in 1958. Somehow it became a place where lovers lock their promises…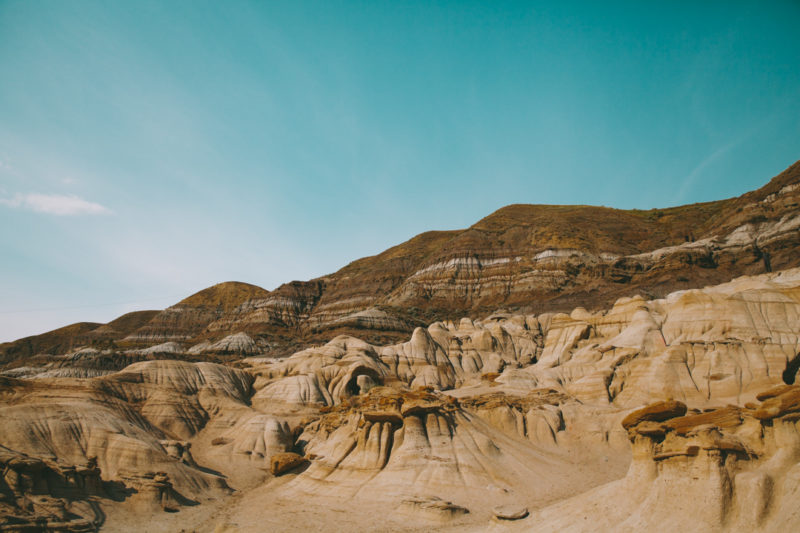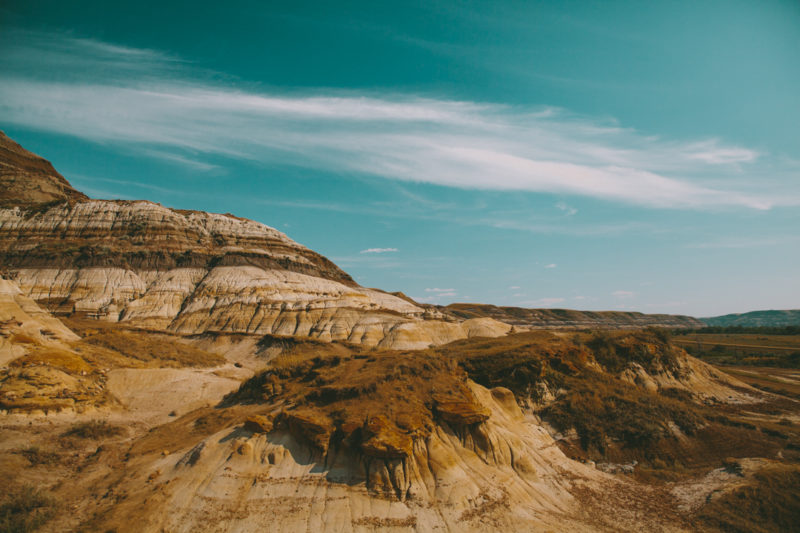 Hoodoos Trail is a must-see top attraction in Drumheller.
Hoodoos are eroded pillars of soft sandstone rock, topped with a resilient cap. The rock protects the sand underneath which causes the surrounding sand erode quicker than the sand under and created this natural formation. With time, the sand continue to erode and these existing pillars are disappearing at a "nano speed" as we speak.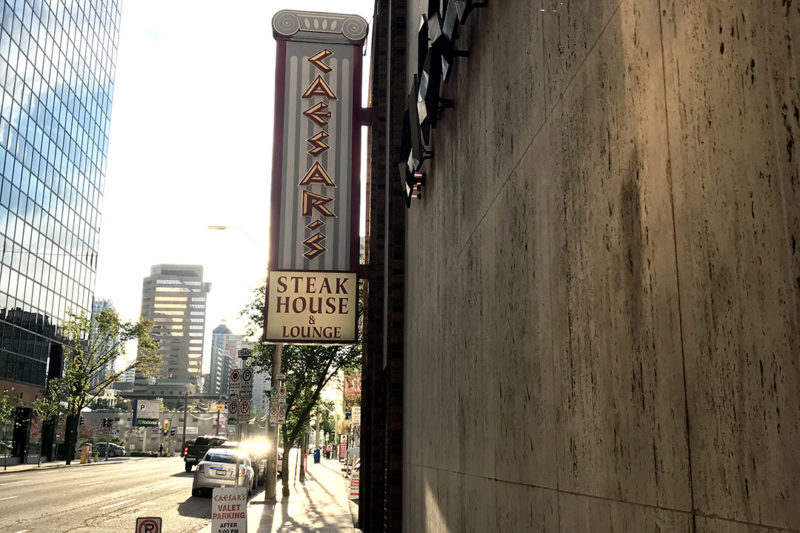 Dinner location at Calgary was chosen based on recommendations from locals. Coming from Vancouver, we have seen "Alberta AAA Beef" all over our find dine steak houses.
Remember the Captain I mentioned at the beginning? Yes, we met up in Calgary that night as he finished his family visit in Red Deer. After a night stay in Calgary downtown, instead of staying longer in the city, we hit the road towards Banff. Sounds like a good plan right? Except it was September 1, Saturday, also the first day of a long weekend… You know what happens on sunny weekends? Right, everyone is outside!
Unfortunately, I don't have any photo or video in Banff. We did stop by in the town though, which was a total bad idea.. It took us more than half hour to find a parking spot. Humans everywhere. We grabbed a bite from McDonald's where was also flooded by people… I get grumpy easily in slow moving traffic and crowds make me anxious and drained. Once a beautiful attraction has gained enough attention from travellers, other issue would arise – how to balance tourism economy and tranquil nature?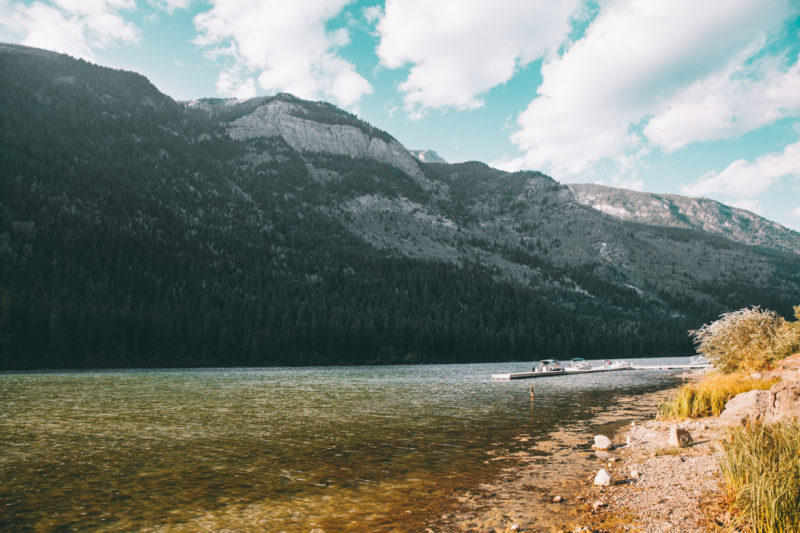 Out from the tourist hotspot, we drove down Kootenay towards a natural hotspring – Lussier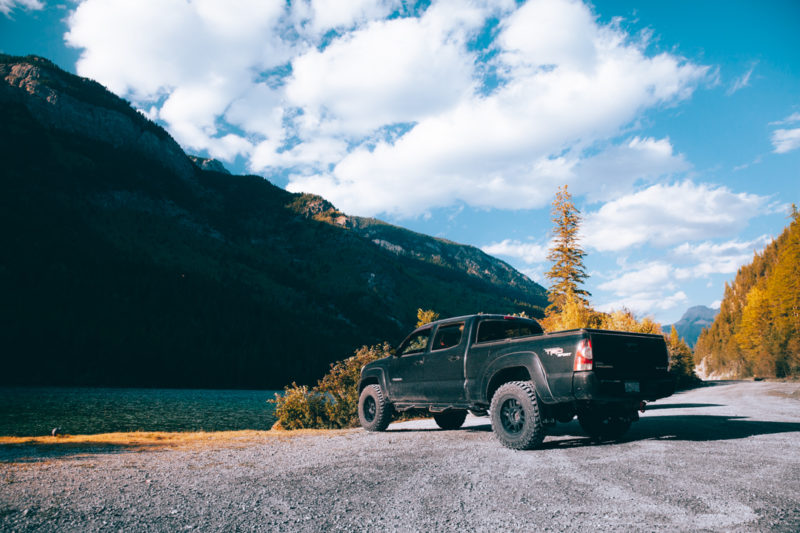 Captain's Tacoma looking towards White Swan Lake.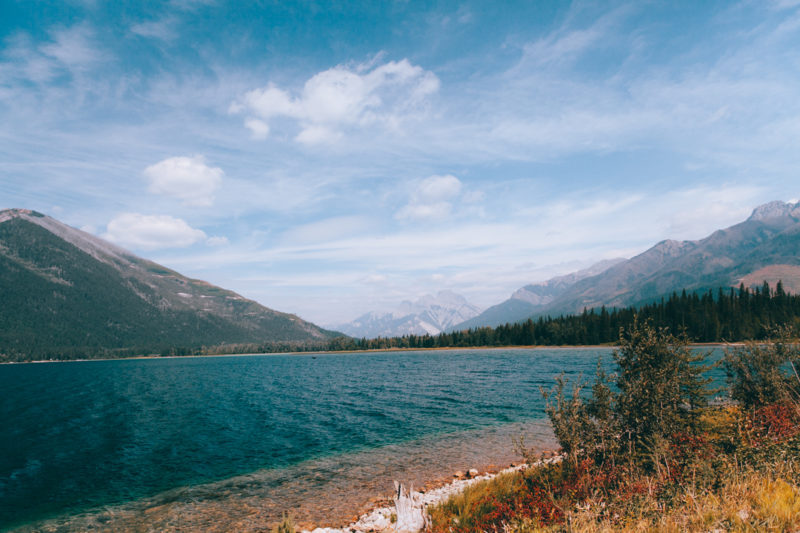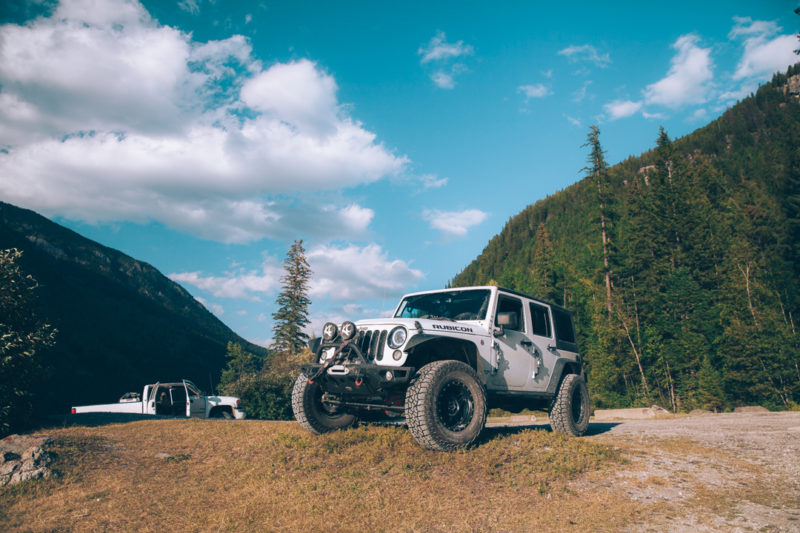 We camped a night by the lake, had s'mores by the propane fire pit right beside our spacious ground tent. And of course, I made breakfast with simple camp stove. It can be viewed in the video starting at 3:43.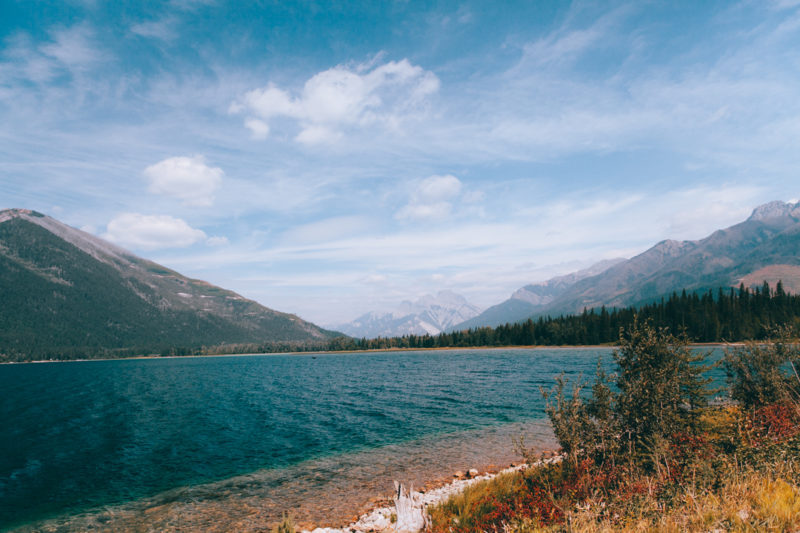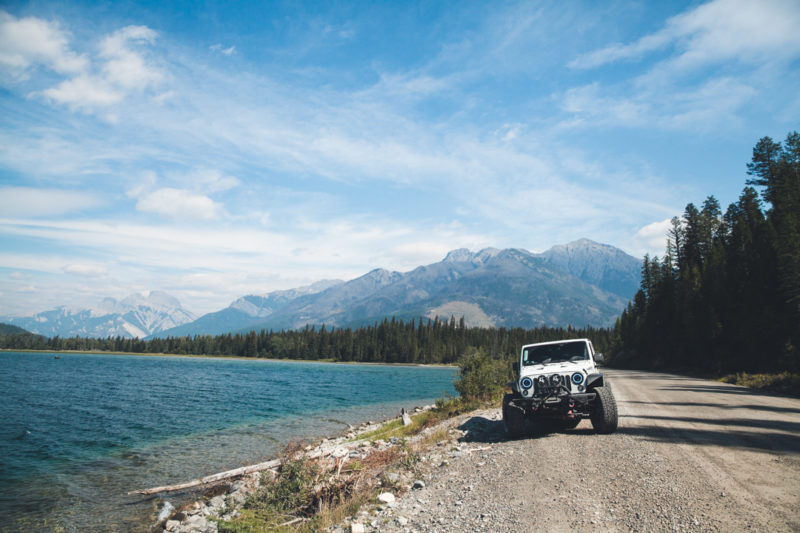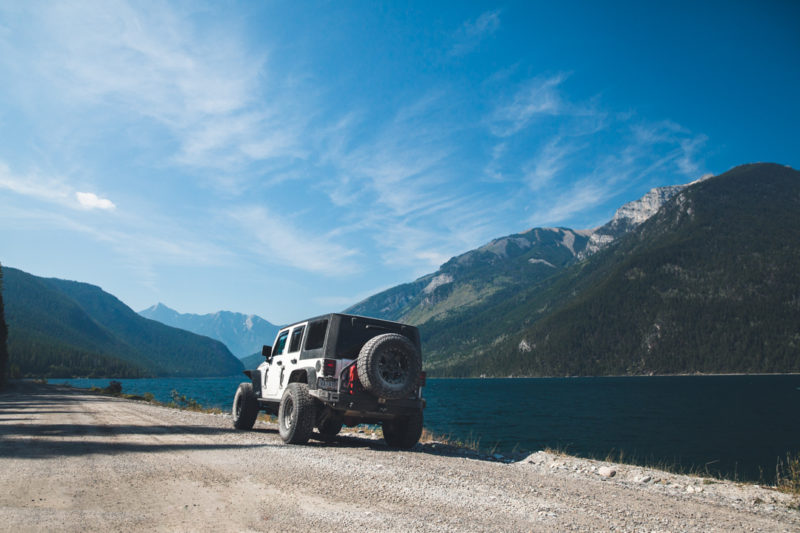 We took Highway 3 along the border for a full day of driving and arrived at Penticton at night. The mountain roads into Osoyoos was absolutely breathtaking. Unfortunately, by the time we pass there, it was already very late and I was too tired/lazy to stop by for a photo. The sky was slightly hazy which wouldn't be very ideal for long exposure shot either. I have to come back to this little town some time just to take in the scenery on a slower pace.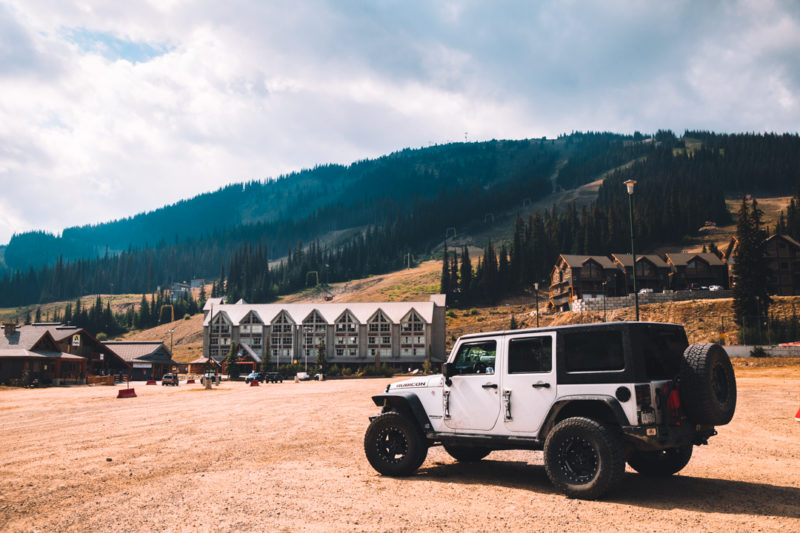 We originally planned to night stay at Apex Mountain. However, we weren't able to make it there before we were all depleted from driving… This was a popular ski mountain in winter, not much going on before the first snow flake lands..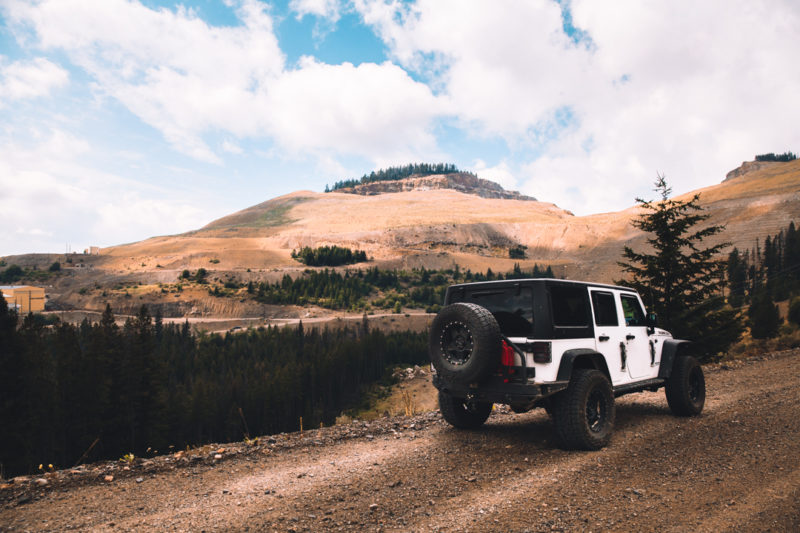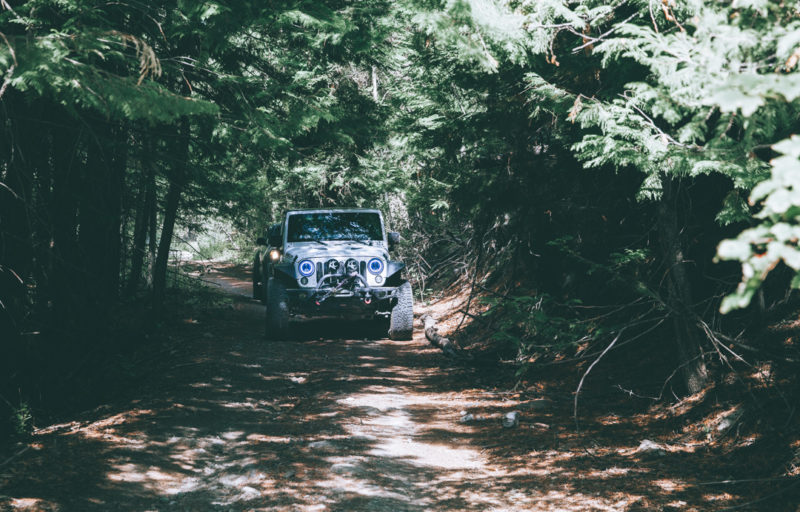 Driving along Hedley Nickle Plate Road, Captain took us on an mini adventure of finding abandoned mine..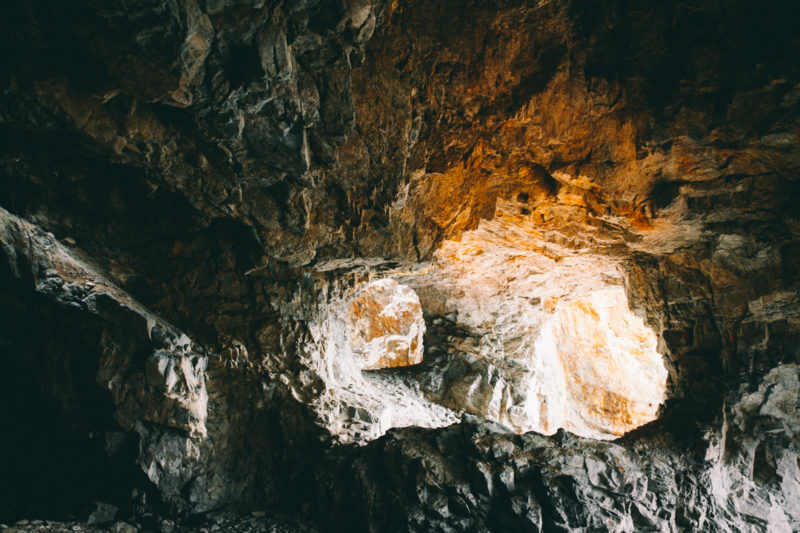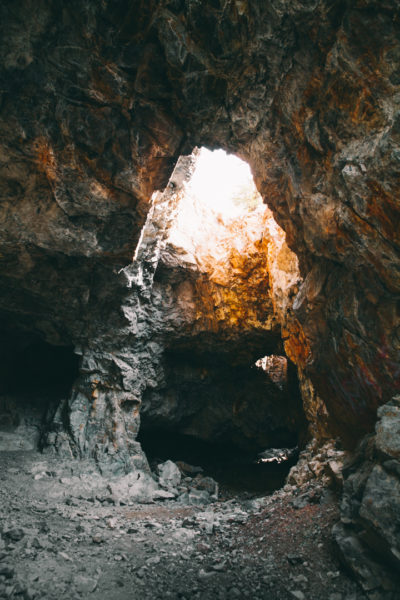 Hedley was known for its Mascot Mine and Nickle Plate Mine during the gold rush years. When the mines stopped production, most of their infrastructure were left behind. And we were lucky enough to find a cool cave-looking piece of it.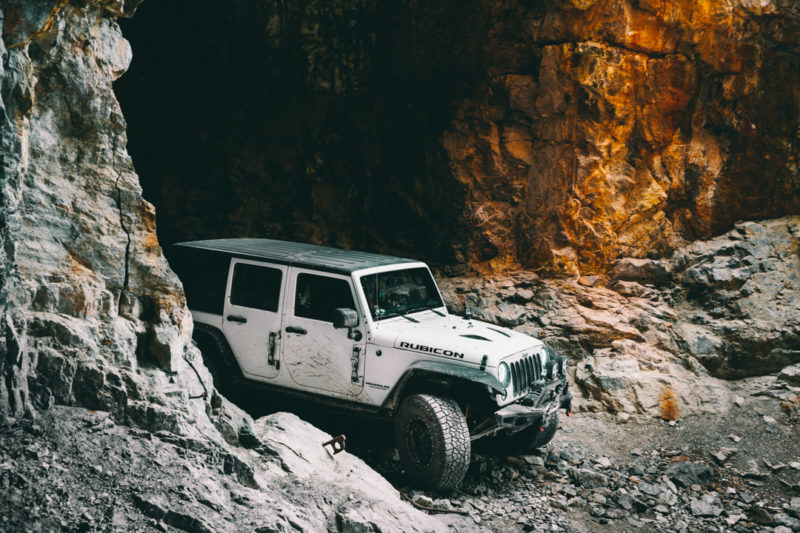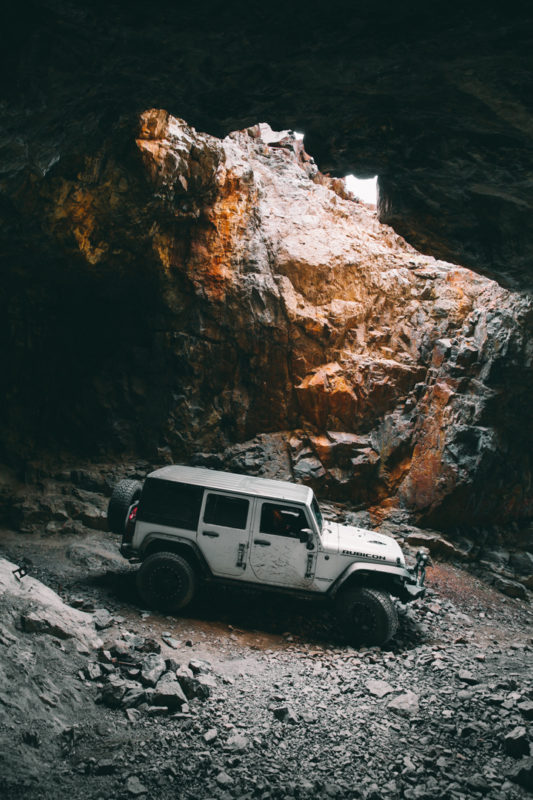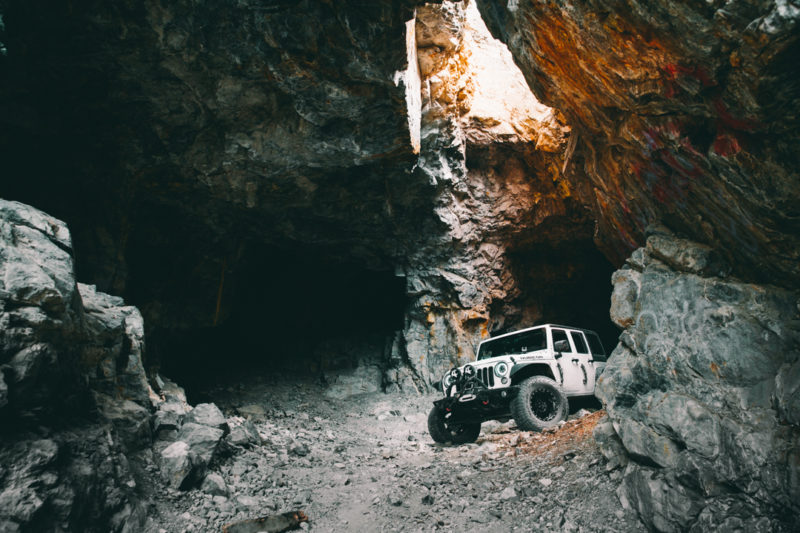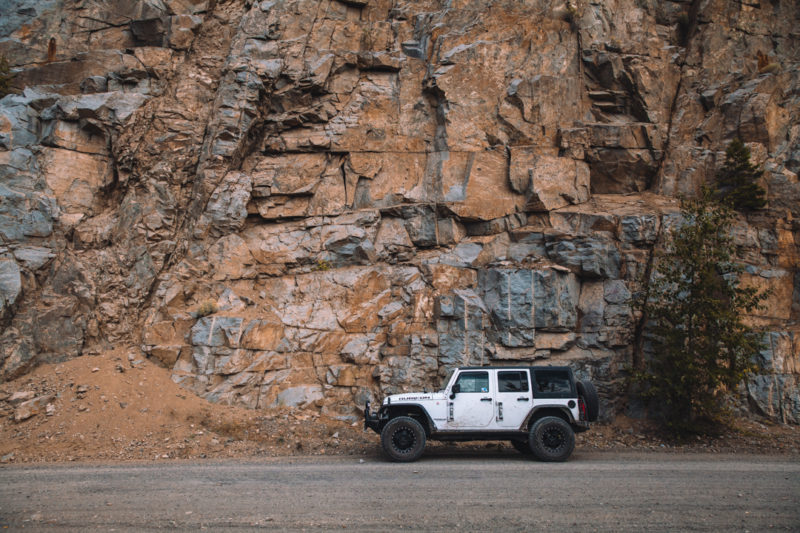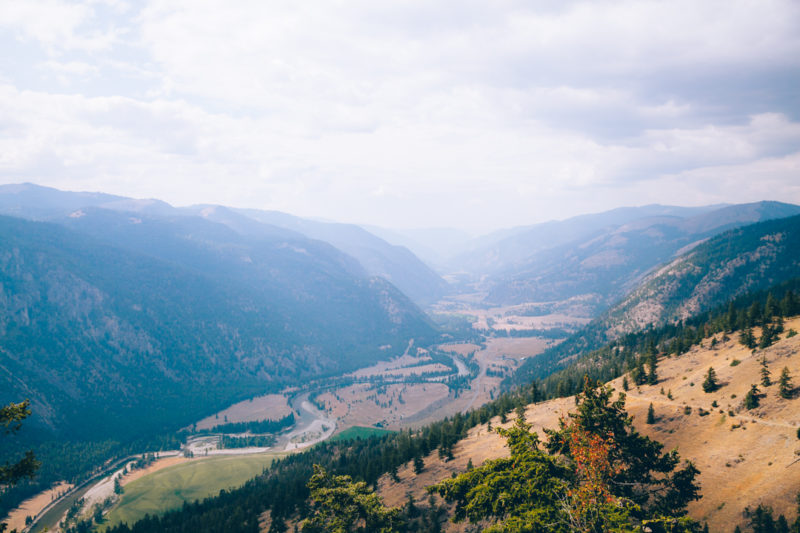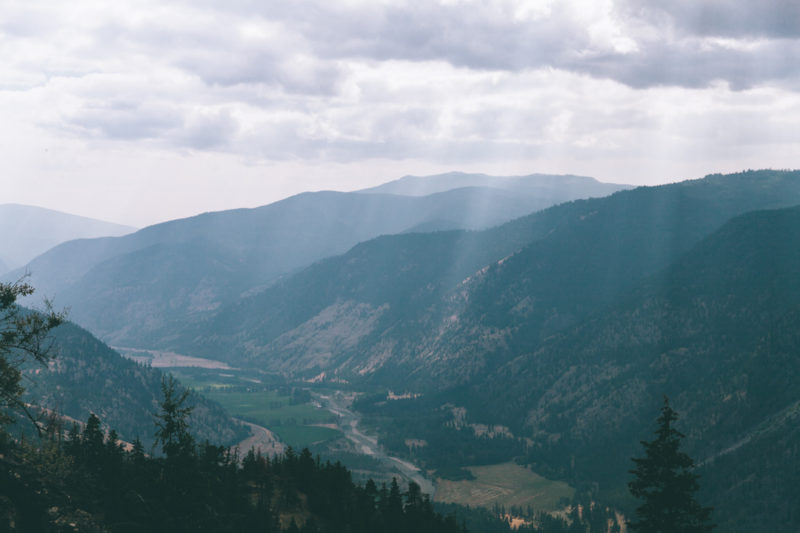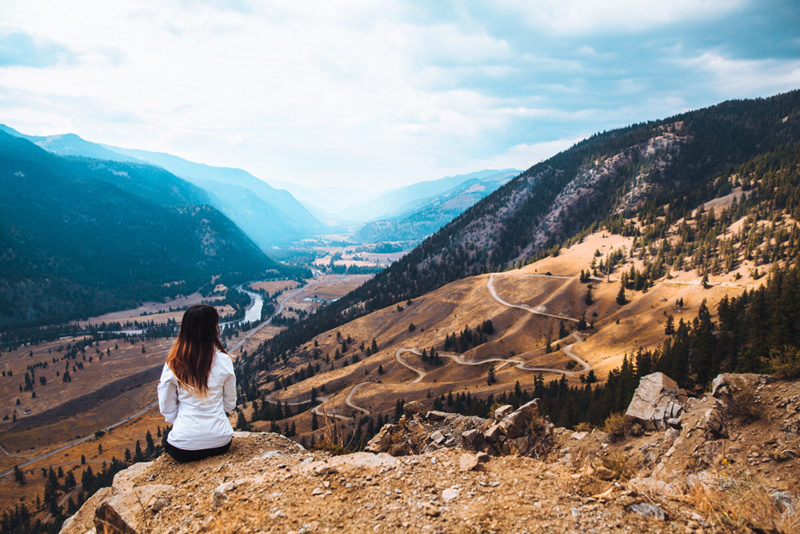 Coming out of Hedley, we headed straight back to Vancouver. This unexpected undertaking gave me not only a great getaway from all the chaos, but an adventure that enrich my soul.
It's been a fantastic week of spontaneous decisions – this usually drives an INTJ crazy but I somehow managed to find a balance between being flexible while still having certain amount of control.
One thing that sparked me from this trip was to get a drone. There were so many breathtaking spots I wish I could see from a bird's eye view. Definitely going to ditch the GoPro Hero 3 for its lack of saturation and depth. Maybe some Gimbal equipment for camera and/or phone so my videos don't shake so crazy that I wanted to puke while editing……?
All these upgrades, however, are only meaningful with one prerequisite: more adventures!
And Yes, I did get that stuff burnt.