When you're overlanding, there's always a chance that something could go wrong. That's why it's essential to be prepared for emergencies. In this blog post, we'll discuss some survival tips that will help you stay safe while travelling in the wilderness. So stay tuned for some essential advice on how to keep yourself and your loved ones safe while exploring!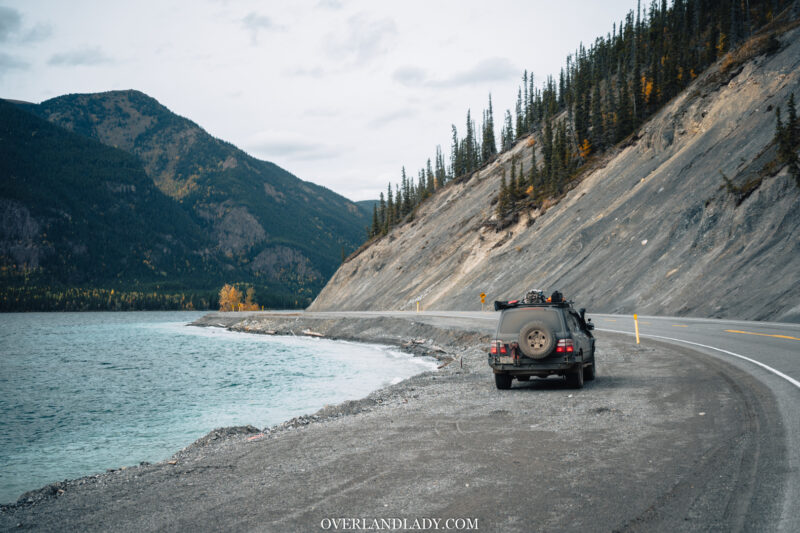 Plan Your Route
One of the most important things you can do when overlanding is plan your route and share it with someone who will check in on you. This is especially important if you're travelling solo. Ensure to let them know when you expect to arrive at each destination so they can check in on you if you don't show up.
Here's a video on how I plan my route.
I use ZOLEO Satellite Communication to keep updated with my loved ones on and off-grid.
Stay Alert
Make sure to take breaks often and switch drivers if possible. If you're going solo, make sure to pull over and take a nap if you start to feel tired.
I usually break my driving into 1 – 2 hour sections for washroom and stretches. Getting out of the car and giving your body a shake really helps.
If Step One (planning) is done properly, you should avoid prolonged driving that fatigues you. Everyone's driving stamina is different. So go with what you're comfortable with.
Check The Weather
One of the most important things you can do before embarking on an overlanding trip is to check the weather. You'll want to be sure that you have a good idea of what to expect to correctly prepare for the journey ahead. Additionally, it's essential to keep tabs on weather conditions during your trip so that you can be aware of any potential changes that could impact your safety.
When off-grid, I use the ZOLEO Satellite Communicator app to check real-time weather.
Invest In First Aid and Survival Training
One of the best things you can do to prepare for emergencies while overlanding is to invest in first aid and survival training. This will give you the skills and knowledge you need to deal with various situations, should they arise. There are plenty of courses available online and in-person, so there's no excuse not to get trained up.
Have Emergency Contact Numbers On Hand
One of the most important things you can do when preparing for overlanding is readily available emergency contact numbers. This includes your local police department, ambulance service, and fire department. If something happens while you're out on the open road, it's essential to be able to reach out for help quickly.
Have Legal Representation
If you plan on overlanding, it's essential to have legal representation. Many laws and regulations apply to overland travel, and if you don't know what they are, you could find yourself in trouble with the law. An experienced lawyer can help you understand the rules and regulations that apply to your trip and help you plan for any potential legal problems.
Many overlanding accidents involve motorcycles, so it is important to hire a motorcycle accident attorney to be safe. If you are interested in a motorcycle accident, an experienced lawyer can help you get the compensation you deserve.
Pack Enough Food and Drinks
One of the most important things you can do when preparing for an overlanding trip is to pack enough food and drinks. You never know what might happen, so it's always better to be safe than sorry. So make sure to bring plenty of snacks and meals that will last throughout the journey. This will help keep you energized and safe while on the road.
Make Sure Your Vehicle Is Capable
Another important tip is to know your vehicle's capabilities. This means knowing how much weight it can carry, what type of terrain it can handle, and its towing capacity. You should also be familiar with the area you're going to be driving in. This means having a map and knowing where the gas stations, hospitals, and police stations are. If you're unfamiliar with the area, it's best to do some research beforehand.
Invest In Quality Navigation
One of the most important things you can do when preparing for overlanding is investing in quality navigation tools. A good GPS, map, and compass will help keep you on track no matter what type of terrain you're traveling through. In addition, finding your way back to safety quickly is essential in case of an emergency.
I use GAIA GPS for all my route tracking. You can get a GAIA GPS discount here.
Shelter Is Key
One of the most important things to remember is that shelter is critical when you're out on the open road. You need to make sure you have a safe place to rest and protect yourself from the elements. If you don't have a tent or some other form of shelter, you could be in for a long, cold night.
Conclusion
I hope that these ten survival tips for overlanding have been helpful to you. I know that preparing for emergencies can seem like a daunting task, but it is essential to remember that we are all capable of doing it. With a little bit of planning and preparation, we can all be prepared for whatever Mother Nature throws our way.