In April, I stuffed my Landcruiser with some gear and food, embarked on a solo journey. After the snowstorm camp night, I was deeply craving some sun.
As an organized person, I always plan my trip out days ahead. But this time, I had nothing but a map book and pre-downloaded GPS layers in Gaia. However, I do have a rough idea of the area I want to be in. The plan was to drive out of the Greater Vancouver area (of course) and into the Thompson Okanagan Region.
It was a hot Friday afternoon when I finally aired down at trailhead hear Merrit, BC. By hot, I mean 20 degrees Celcius. This was when I realized that my AC was broken once again. By the end of 2019, the AC condenser decided to fail during the trip across the southern coast of Australia. Under the 40 degrees sun, with no AC, I was melting faster than a popsicle. So I made sure to have the Air Con system fixed up before shipping the vehicle to Canada. In Australia, everything automotive is much more professionally categorized. Automotive Electrical has its own certification and often a stand-alone workshop. The same goes for Automotive Air Conditioning. So I'd thought the system should've been 100% functioning. It's less than 1.5 years since the fixup. Why are we not cold again?
The road I was on passes through a few organized lakeside campsites. A few campers already pitched their canopy and tent for the weekend. Many camp spot options for me to choose from, but I prefer somewhere further from the main road.
Despite the summer vibe I felt inside the vehicle, the road under shades are still covered in snow and slush. I was counting on taking a dip in the lake. But soon realized this wouldn't be done, yet.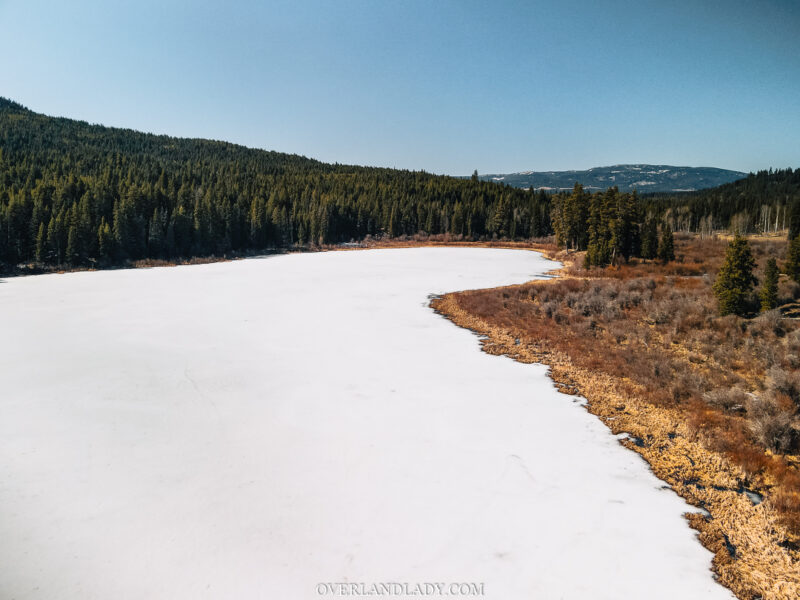 The lakes were still covered with a thin sheet of snow.
Eventually, I found a quiet and hidden away little dispersed campsite right beside the lake. The scenery during season changes is so magical. Instead of the winter wonderland type of all-white imagery, now you get to see the livelihood from the vegetation while the lake was still snow capped.
I packed my awning walls in a waterproof bag, strapped down on the Rhino-Rack Pioneer Platform using the Pickup kit. Since I plan to be moving every night, many places will be remote, and I most likely won't encounter many visitors. So I don't have to cover up to make an awning room all the time. For light and seldom-used items like this, I pack them on the roof.
Some self-entertaining in the evening involves using Jackery as a kettlebell for workouts and dancing to country music.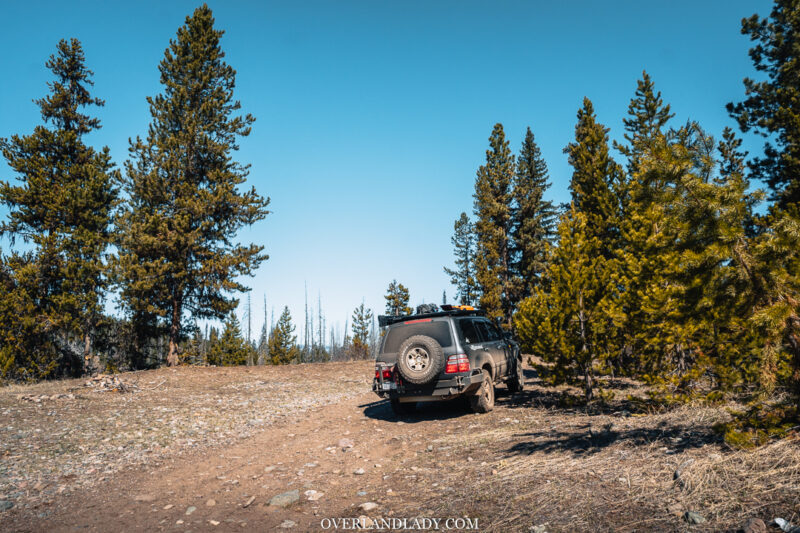 The next morning, I charged the Jackery 1000 using solar panels while I packed up the camp. I didn't plan to go far today. There's still lots to explore in the area.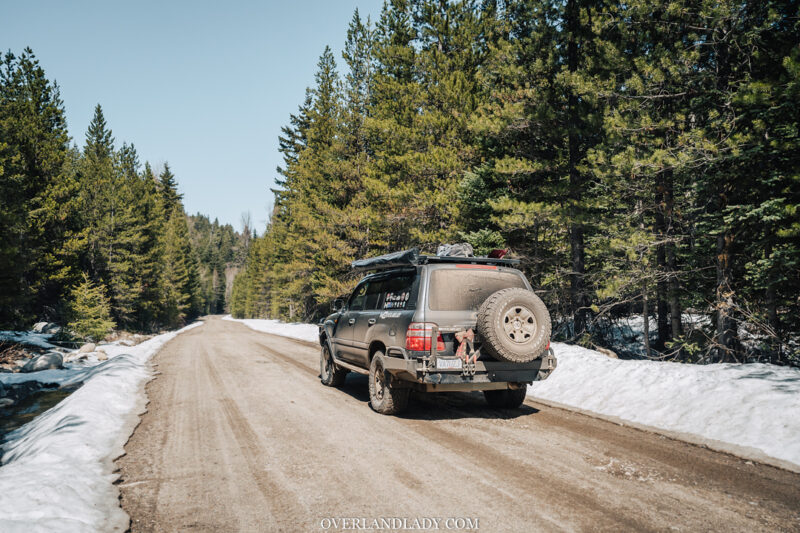 Interestingly, even under direct sunlight, snow is still present above 800 meters in the mountains. I slid my finger on the map and pointed at a lake above 1100 meters. Guess I should've seen it coming – it's not yet passable. I was too eager too early.
So my planned spot is a no-go. Now what? I turned around. After a few more dead-end due to snow, I traced back the trail I came from. I had to come to the realization that the way out would have to be the same as the way in.
Frankly, the wow factor sits in when you take it slow and drive without a destination in mind. I missed a few pull-outs along the way. Now slowly driving in the reverse direction, I saw them all. Each leads to an awesome secret camp spot.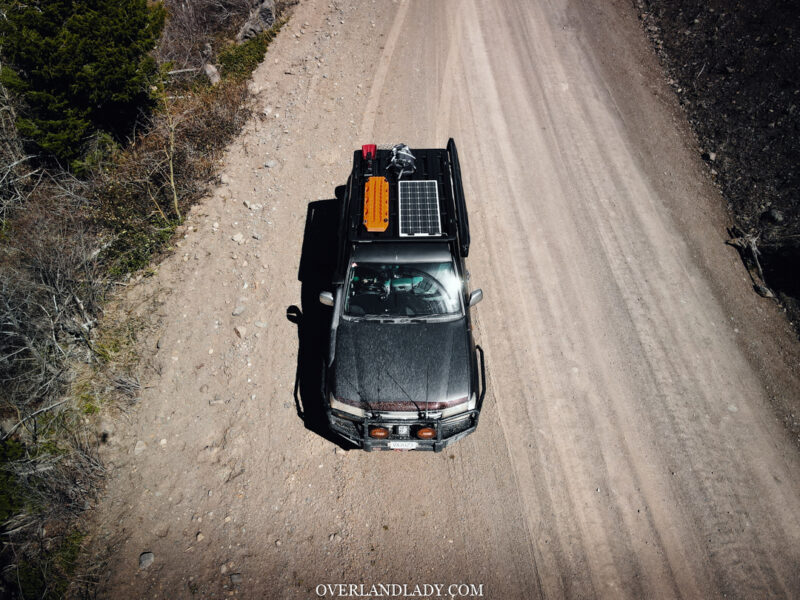 Turning into some sidetracks not marked on the map, I came to this creekside spot where I found a century-old log cut into a bench.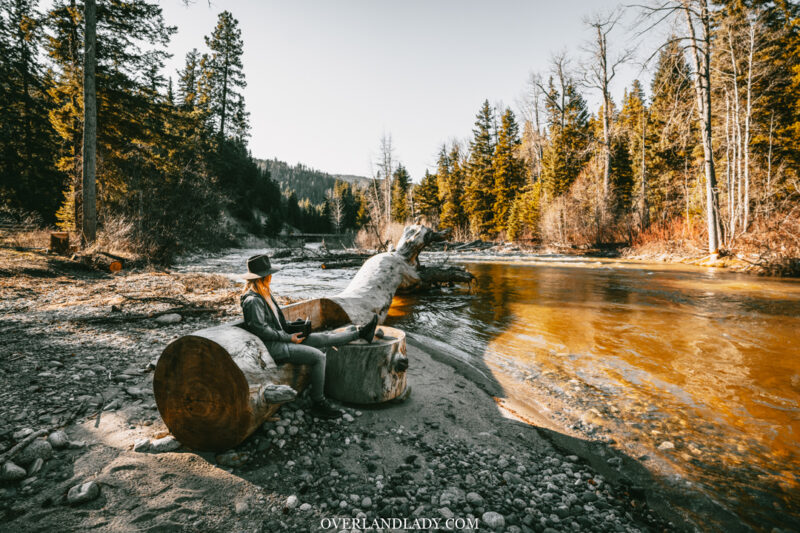 Moments like this made me really wanted to share with someone. Sit on the bench together and watch the river flow as the sun sets… The romantic ideas make me fuzzy just thinking about them. Yet, I'm here, alone. Honestly speaking, I don't know if I'd be so connected with what's in front of my eyes if I wasn't in pure solitude. Would I enjoy the companionship more or nature more? Touch call.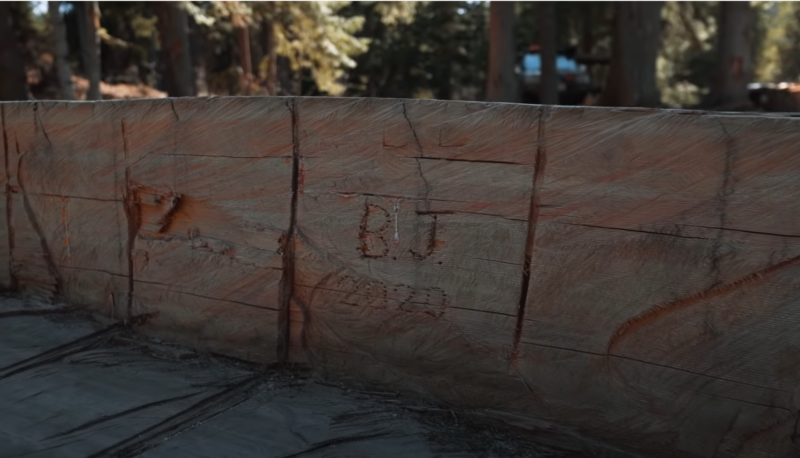 A name tag "B.J. 2020" was marked on the bench. Guess I'll name this secret spot "BJ Log" as one YouTube comment suggested.
Tonight was spent dancing around the campfire and singing to country love songs. As if I'm just here waiting for my country song love story to come…. Or am I?
(The trip is not over yet. More to come. Stay tuned)