Waking up early to a gorgeous sunrise from the camp last night. Why so early? Because we have a long drive ahead that leads to a rewarding destination – Liard River Hot Springs.
A relief stop on my solo travel to the north. A natural hot spring near the boundary of British Columbia and Yukon. Take off the rain gear, let's hop into today's journey!
Quickly packed up my camp while the sun slowly creep up from the horizon behind the treeline.
Hey mate, how's breakfast?
The part of Alaska Highway south of Fort Nelson is mostly plain and straight. The highway rebuild straightened out most of the curves on the original Alaska Highway. Info boards along the way say that the original Alaska Highway built during World War II was very curvy to prevent enemy fighter planes from landing. Surely. Some sections of the current highway are so straight and flat. I felt like I could take off if my Land Cruiser could go a bit faster….
Once turning west from Fort Nelson, soon we're heading back into the mountain range. At the northern tip of the Canadian Rockies, we were greeted by ever-changing fall colours and even snow-capped mountain tops! Driving right beside Muncho Lake was an other-worldly experience.
There's a provincial campground called Strawberry Flats. It's highly recommended by travellers and guidebooks. Originally I planned to stay here for a night. But since we got up early, I decided to keep going straight to Liard.

Liard River Hot Springs great destination on its own, or as a popular rest stop for Alaska and Yukon-bound travellers. Like, me.
It is a natural river of hot water rather than a spring-fed man-made pool.
I've seen it in many travel magazines and it's finally time to soak myself in it.
I got to the hot spring at around 5pm. It was still relatively busy.
There's a checkpoint at the entrance where you pay your fees.
As of 2021, the fees at Liard River Hot Springs are:
$5 for entering the hot springs.
$26 for camping 1 night, hot springs included
At first, I only got a hot springs entry.
After trying to hide myself nervously in the corner of the pond for about 10 minutes, I decided to stay at the campsite tonight and come back tomorrow morning first thing as it opens. Hoping to get some alone time in the pool.
When I first passed the gate, someone leaving told me it wasn't so busy now, only about 10 people.
10 People! I thought. Guess that's the definition of not busy in Liard.
Sure it's a relatively larger hot spring but that's still quite a crowd if I reference my definition of wilderness relaxation.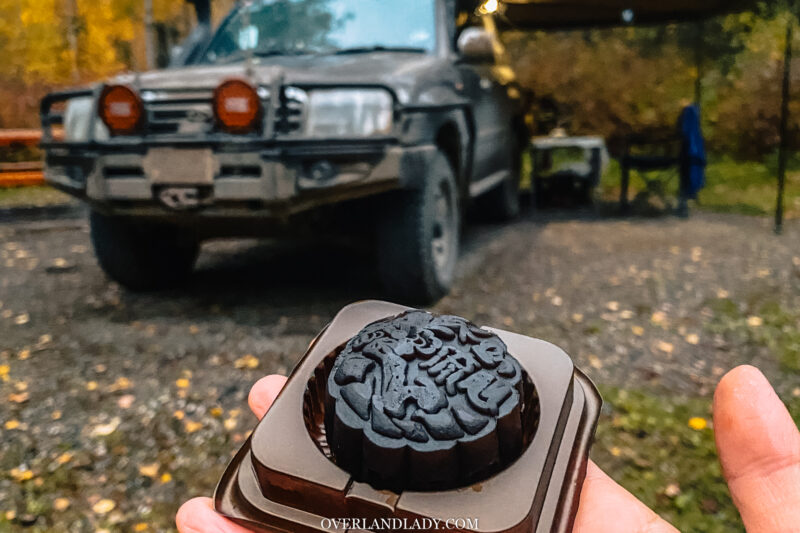 So I picked a site and paid for the remaining $21 at the gate.
The campground is protected by an electrical fence so at least there's no concern for bears.
The next morning, I got the pool all to myself right as they open at 7am. There was only one staff member doing some cleaning. Quickly changed, I hop into the pond.
30 mins later, the pool is filled with people's chatter and rain started to drizzle, I know it's time to go.
Is it worth it to stay at Liard Hot Springs Campground?
This is a hard yes. Not only do you get to access the pool TWICE – at night and in the morning.
You're welcomed with a well-maintained clean site, equipped with a camping table and a fire pit. The table looked like it has just been painted and cleaned daily. And it's almost dust-free!
The electrical fence around the campground provides extra security for your off-grid travel in the BC wilderness.
Is there cell reception at Liard Hot Springs?
One thing to note is that there is no cell reception at Liard. In fact, once past Fort Nelson, there's very rarely any cell reception until you get to Watson Lake. A Satellite Communicator is highly recommended if you would like to maintain contact with the world – either reporting your safety or updating your location.