.Cold winter camp was not my favourite until I completed my current set up to keep myself warm in those nights.
How this trip came to be was pretty random. The other day as I came out of my gym to my car, a guy with a black F150 came to me and asked about 4WD related stuff. Then he said if I knew his buddy Hai with a black Jeep. I didn't.
Fast forward a few weeks later, I saw someone posting Hai's Jeep. That's how I found Hai. His Jeep has been to many places but winter camp was never his first choice. This year, because of COVID, we're all stuck in BC. It's time to adjust and adapt to fully embrace our weather.
5 Things to keep warm in winter camp
#1. Heated Chair
When you walk into a camping store, the camp chair section can be overwhelming. I mean, it's just a chair, how different could it be! Turns out it does, especially when you consider winter useage.
Many nights, sitting by the campfire, my face and front of the body was warm but I could feel coldness coming from behind. The thin canvas on my camp chair was good for ventilation in the summer. But in winter, you'll need something more insulated.
This Kuma Lazy Bear Chair is not only big and thick, it is also heated!
#2. Heated blanket & sleep arrangement
I got this small 12v fleece blanket from Amazon. It doesn't get super hot, in fact, perfect temperature for stuffing inside the sleeping bag.

I use a closed-cell foam for the bottom layer of my sleeping platform. This material insulates way better than air, I'm talking about fluffy air mattress. If you don't know what closed-cell foam is, a Yoga mat always works.
The second layer is for comfort. This bubble style sleeping pad keeps the air where it should be so you won't get all the air squeezing to one corner and bum to the ground. What I have is a four-season one, it's got a layer of insulation in the middle.
Then it's my sleeping bag. I know a lot of you will bring up some super expensive lightweight dawn sleeping bag. personally, I'm not a fan of the mummy-style sleeping bag. I find it annoying when the bag turns with you like a worm. And some of them just make me feel like suffocating in a plastic bag.
I prefer a big one that provides a similar feel as sleeping at home. This ARB sleeping bag has been serving me really well. The fleece insert feels super comfy and soft. If you have two of the same thing, you can open them up and joint together for two-person. Bonus point for winter cuddles.
My heated blanket goes inside the sleeping bag. I run it through the 12V in my truck. This plug is connected to my second battery which is controlled by Redarc BCDC charger. It protects the battery and cuts off from the main cranking battery is drawing too low.
Otherwise, you can use a power bank like my Goal Zero yeti 500x.
#3. Heated apparel
There are quite a few selections for heated vest and jacket, Milwaukee has their heating jacket that takes M12 battery. But most brands take USB power bank.
Press the button and you're good to go. I find it most effective when you have another layer on top. Kind of like insulation for the heating vest itself so you get to keep most of the warmth.
These little hand warmers are great to hold on to. I also have a USB hand warmer but doesn't last nearly as long as these one-time use pouches. I would open a pack as the night starts to get cold, and stuff them in a fresh pair of socks when I sleep to keep the toes warm, they are still warm till the next morning!
#4. Insulation
I cut Reflectixs to the shape of my window and glued a layer of black fabric to the back. The Reflextics reflect the heat back to you, pretty self-explanatory. So the glass doesn't dissipate all my heat overnight. Bonus point for privacy. Really can't see anything from the outside.
This is a widely used van life trick. But to adapt for vehicle camping, since I'm driving during the day and need that visibility through the window,
I attached small suction cups at the corners for easy removal.
Yes, this tip is more vehicle specific. But the theory is the same for sleeping inside a tent. Some brands of tents have their specific insulation layer. If not, Reflectix always does the job.
#5. Heater
A giant campfire is always the best but other than the smoke blowing into your eyes, it's got limitations.
A lot of people mention diesel heater to me lately. It creates less condensation than propane, and if you're building it yourself,
you get to customize it with multiple tubes heating different areas. It can get a little costly tho.
The entry-level would be a Buddy Heater from Mr. Heater which cost just over 100 dollars. I use it to warm up my legs when cooking or to warm up the tent.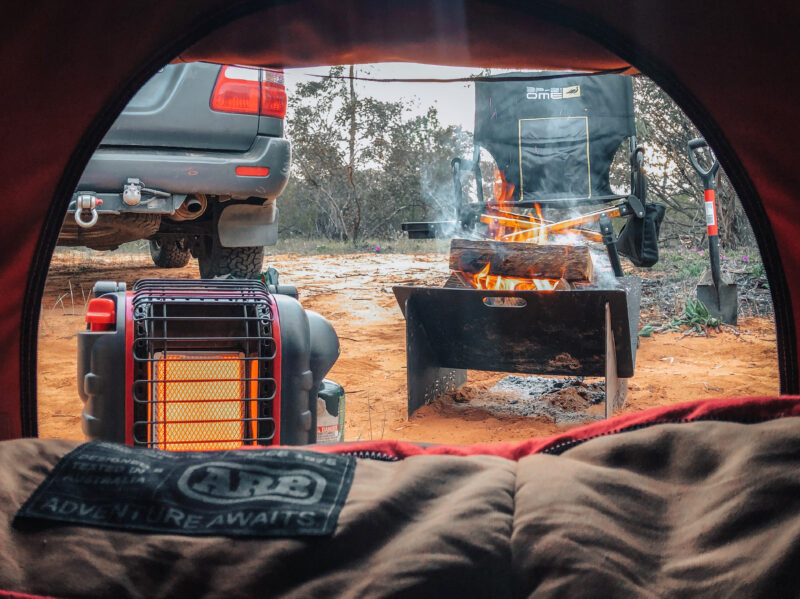 I haven't tried using it inside the tent. But I've heard people using it inside to warm up before sleep and in the morning, so far haven't gotten any issue.
I usually open the side vent and have the heater facing towards the tent.
I wasn't a fan of cold weather. If you asked me a few years ago, winter camping would never be on my list even just to try once.
The other day an old-time city friend found me on Instagram and messaged me how surprised he was about my current lifestyle.
We all change, just like seasons, we change and adapt. It's been a strange year. This is probably many people's first time trying winter camping, or camping in general. We're all learning.
With this setup, I actually woke up a few times the middle of the night, toasted. It's cold outside, but it's warm in here.
Hope these tips would help you to feel confident about your next cold camping night. What's your favorite winter trick? Let me know! Id love to try something different.