Melbourne to Uluru Road Trip Itinerary – 2WD/AWD Friendly
More than half of my working holiday year in Australia has gone pass. There have been a few changes in my plans and near future outlook.
I've been studying… Yes, for that GMAT exam I was about to take last year but for varies reasons, didn't. It wasn't my full will to pick up this slack during my prescious time in Australia. I scrambled it in anyways.
Soon after the exam, parents came to visit. Three months ago during a video chat, we made a verbal promiss that they would fly downunder after my exam, travel around Australia with me, and go see the places I wanted to see.
So, Big Lap with mom and pa? For a while, I was excited.
But grown-ups' world is filled with responsibilities. It's a bit disappointing yet not surprising that my dad could only spare out 2 weeks. Fair enough. 14 days, I can work with that.
Where would be an iconic non-city place in Australia that allow us a roudtrip from Melbourne within 2 weeks?
Uluru and the Red Centre became my top choice. Australia in August is still winter, which means we can escape from the cold Melbourne to the desert that's not so unbareably hot.
I suggested renting a RV trailer and taking rest stops along the way. But parents' generation is used to the idea of settling down at a "home" environment. Hence, dad requested a more luxury way of doing it – booking hotels so we can rest well at the end of each day.
Content
Cost
Petrol – $1800-$1900
Keep in mind that my V8 Landcruiser, dating for over 40s, is running at roughly $18-19L/100km. And 91 unleaded petrol in the red centre can go as high as over $2/L.
In efforts to save a little, I carried two 20L jerry cans filled up in Adelaide. Anywhere North from Port Augusta, fuel start to get expensive.
Erldunda Roundhouse is the last stop on Stuart Highway before turning West towards Uluru direction. Fill up the vehicle here. With the two jerry cans, I didn't need to get any fuel in Uluru.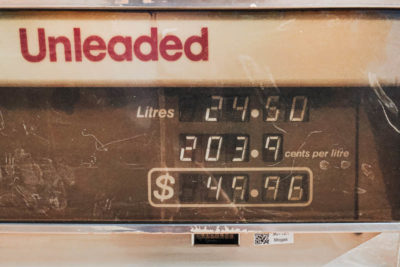 Accommodations – $3000 for 12 nights
The bulk part of our accommodation spending was on the 3 nights at Uluru. Yulara Ayers Rock Resort is the only place you can stay at while visiting the national park. A room for 3 adults at Garden Desert Hotel went for a heaping $580 per night.
We tried to stick with motels and apartment style accommodations throughout the way. Since three adults produce a lot of laundry quickly, this type of accommodations usually have in-room laundry facility.
We prefer to cook for ourselves on the way. But I haven't yet fix my dual battery system so couldn't run fridge in the car. A cooler can only be trusted for a day. So a full kitchen at accommodations came in handy for cooking and storing food items in the fridge overnight.
Activities
While at Uluru, other than the free walks and self-driving tour, you also have the option to sign up for activities hosted by the Ayers Rock Experience. Some of the signature ones are Desert Awakening Tour (sun rise), Sound of Silence (sun set + dinner+field of lights), and camel tours. Yes you can catch the sun rise and sun set at free view points, but these activities take you to a desenated spots that's only accessable to the organized tour.
These tours range from $40-200+ per person. So it can easily get costly but after going to the Desert Awakening and Sound of Silence, both my parents and I agree tha the experiences can justify the price.
Note that wether you choose to self-drive or join a tour, access to the national park requires you to purchase a pass. Pass is not included in the tour fee.
Driving
The trip between Melbourne and Uluru / Alice Spring is mainly on sealed road, which means it is fully accessible by 2WD and AWD.
However, taking the Landcruiser allowed me options to embark on outback explores off the highway.
There are many 4WD tracks along the journey. Yet totally doable in a passenger vehicle or van.
Day 1 – Melbourne, VIC to Murray Bridge, SA
Driving distance 680km.
We loaded Altar in the morning and left Melbourne around 8 am. I took the shorted route to Adelaide through highway A8.
Alternatively, you can head towards Geelong and take the Great Ocean Road. I did this route on our return trip since our plan was to get to Uluru as fast as possible and take a easy and relaxed trip back.
Taking A8 also allow us to stop by the Grampians National Park. Where we saw a field of Mr. Roos roaming freely. This was a good photo-op for the signature Aussie travel photo with a Kangaroo.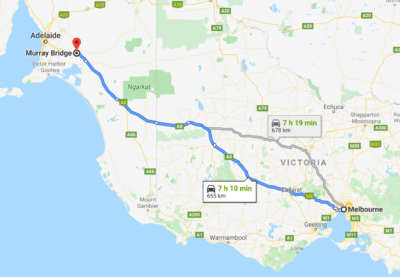 We parked at Wonderland Car Park and quickly checked out Grand Canyon. This walking trail can eventually guide you to the Pinnacle Lookout where you can have a great view of the Grampians. We were short on time so didn't finish the full walk.
Another popular sight is MacKenzie Falls. The stairs and uphill back to carpark can be a bit tiring – perfect opportunity for me to challenge my dad who has been living an active lifestyle for as long as I remember.
We stayed at Oval Motel. Upon crossing SA border, we gained 1 hour on the clock but still arrived after twilight. It was a long day of driving and hiking. A quick dinner with cake, a few words from my parents, I became 1 year older on this day…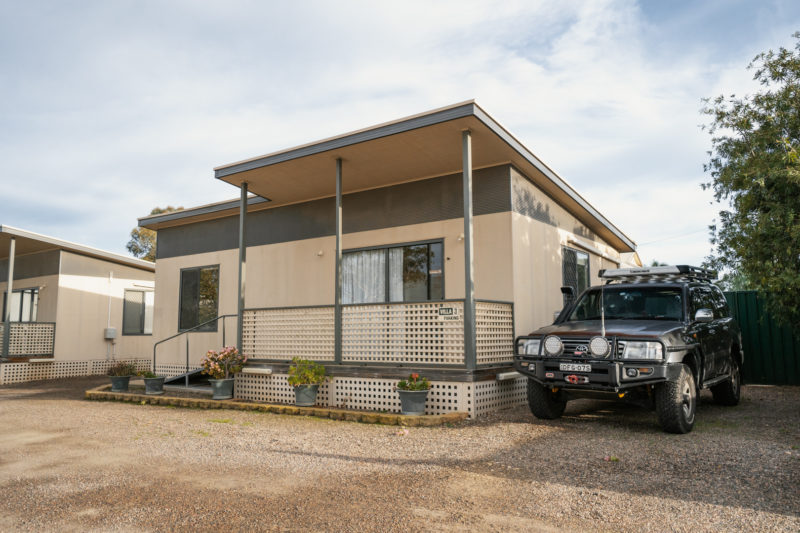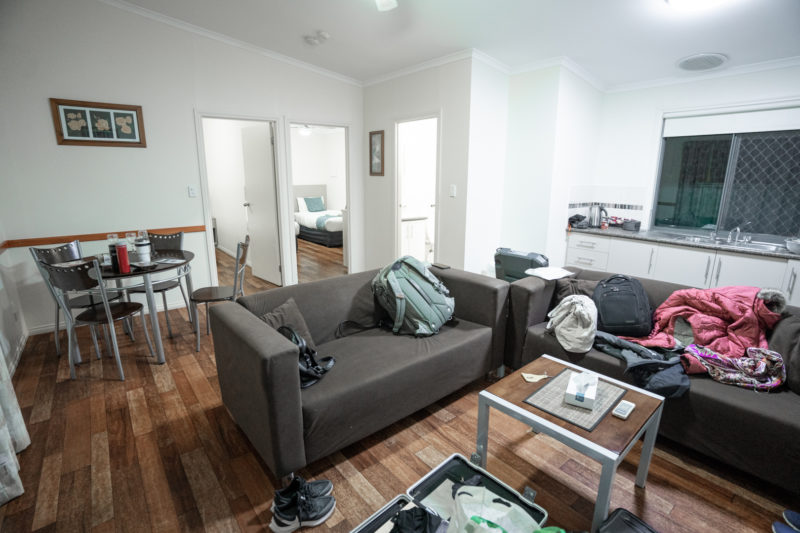 Day 2 – Murray Bridge, SA to Port Augusta, SA
Driving distance 357 km (direct).
Direct travel between the two cities is relatively short. It only takes 5 hours. This allow us time to stop by Adelaide for brunch, take a walk by the beach and Brighton Jetty, cross the awkward roundabout at Arch of Remembrance. Don't be fooled by the laid-back vibe in Adelaide. There are lots to see and do if you have the chance to stay for more days.
Continue North, we spent the night at the crossroad of Australia, Port Augusta. This town is the junction of major Australian highways to and from Melbourne (East), Adelaide (South), Perth (West), and Darwin (North), as well as the gateway to the outback.
We stayed at Majestic Oasis Serviced Apartment. With a full kitchen in the unit and Woolies just 2 minutes away, we were able to have the luxury to enjoy a delicious home-cook dinner with wine pairing (perks when dad knows some wine stuff).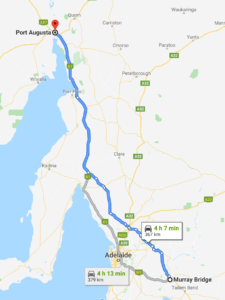 Not to say our unit has a back yard overlooking the gulf! It's like our private sunset & sunrise viewing deck.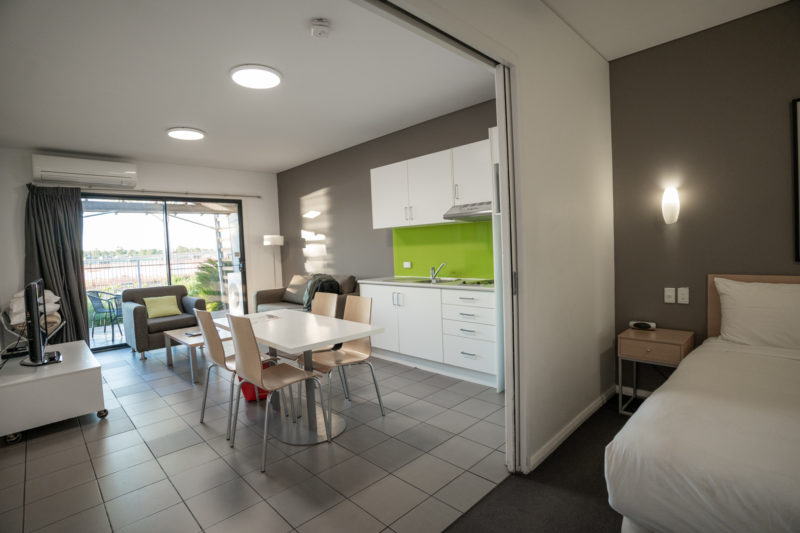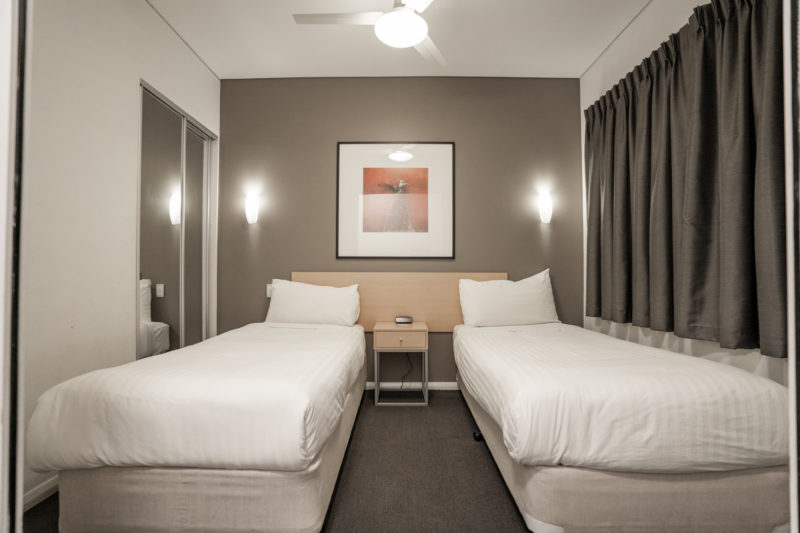 Day 3 – Port Augusta, SA to Coober Pedy, SA
Driving distance 541km
After the highway A87 turnoff, we headed North towards Coober Pedy. The scenery changed from green to brown and red as we drove further away from the South coast.
Coober Pedy is a town built for underground opal mining. Many of the residence live underground to keep cool. The old mining tunnel was renovated to hotels to accommodate travelers. We stayed at The Lookout Cave Underground Motel, located at the Northern high point of Coober Pedy, overlooking the whole town.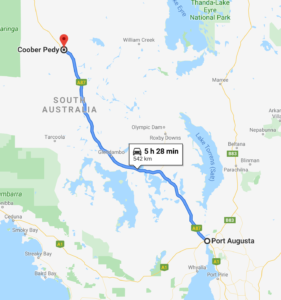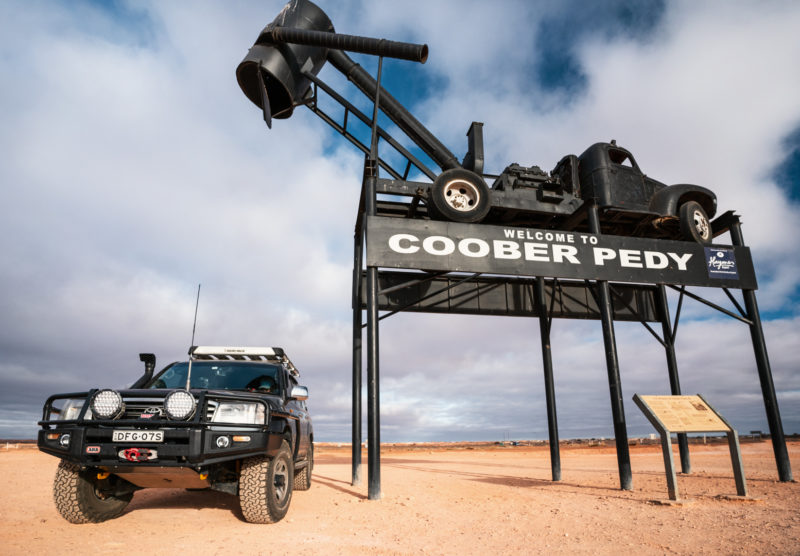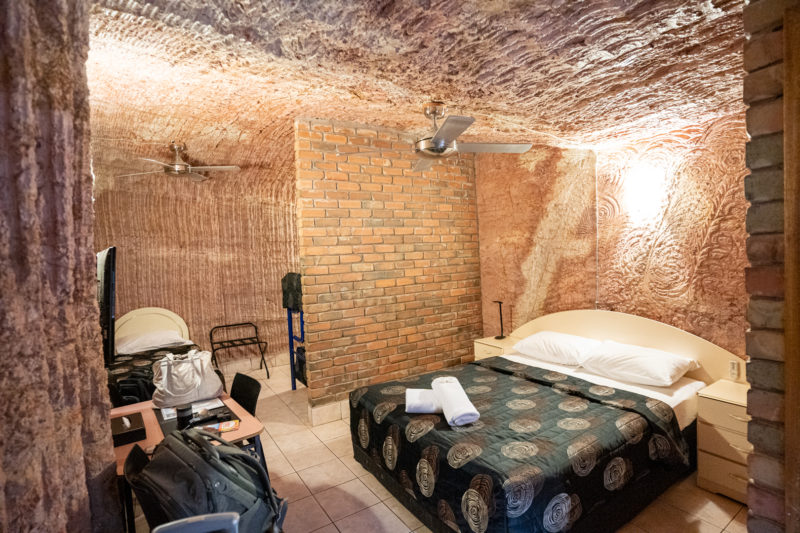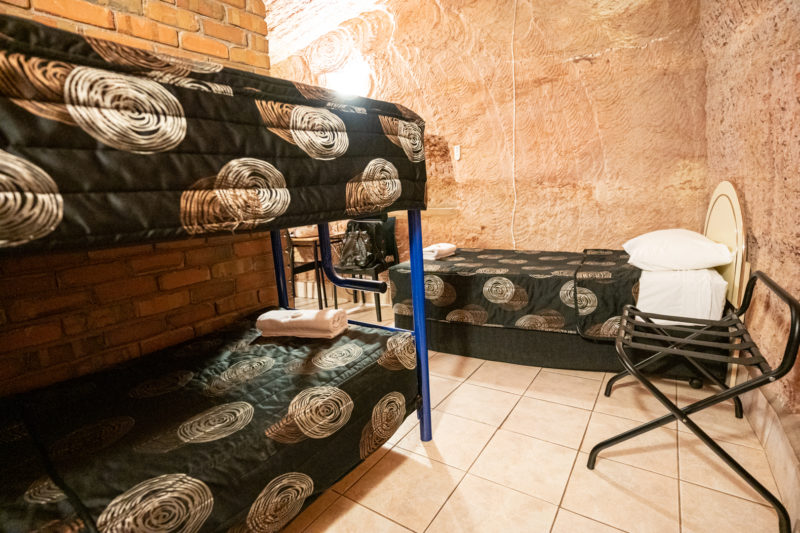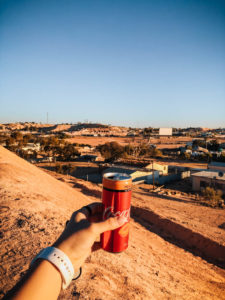 Day 4 – Coober Pedy, SA to Uluru, NT
Driving distance 743km
Shortly after leaving Coober Pedy, a spike of mountain looks questionably similar to Uluru. I bet many people are fooled at first until they realize they are still in South Australia.
Take a pit stop at Erldunda Roadhouse and enjoy that $2/L fuel. It's only going to get more expensive from here. There's a small emu farm to entertain you during the break. From here, exiting onto Lasseter Hwy is another 200 km drive West that eventually led you to Yulara, NT.
We stayed at Desert Garden Hotel. There are many accommodation options in Yulara. Ayers Rock Resort website is your one-stop shop for everything related to Uluru Kata-Tjuta.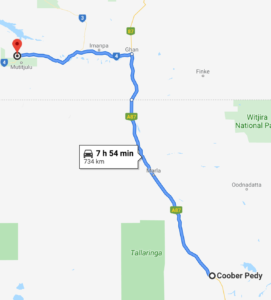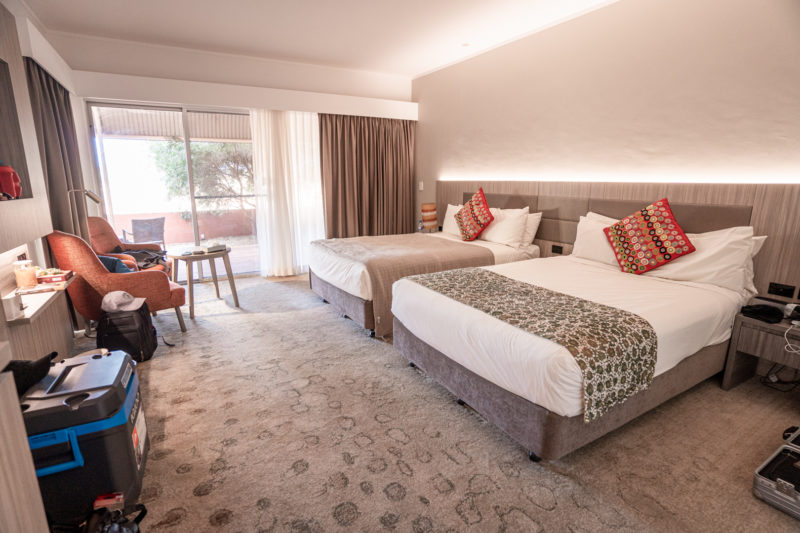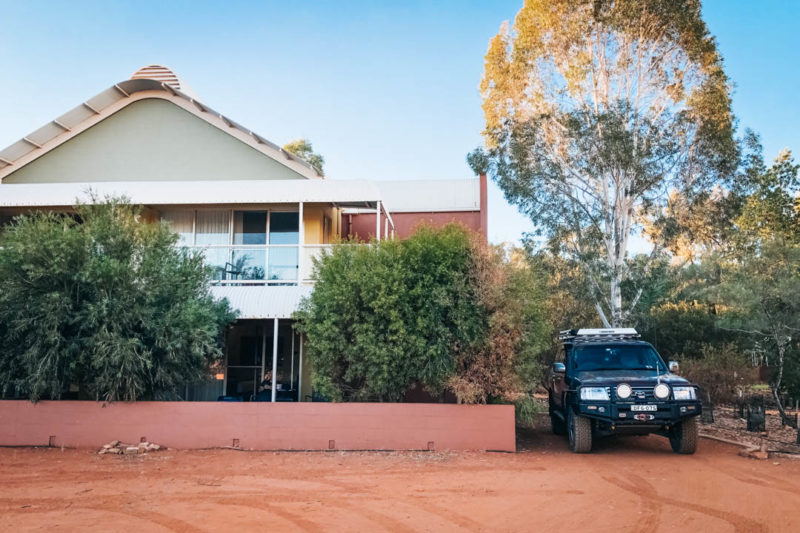 Day 5-7 – Uluru Kata-Tjuta National Park
We drove to Kata-Tjuta for a full Valley of the Wind walk. Since it was winter, tempreture is comfortable enough to take the whole 2-hour hike. However, if you visit in warmer days, the walk will close at 11am so be sure to come early. A fly net would be nice to have.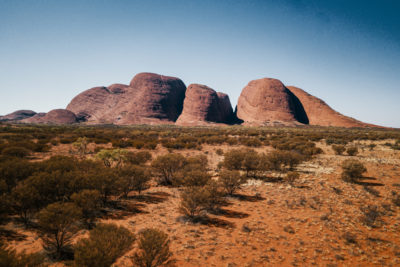 There are many tours offered by the resort. Hop on the tour couch from hotel lobby, sit back and relax while the driver/tour guide talk you through the story behind the rock.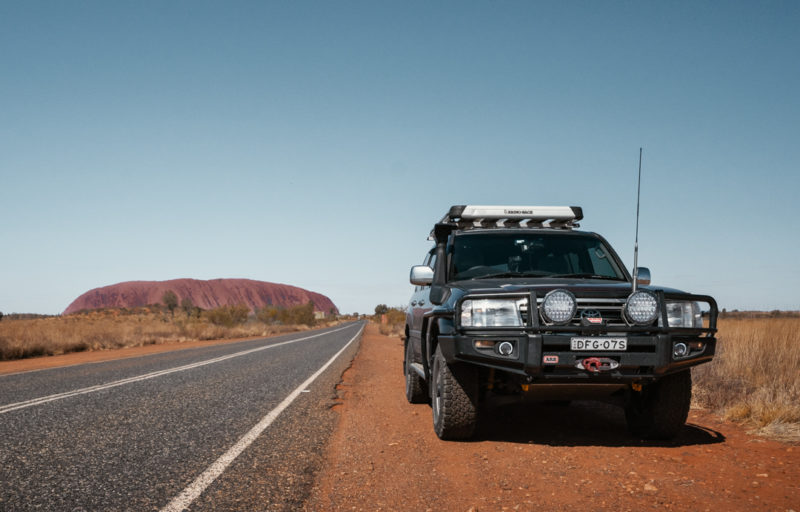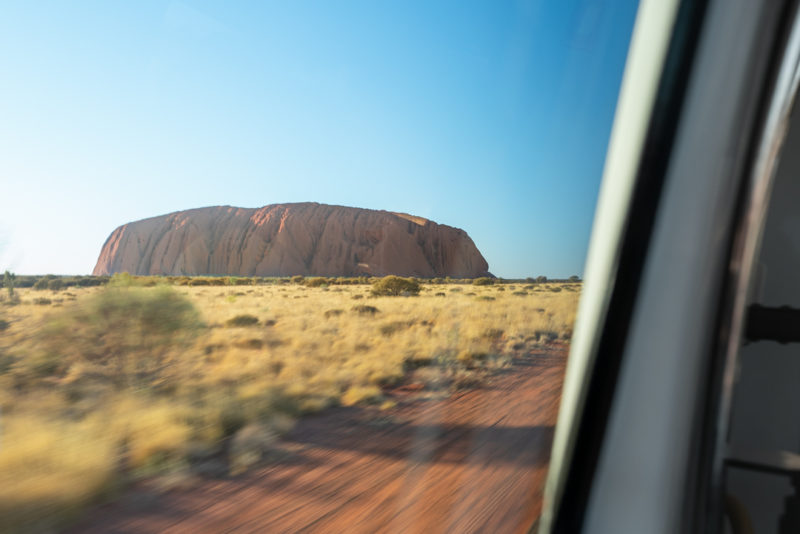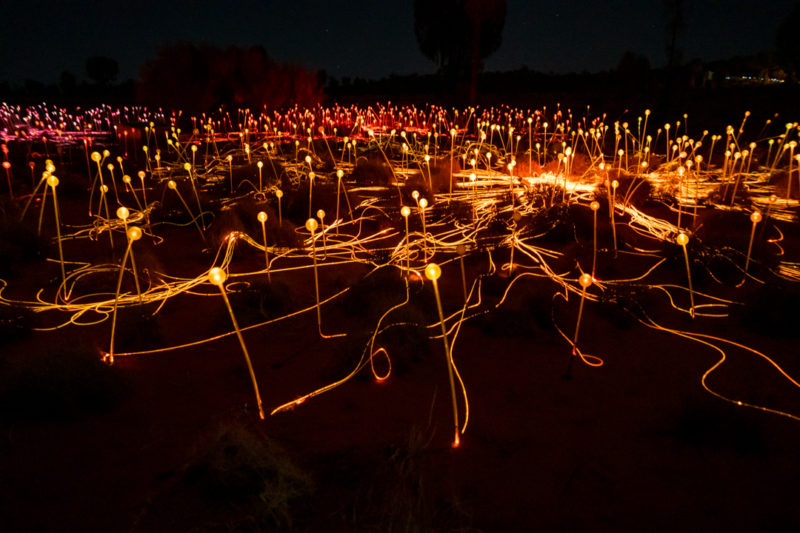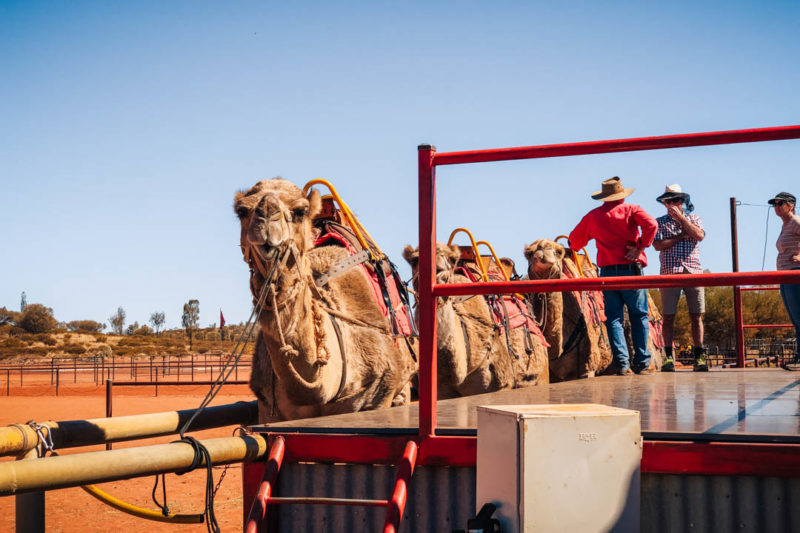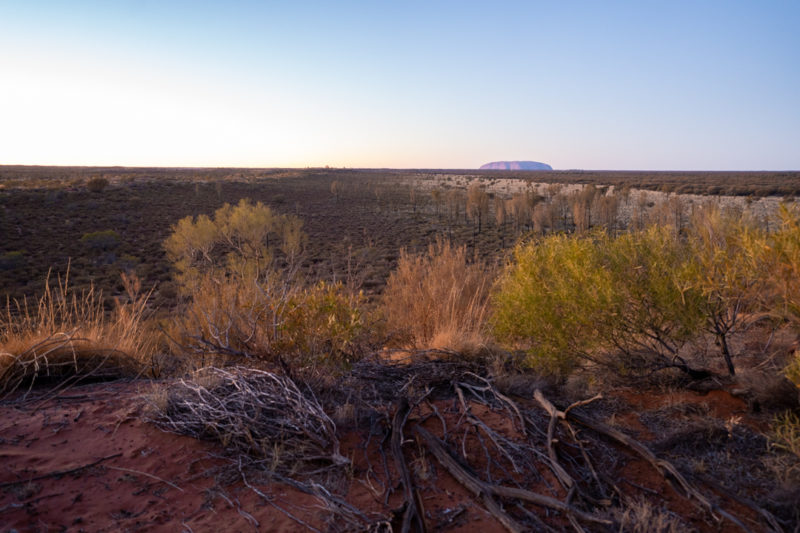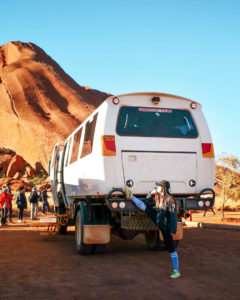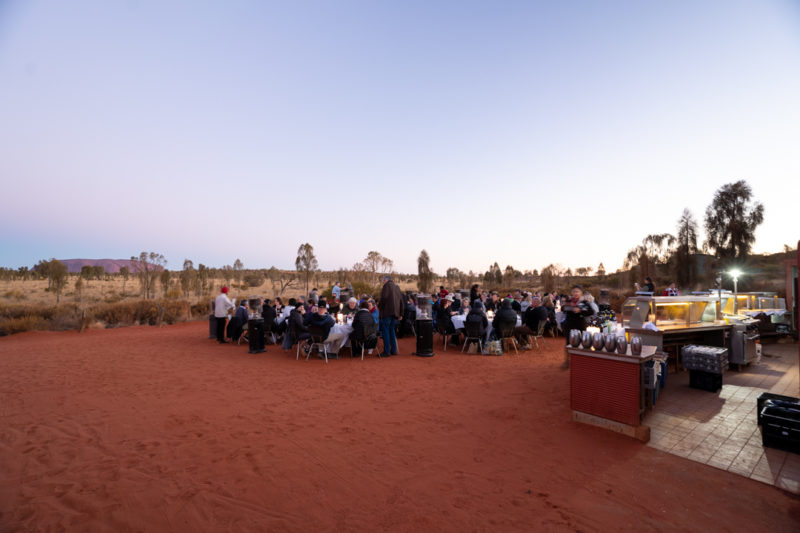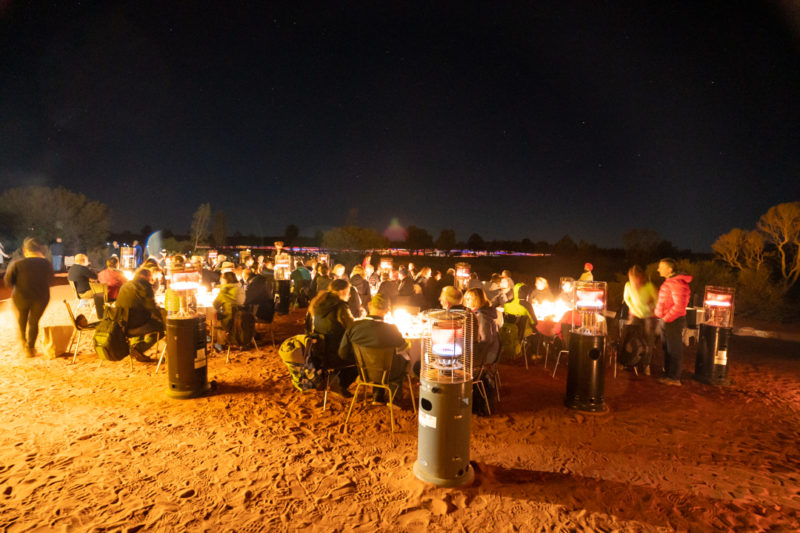 Day 8 – Uluru to Alice Springs
Driving distance 450km
There are two ways to get to Alice Springs from Uluru: take the sealed road highway 4 and 87, or through Kings Canyon where you need to go through a section of unsealed road. The latter is 4WD only so choose your route accordingly.
We went with the sealed road and took a detour to Rainbow Valley. Note, Rainbow Valley track is 30km of corrugation. My rearview mirror was shaken off on this track. A small tip for driving on corrugation is to let down tyre pressures and keep the speed close to 80km/h. This speed may sound fast but it keeps the car "float" on top of each hump and make the ride slightly smoother.
Day 9 – Explore the Red Centre Way
If you came to Alice Springs through the Mereenie Loop, you would pass Red Centre Way already. Since we chose to go with the pavement, today is set to explore West of Alice Springs. There are many beautiful gorges and waterholes.
More on what we visited around Alice Springs in a later post.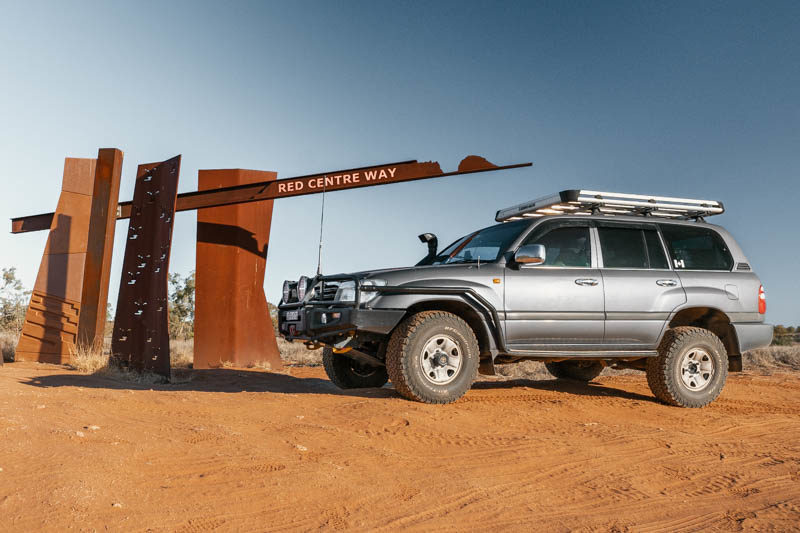 ---
Return Trip
Day 10 – Alice Springs, NT to Coober Pedy, SA
Driving distance 690km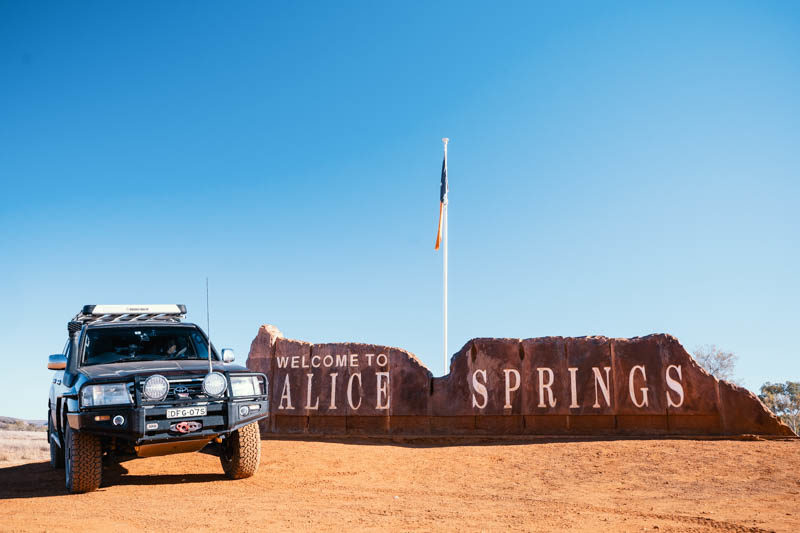 Day 11 – Coober Pedy, SA to Adelaide, SA
Driving distance 845km
This is a long drive sto o make sure to get up early and rest frequently. Alternatively, you can stop by Port Augusta for a night and break down the drive into two days like I did on the way up to Uluru.
If you have more days to play with, Flinders Ranges is also a good place to explore
Day 12 – Adelaide, SA to Warrnambool, VIC
Driving Distance 430km through Kingston SE and Mount Gambier.
After leaving Adelaide, we took B1 along Coorong National Park. If you are looking for beach driving, keep going South from Kingston SE to Robe. From here, you will have the option to drive towards Beachport.
Day 13 – Warrnambool, VIC to Geelong, VIC
Driving distance 300 km through Great Ocean Road.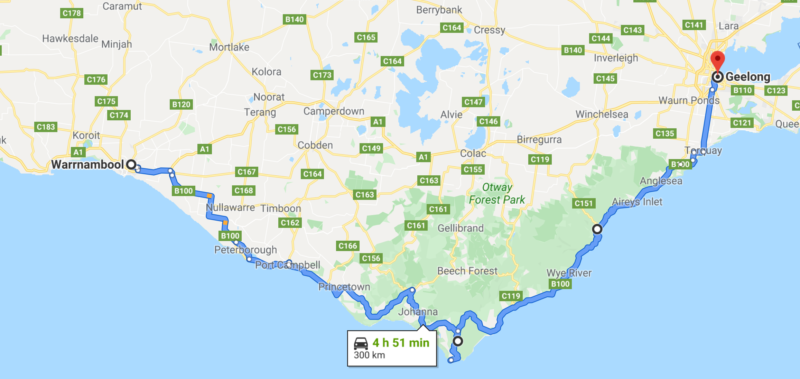 I believe every Melbourne-based person has been to 12 Apostles multiple times as tour guide. It is one of the most iconic scenic spots around Melbourne.
However, if you are not into big crowds, there are countless similar attractions along Great Ocean Road. From West to East: Bay of Islands, The Grotto, London Bridge, The Arch, Loch Ard Gorge, 12 Apostles, and Gibson Steps.
I will say though, the scenery is better driving West bound. In Australia, cars drive on the left. This means driving towards West gives the passenger unobstructed view of the mountain from the most outside position on the road.
We spent a night in Geelong before returning Melbourne. This mid-sized city is just one hour away from Melbourne city yet the vibe is way more relaxed. Take a walk along the waterfront and Botanic Garden. Have a nice dinner by the ocean to end out trip.