What it's like to be part of a rally car race? [Big White Winter Rally 2018 Volunteer Experience]
A few months ago, I stumbled upon a post in a Facebook Jeep group. The annual Big White Winter Rally would be held in early December of 2018. Organization was seeking members with radio licenses and off-road capable vehicles to help manage the race.
I acquired my license in May for off-road communication. Besides the casual location report on forest roads, I had never used the PTT button for anything formal. With a slight self-doubt regarding my radio operating capability, I signed up for the position with J.
The Rally Experience
"It's about time to take Noah in the snow and do something good." I thought.
However, as the date came close, we had to change our plan slightly due to an unexpected police encounter a month prior to the rally.. Noah was out of commission.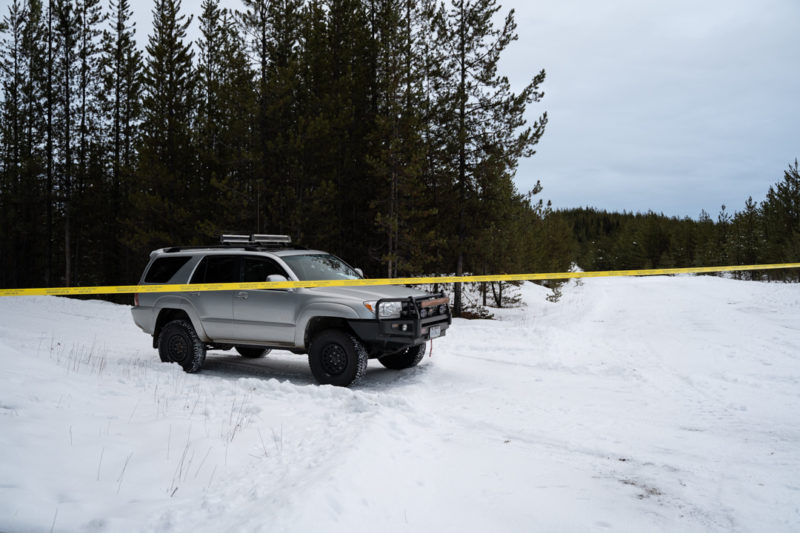 J's 4Runner, in the meantime, grounded us in the Big White snow with its studded rubber after 5 hours of highway travel.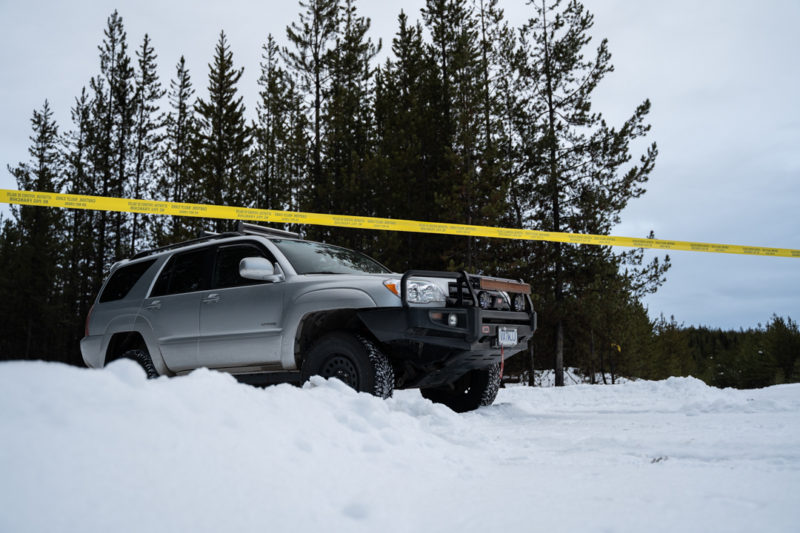 Our first day at the rally started with radio operators' meeting in the morning. The course didn't start until late afternoon and went on till late. Which means we got to see rally cars competing at night with off-road lights.
Each radio operator was placed at an intersection behind yellow tape. Our responsibility was to act as blockers – blocking traffic from getting onto the live rally course.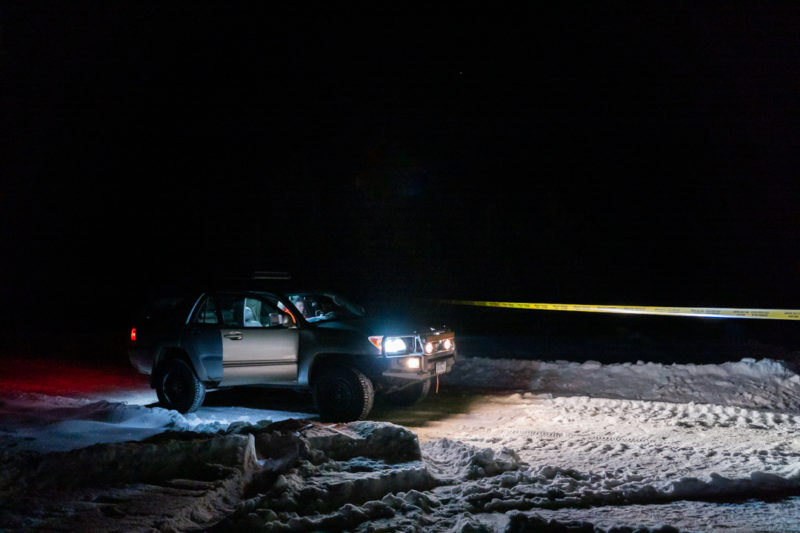 So much could go wrong at a rally. Since the forest roads were public outside of rally hours, many people went into the cross roads during the day and attempted to get out through the course while rally was active. Although each intersection had a blocking car, non-cooperative people got through and caused delay.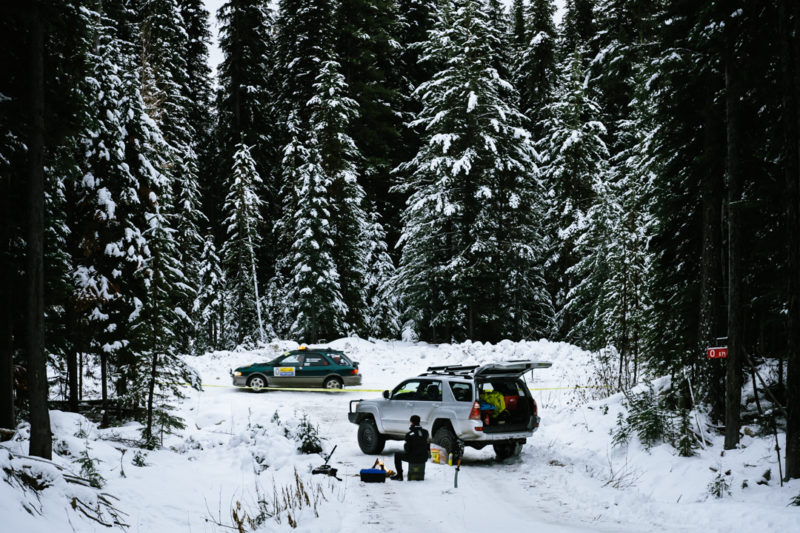 The second day started early. All driving was done during daylight. Here's course opening car 00 clearing the stage. There were a total of 3 opening cars: 000, 00, and 0. Each proceed at a faster pace than the one before. Their job was to clean the stage and make sure it was safe for course start.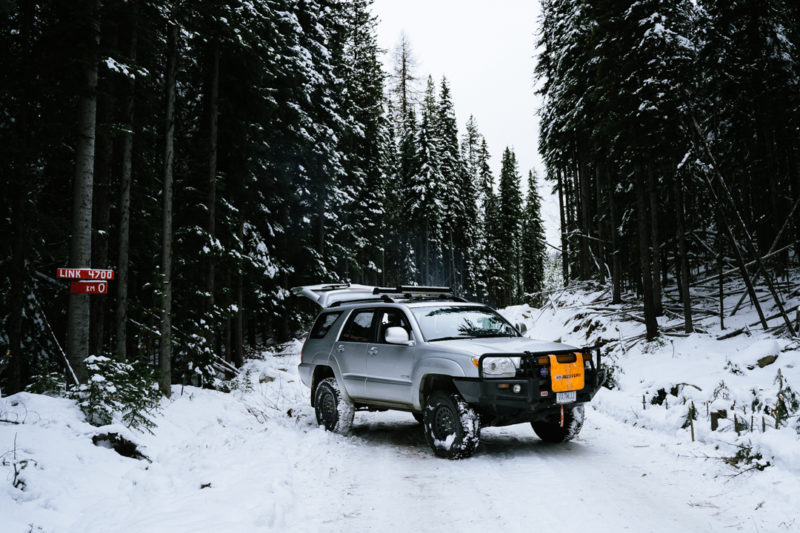 Whilst positioning our vehicle, J put the 4Runner into a ditch…nice. After a quick forward winch pull to a tree we were back & ready in position for the course opening.
J decided to keep his winch gear ready, which came in handy towards the end of the rally as we were able to assist with a multi-winch recovery after the course had closed and the sun was set.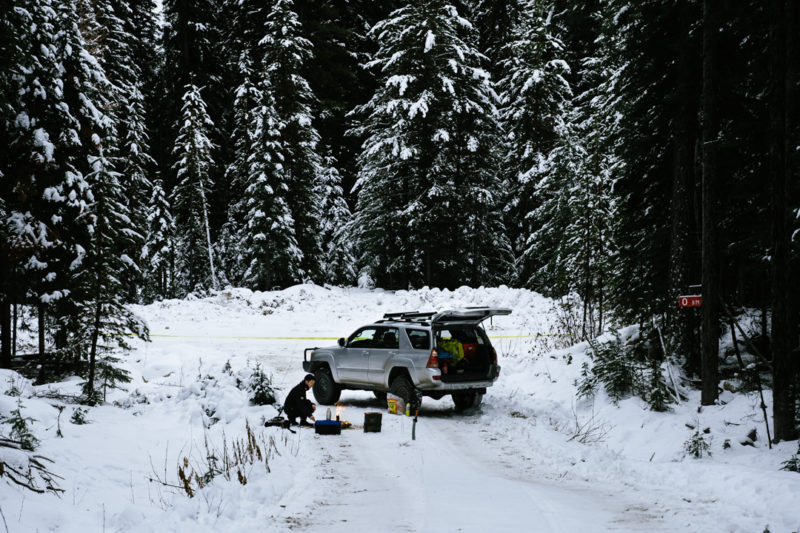 We finally set up a somewhat successful camp fire! Though we didn't bring enough firewood and had to start chopping our surrounding to be resourceful.
The time between cars passing our intersection can be fairly long. Organizer jokingly recommended us to bring books to kill time. I decided to try out my new Sony A7 III. Coming from a 7-year Canon DSLR user, adapting to a new mirrorless could take some time. There are so many custom settings and function buttons to get used to. Most photos came out under satisfactory. However, that said, I was pretty impressed by its ability overall. With it relatively smaller and lighter body, I'm sure it will be a good addition to my future trips as I grow familiar with it.
Rally Cars
Car 1
Driver: Brandon Semenuk
Co-driver: John Hall
Car: 2016 Subaru Crosstrek
Team: Rocket Rally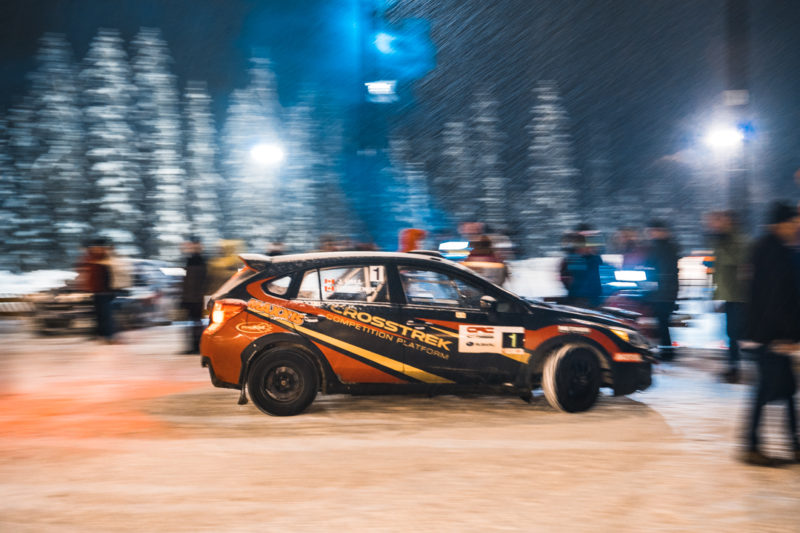 Car 2
Driver: Boris Djordjevic
Co-driver: Darren Garrod
Car: 2009 Mitsubishi Evolution X
Team: Frontech Racing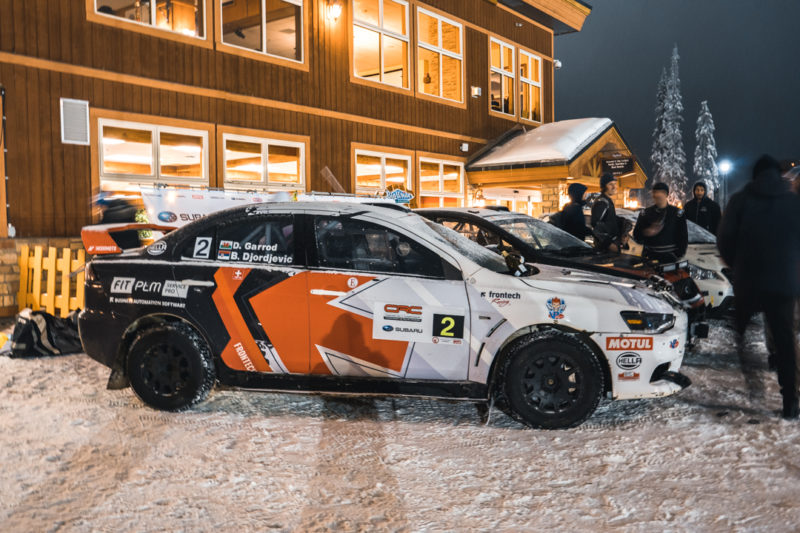 Car 3
Driver: David Nickel
Co-driver: Alex Gelsomino
Car: 2016 Subaru Crosstrek
Team: Rocket Rally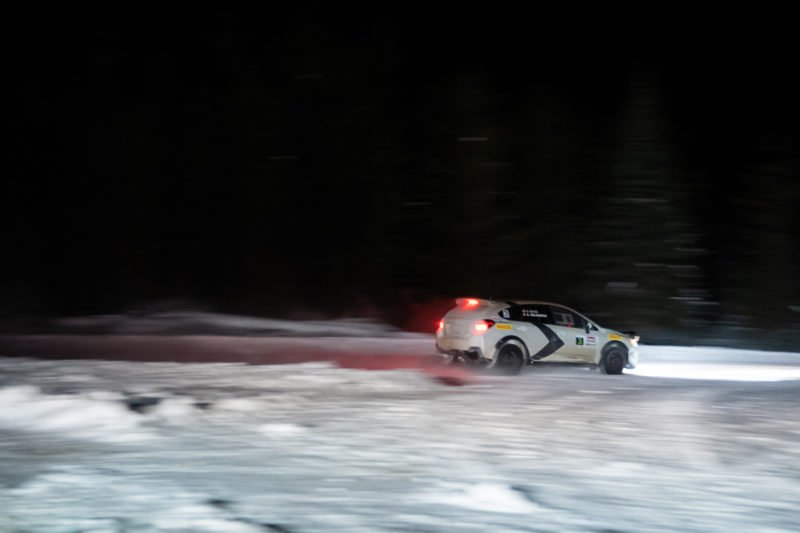 Car 4
Driver: Sam Albert
Co-driver: Michelle Miller
Car: 2004 Subaru WRX STI
Team: Sam Albert Rally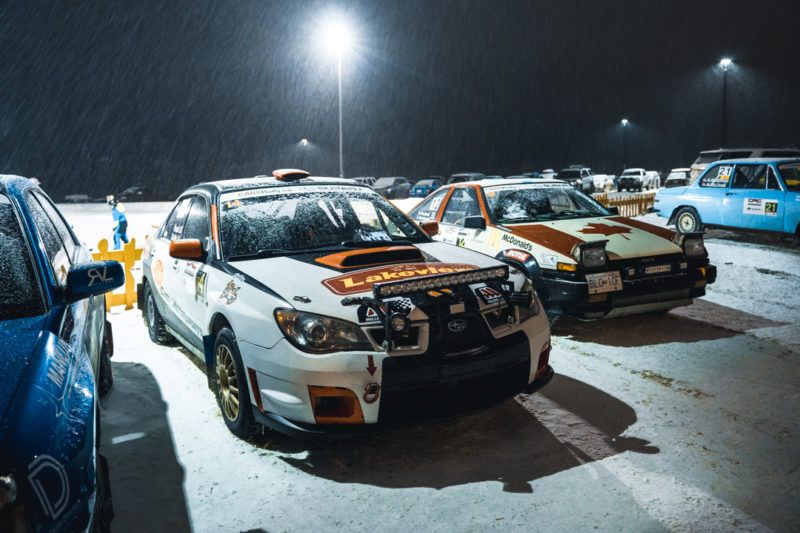 Car 5
Driver: Nicholas Spencer
Co-driver: David Ma
Car: 2015 Subaru WRX
Team: Fat Tail Racing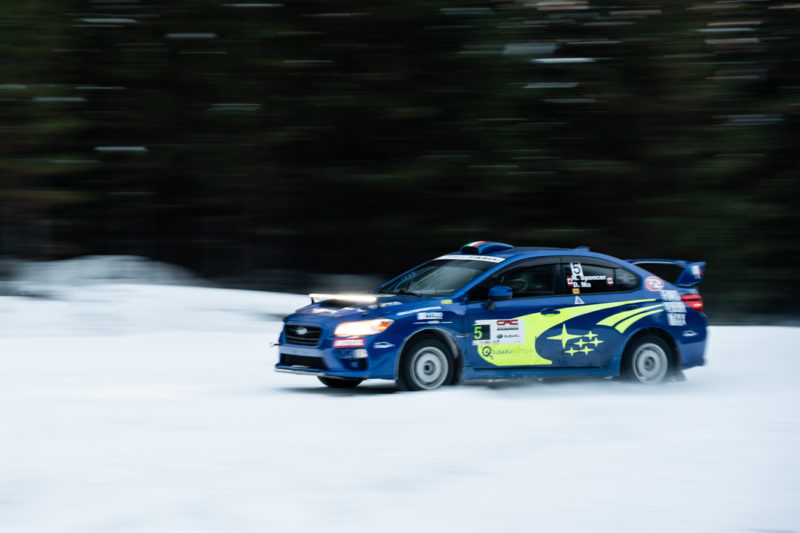 Car 6
Driver: Eric Pehota
Co-driver: Jennifer Daly
Car: 2002 Subaru WRX Wagon
Team: EP Racing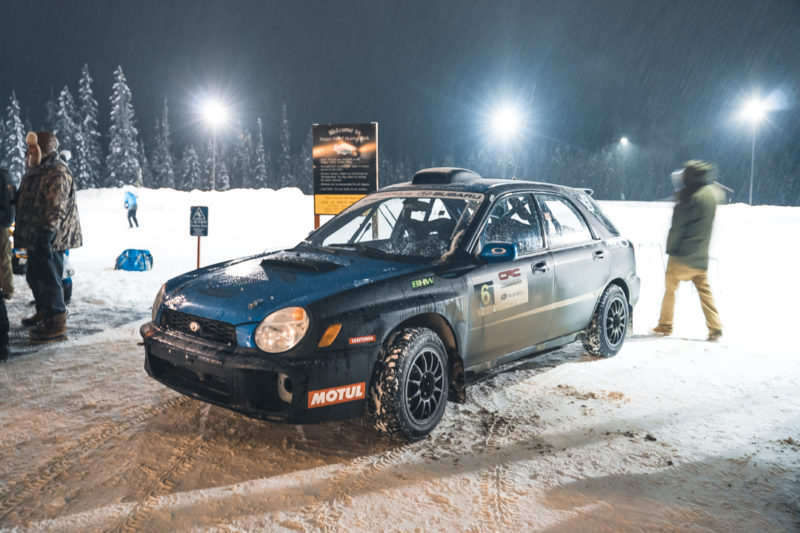 Car 7
Driver: Ken Stanick
Co-driver: Martin Burnley
Car: 2009 Subaru WRX STI
Team: M2K Racing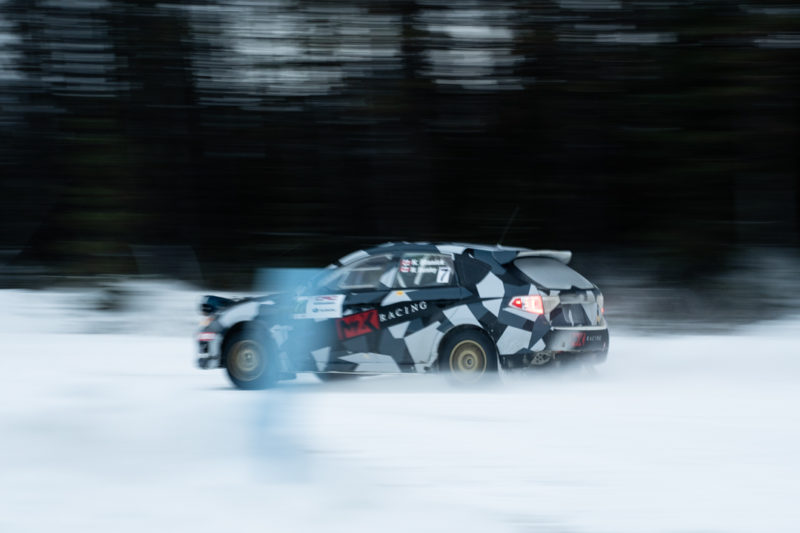 Car 8
Driver: Krystian Ostrowski
Co-driver: Chris Galecki
Car: 2007 Subaru WRX STI
Team: PRM Rally Racing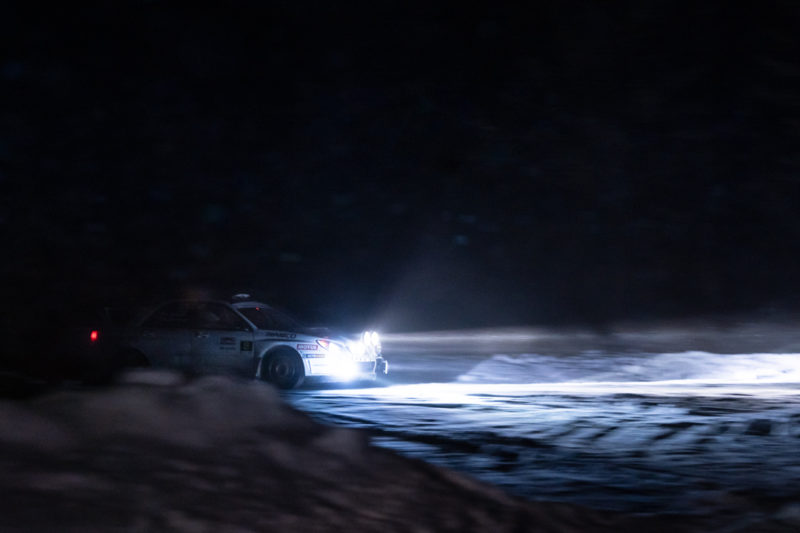 Car 9
Driver: Brandon Liang
Co-driver: Michael Szewczyk
Car: 2004 Subaru Impreza WRX N/R/R P4WD E/E -/- 59.87
Team: FL4T FOUR Motorsports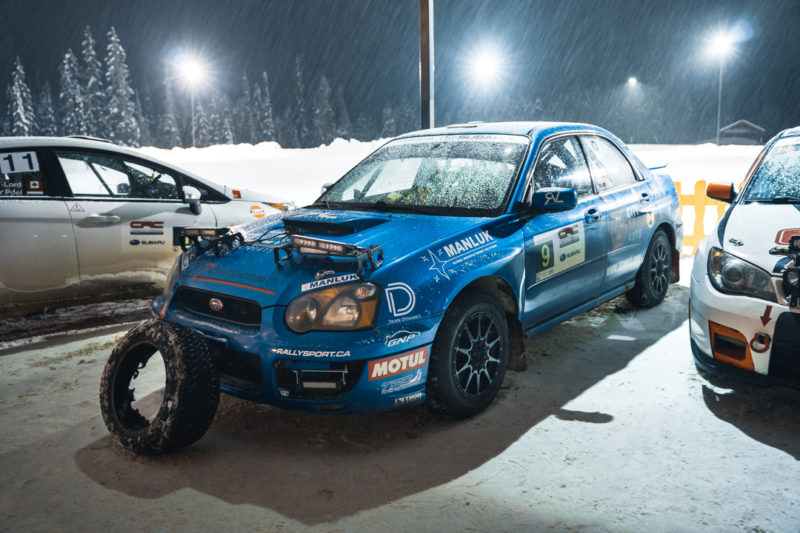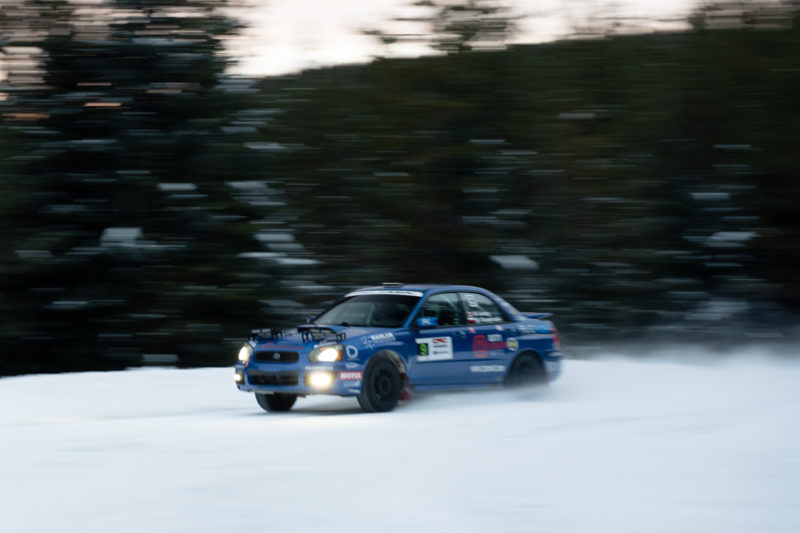 (During one course on the second day, car 9 passed our blocking point and ripped a tire out right in front of our eyes… The car didn't stop though.. Soon I heard the next blocker reporting in our radio channel that car 9 has passed him running on one rim…)
Car 10
Driver: Agatino Fortunato
Co-driver: Phil Meyers
Car: 1992 Mitsubishi EVO-1
Team: All Fours Rally Team
(I do not recall seeing this vehicle in the rally. It may have been damaged during the run on Friday. But here's a link to its profile)
Car 11
Driver: Wim van der Poel
Co-driver: Bryan Lord
Car: 2015 Ford Fiesta
Team: Rally Syndicate – Cronus Rally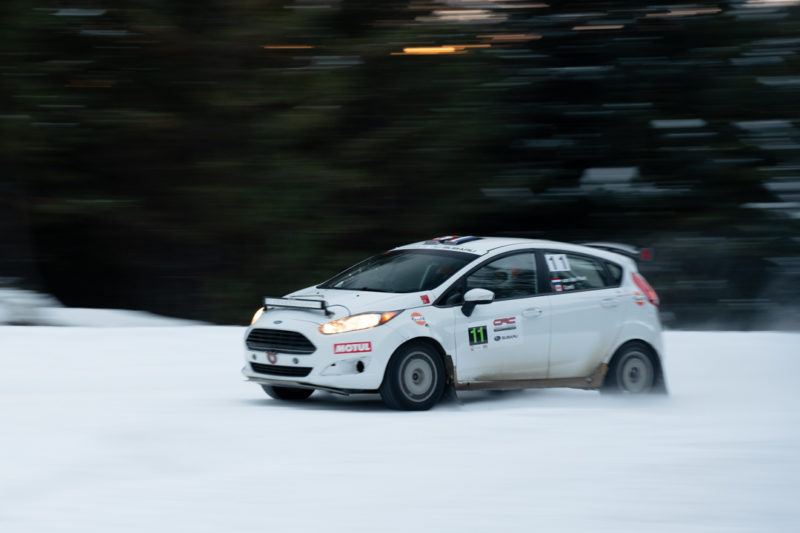 Car 12
Driver: Eric Grochowski
Co-driver: Martin Headland
Car: 1987 Toyota Corolla GTS
Team: Kamunen Racing Inc.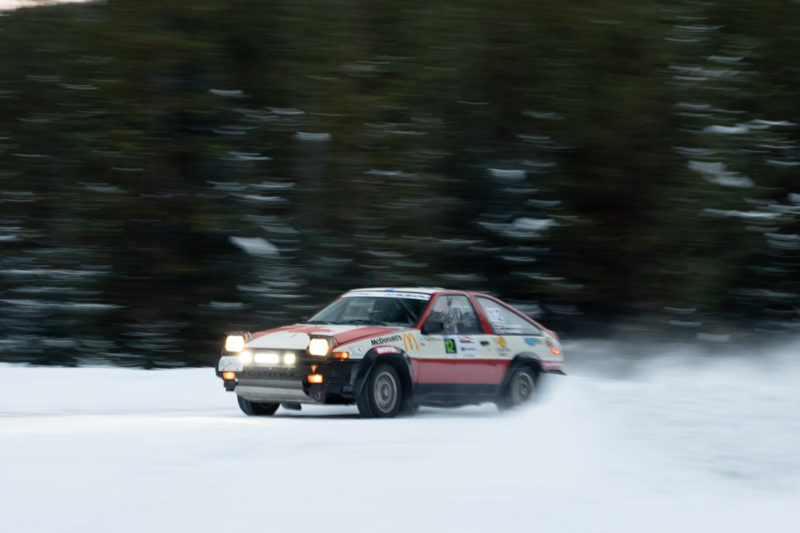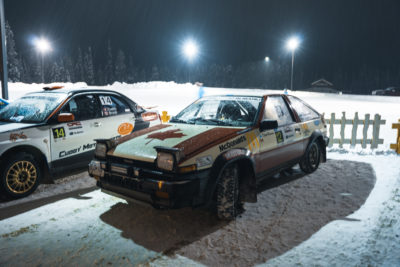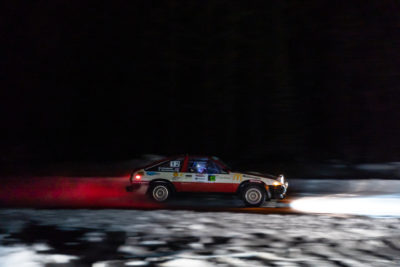 Ever seen your tofu delivered in snow?
Car 13
Driver: Graham Bruce
Co-driver: Patrick Levesque
Car: 2003 Mitsubishi EVO
Team: Rally Syndicate – FlashPoint Rally Racing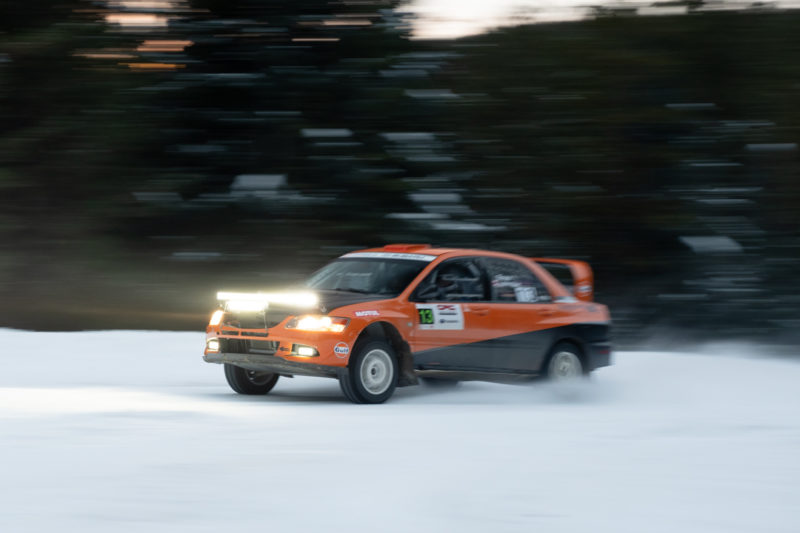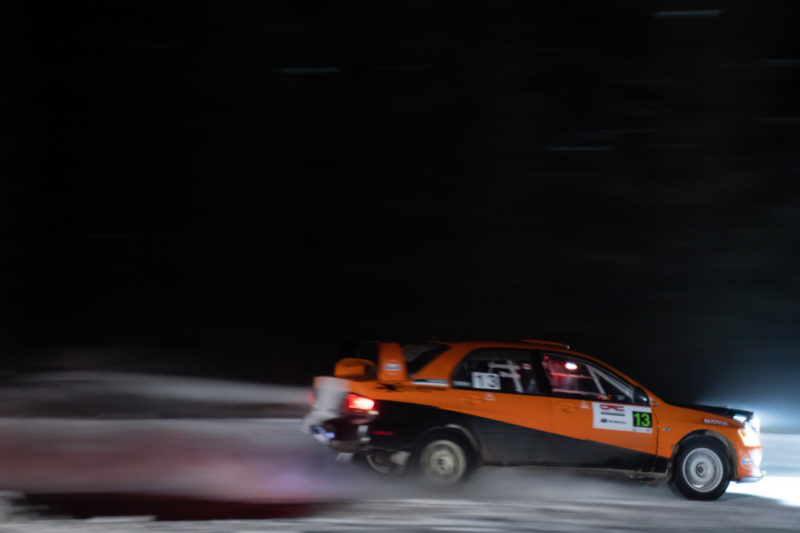 Car 14
Driver: Ryan Cuddy
Co-driver: Peter Brook
Car: 2004 Subaru WRX
Team: Cuddy Motorsports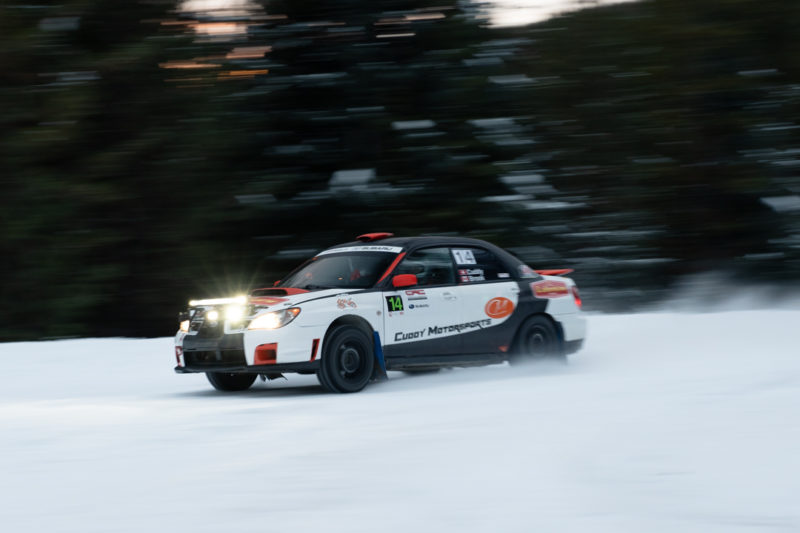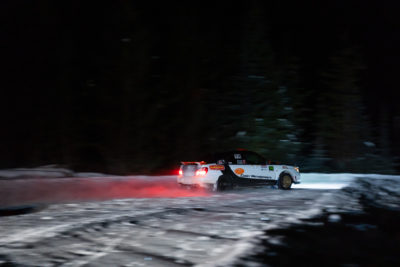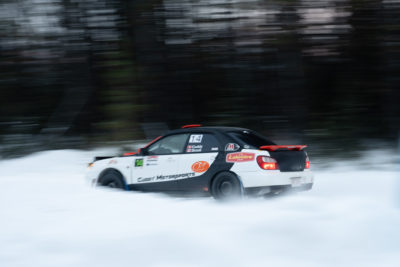 Car 15
Driver: Joel Cates
Co-driver: Krista Skucas
Car: 000 Subaru 2.5 RS
Team: Hashtag Rallycar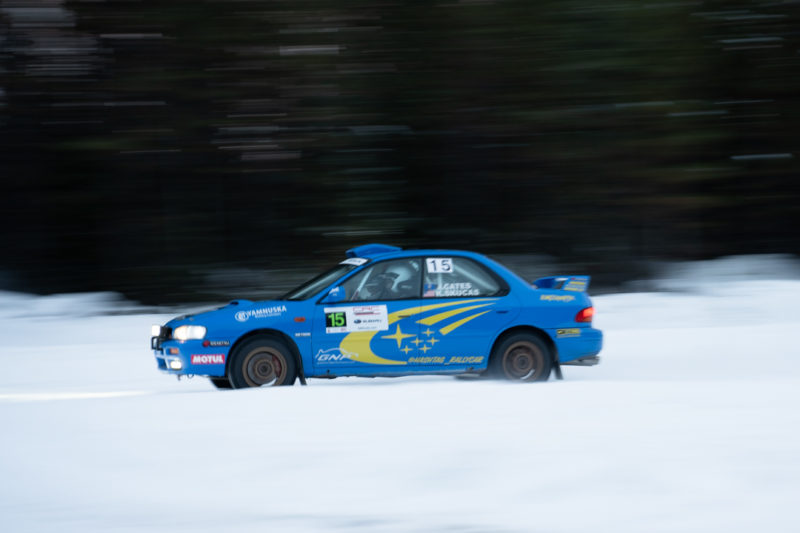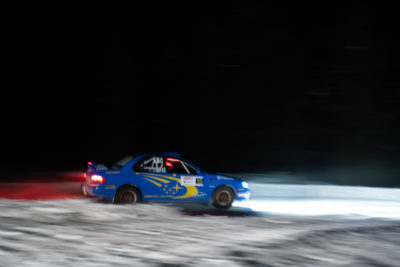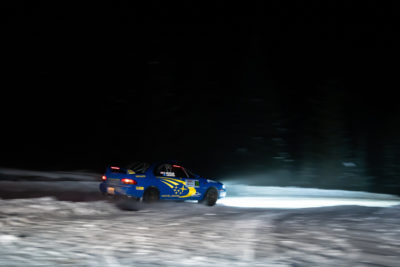 Car 16
Driver: Nick Wood
Co-driver: Chawna Imber
1971 Datsun 1200
Team: Kamloops Race & Rally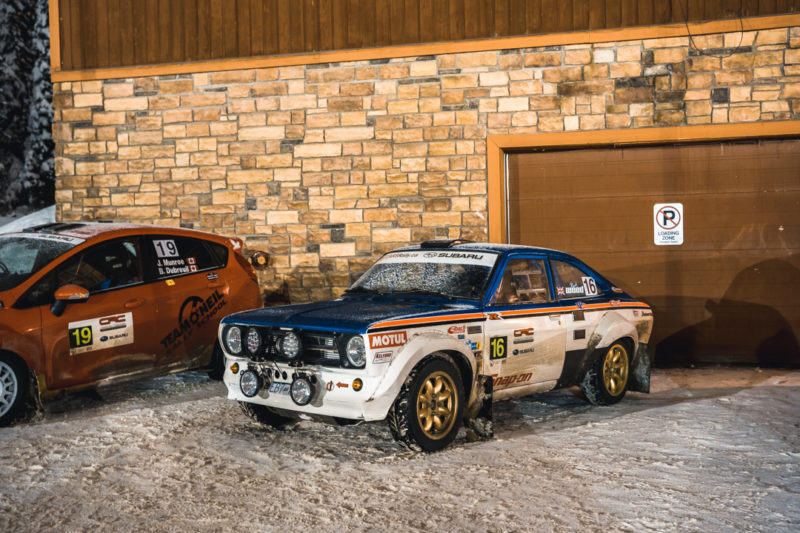 Car 17
Driver: Alex Kouzmin
Co-driver: Steve Stevenson
Car: 2015 Ford Fiesta
Team: AK Racing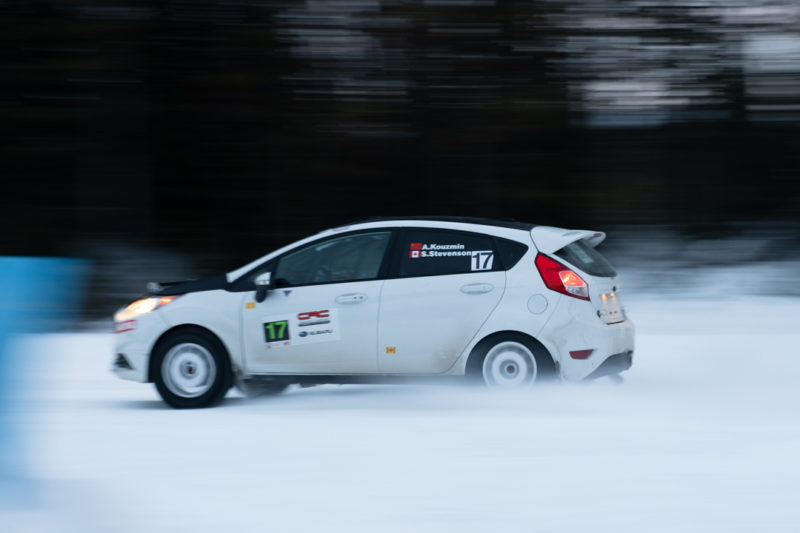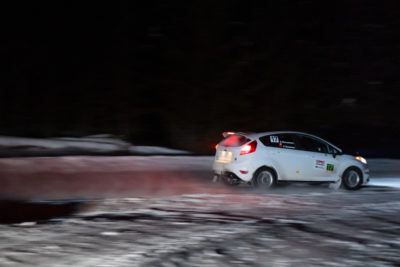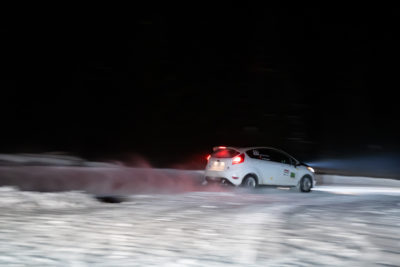 Car 17 bumped into a ditch during the first course of second day. Driver side rear wheel was lost and the car was trapped until the full day of rally finish. J self-promoted to help with the recovery in assistance to the SWEEP and medic team. Remember the winch damper hanging on his bull bar earlier the day? Yes, that came into use just in time.
Car 18
Driver: Pierce Fabian
Co-driver: Paul Lang
Car: 1996 VW Jetta
Team: RAD RACING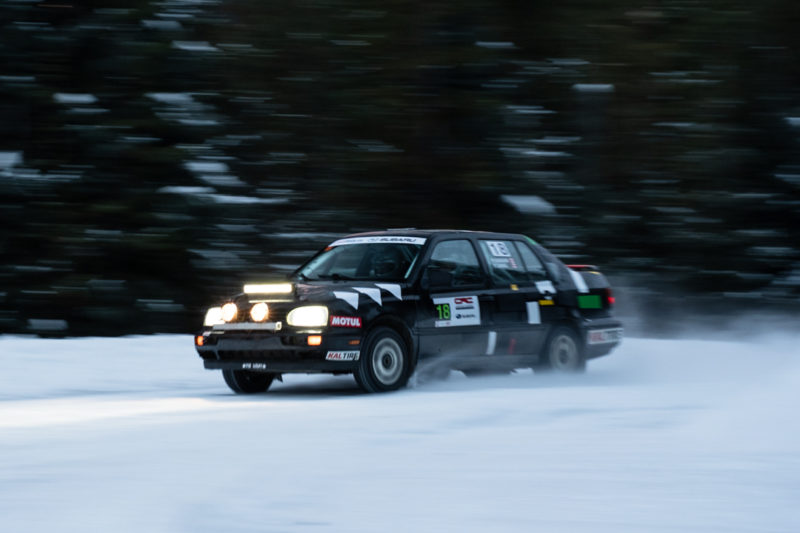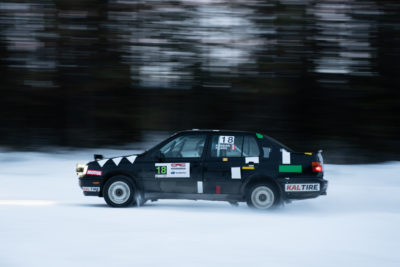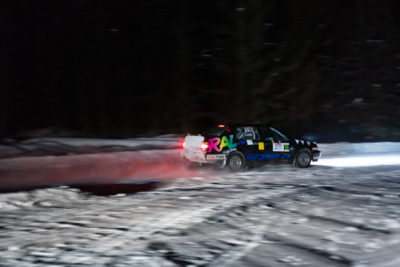 Car 19
Driver: John Munroe
Co-driver: Bill Dubreuil
Car: 2015 Ford Fiesta ST
Team: Rally Syndicate – Canary Racing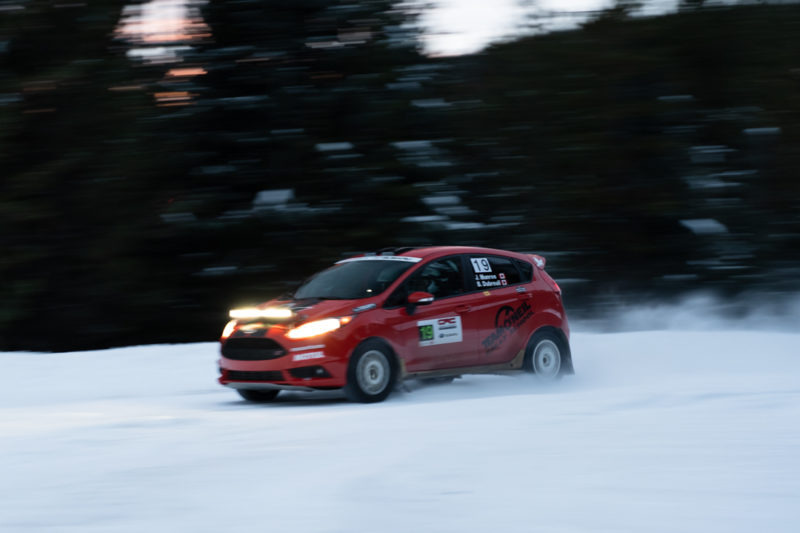 Car 20
Driver: Grant Hughes
Co-driver: Tiffany MacDonald
Car: 1995 BMW 325i
Team: Rally.build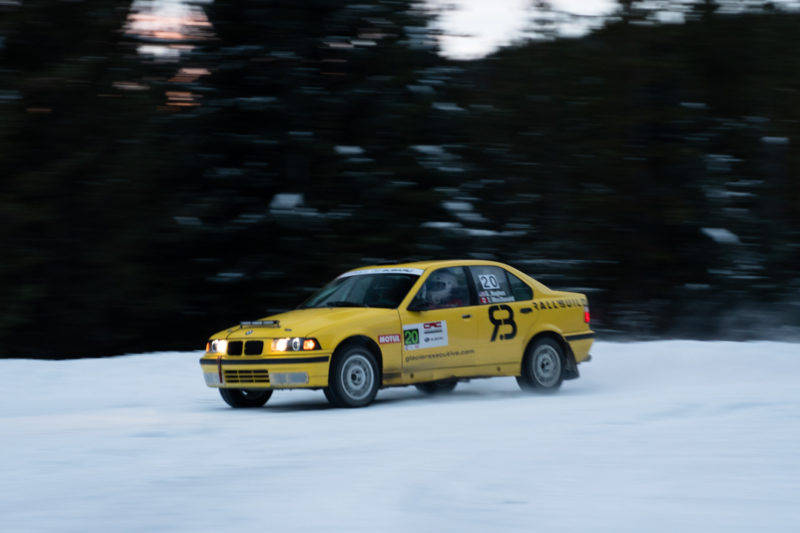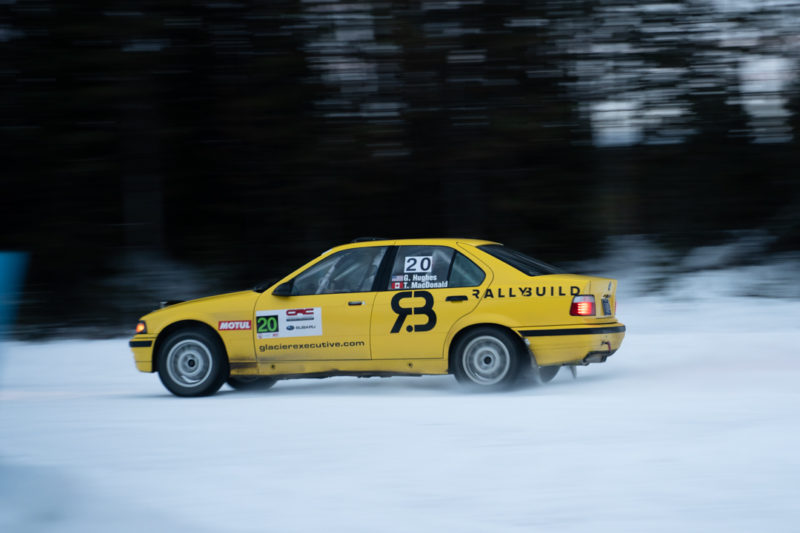 Car 21
Drive: Mitchell Williams
Co-driver: Kevin Anderson
Car: 1976 BMW 2002
Team: The Blue BMW 2002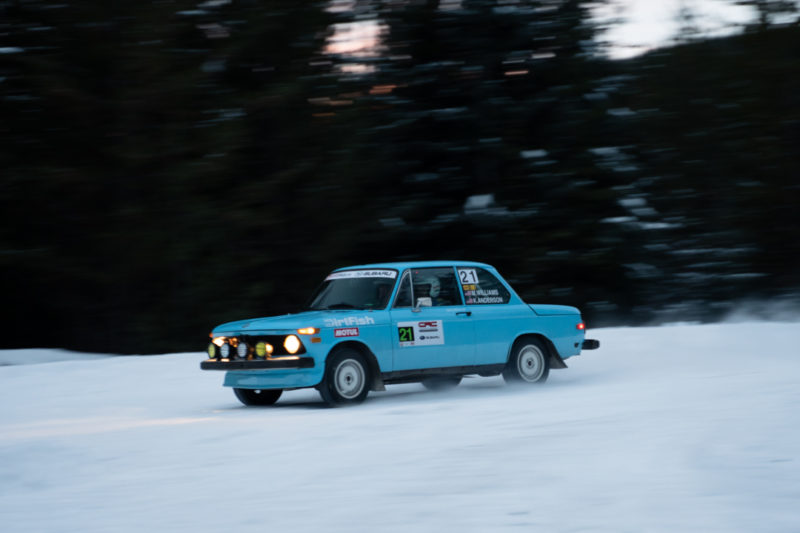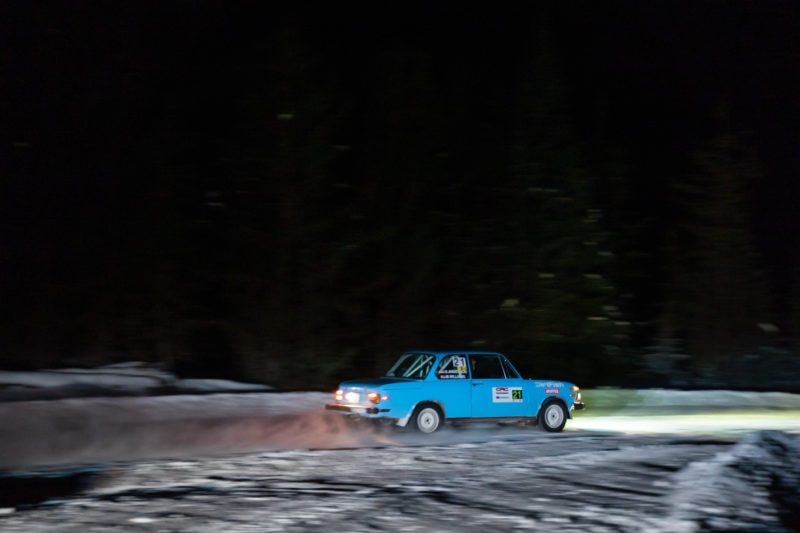 Car 22
Driver: Chase Hovinga
Co-driver: Michael Milos
Car: 1980 Volvo 242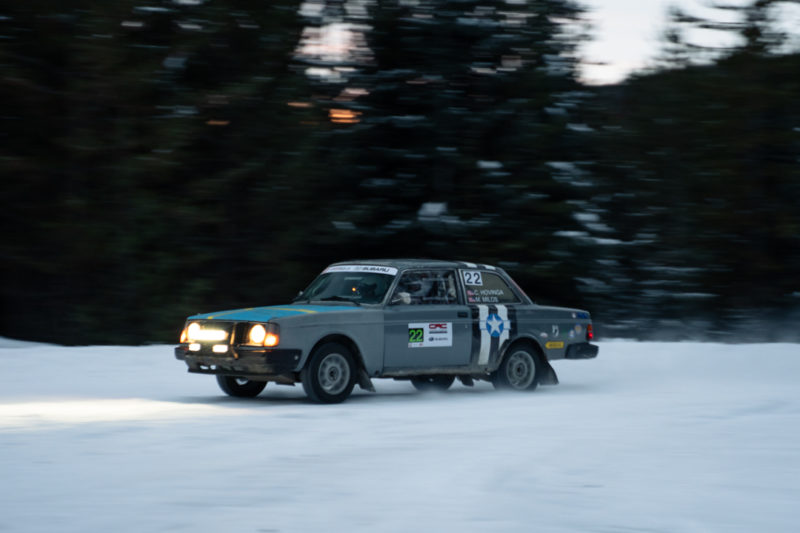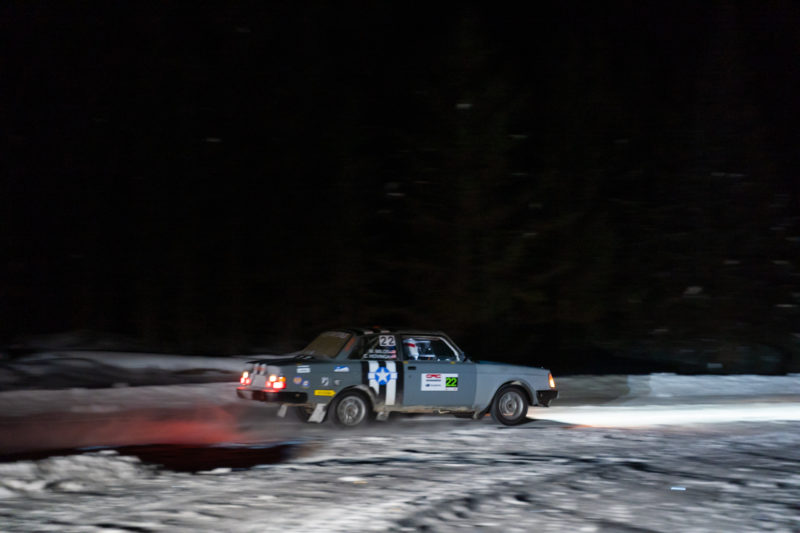 Car 23
Driver: Mark Staples
Co-driver: Pardeep Sooch
Car: 1987 Volkswagen Golf
Team: Not Fast, Just Furious
This car was blasting edm while driving through the course on the first day. Yes, I said "driving" because the speed was barely considered as racing. I guess the team name explains the joy of participation? Either way, it gave me a delightful giggle while shivering in the negative temperature.